Happy Monday you guys + Happy Thanksgiving week! Who's ready to eat some turkey? Thanksgiving is one of my favorite holidays just because I love the food so much… more about Thanksgiving with my family later this week…
If you follow along on Instagram, then you may have seen I've started to decorate for Christmas already. My firm rule has always been not to decorate until after Thanksgiving. I like to take one holiday and season at a time, soaking in fall and then moving into winter. But this year I had some projects and posts due this week and next so I needed to get a head start… and this is one of them! You'll get a sneak peek at my holiday decor here in this post, but a full holiday home tour will be on the blog soon!
I'm so excited to be sharing all about cozy pieces today, like cardigans, joggers, beanies, and slippers. Whether you're shopping for you (who buys themself a gift? *insert hand raise emoji*) or for a friend, any of these pieces are hot ticket items this year. Abercrombie has been my go to for almost 2 years now for great cozy staples (and mind you, great quality!) with a the majority of my fall sweaters and cardigans coming from there. I stocked up on a few goodies for me and then bought a few as gifts too.
Abercrombie's Black Friday sales are starting early – their WHOLE SITE is 40% off, starting today!
Get these goodies now, because a few of them are already selling out!
Wrapping and giving gifts is one of my favorite parts of the holiday season. Instead of wrapping all my gifts as I get them, I usually take a night or two a week before Christmas and wrap everything. I totally set the scene with Christmas tunes, a cup of cocoa and marshmallows, lots of twinkle lights, and get to work like a little elf. To me, it makes it so much more fun than just dumping everything on the dining room table – then it just feels like a chore!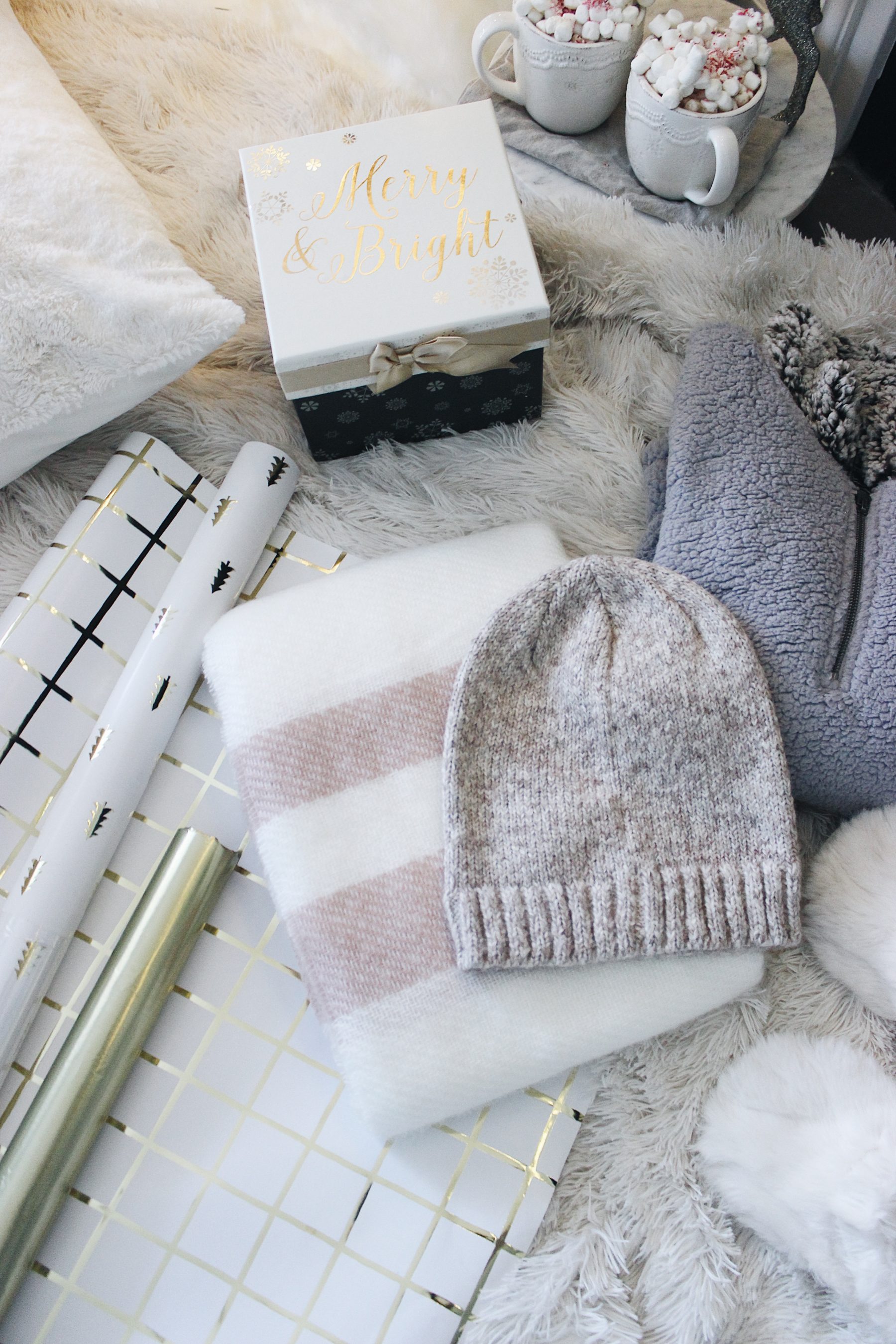 My sisters, girlfriends, and even boyfriend have caught the Abercrombie bug too. This year, I grabbed a few cozy, wearable pieces for each of them. To me, cozy gifts are ones you can't go wrong with. Everyone loves a good sherpa pullover or a fuzzy pair of slippers! And I hope they're not reading this because they might be seeing a gift or two in here… oops!
SHOP COZY GIFTS

And I couldn't grab a few pieces for them without grabbing a few for me too now! I ordered this blush cardigan + a new pair of joggers (my favorites got permanent marker on them.. meh!). You guys know how much I love this lace tank (I bought it in every color!) and it's the perfect girly touch to compliment the whole look. On Christmas day, we usually stay in pajamas or loungewear, but all always pick something new, matching, or cute because #photos. I'm also pretty partial to my Ugg moccasins, but I couldn't pass up these fuzzy slippers and have worn them the last 3 days straight!
SHOP MY LOOK

Don't forget Abercrombie's entire website is 40% off this week – get your shopping done a little early so you can enjoy the weekend with family and friends. I'll be posting tons of the sales as the week goes on, so check back in + be sure to check out my new HOLIDAY SHOP page, full of posts, gift guides, style ideas, and so much more!
Today's post was created in partnership with Abercrombie + Fitch.
SaveSaveSaveSave