Our Alaska trip was incredible (more on that to come) but the most pressing question I've had since I even mentioned I was going to Alaska was – can you share what you're packing?!

To be honest, I didn't really know what quite to pack so did a little online searching along with weather stalking, and what I packed ended up being perfect for the cruise + our stops.

Disclaimer: our stops were Skagway, Juneau, and Victoria, British Columbia – so if you're going more North you may need to alter this a little!

WHAT I PACKED:
+ Jackets: utility jacket, denim jacket, and a rain coat
+ Tops: short sleeve tees, long sleeve henley, a few nicer tops for dinners
+ Jeans: two blue jeans + 1 pair of black jeans
+ Two Jumpsuits: this leopard jumpsuit + this comfy one
+ Hunter Boots
+ Comfy sneakers: I wore my Kizik travel ones almost every day + athletic (for my workouts + airplane) GET THESE SHOES!
+ leggings, a cardigan, and lounge clothes
+ Anine Bing Sweatshirt (any sweatshirt will do)
+ Calpak backpack – so easy to use for the days we had stops!
+ Lightweight sweater
+ Packable puffer coat
+ bathing suit, coverup, and pair of sandals (for pool/hottub on boat!)
+ Adidas hat
+ Beanie
+ Slides for on boat/dinner
+ 2 formal night outfits + heels for each
Okay, so that about sums it up! I used every single thing I packed at least once, and it was all well worth bringing – if I didn't have any of these things, I for sure would've wished that I did so I feel like I packed pretty spot on! I also didn't feel like I 'forgot' anything which was a good feeling considering I was kind of clueless on what to bring at first!

A few tips:
+ pack things easy to layer: you'll want to wear a jacket in the mornings, probably take it off in afternoons, and then night time it cools way down – like really cold.
+ pack a consistent color palette! It makes mixing and matching pieces super easy. Basically everything I brought was white, gray, blue, or olive green (and no prints) so it made wearing my jackets + jeans super easy – as you'll see from the photos below!
+ keep things casual: everyone on our cruise was really casual, nothing was super fancy, not even for dinners (except the two formal nights!) I would say wear things you're comfortable and cozy in!
Here are some of the looks I wore + what I wore them for!

WHEN/FOR: A day of exploring around Seattle before boarding the ship + for setting sail!
WHAT I WORE: We did lots of walking around Seattle so I wanted to be comfortable and it was an overcast, windy day so wanted to be warm as well! Anine Bing Sweatshirt, Black Jeans, Kizik Shoes, Calpak backpack

WHEN/FOR WHAT: Our day in Juneau, Alaska. We spent a few hours in the town/shops area and then headed off for our excursion which was a helicopter ride to Mendenhall Glacier (aka very cold!)
WHAT I WORE: I layered up with a henley, North Face pullover, and this packable puffer from Amazon. I also brought a scarf + beanie, and wore my Hunter boots.

WHEN/FOR: At sea/boat days + dinners
WHAT I WORE: For the days while we were at sea, I kept it pretty comfy. One day I wore this jumpsuit + a cardigan and for dinners I usually kept it pretty casual but still 'nice' with light sweaters or cute tops with jeans + my Schutz slides.

WHEN/FOR: Our day in Skagway, Alaska with a train excursion
WHAT I WORE: This day was a bit windier (Skagway is known as the windy city in Alaska) and kind of chilly so I layered up with a long sleeve light sweatshirt + my denim jacket. Since we were doing a bit of walking around the town area I threw on my Kizik sneaks again!

WHEN/FOR: This was an at sea day, but we went through Endicott Arms to a glacier (you can see it behind us) and it was freezing! Honestly probably in the 40s if not colder and also wet/rainy.
WHAT I WORE: I layered up with the North Face pullover, Packable puffer, and then a rain coat on top since it was raining. I wore my Adidas hat, but honestly could've worn a beanie like my sis it was that cold!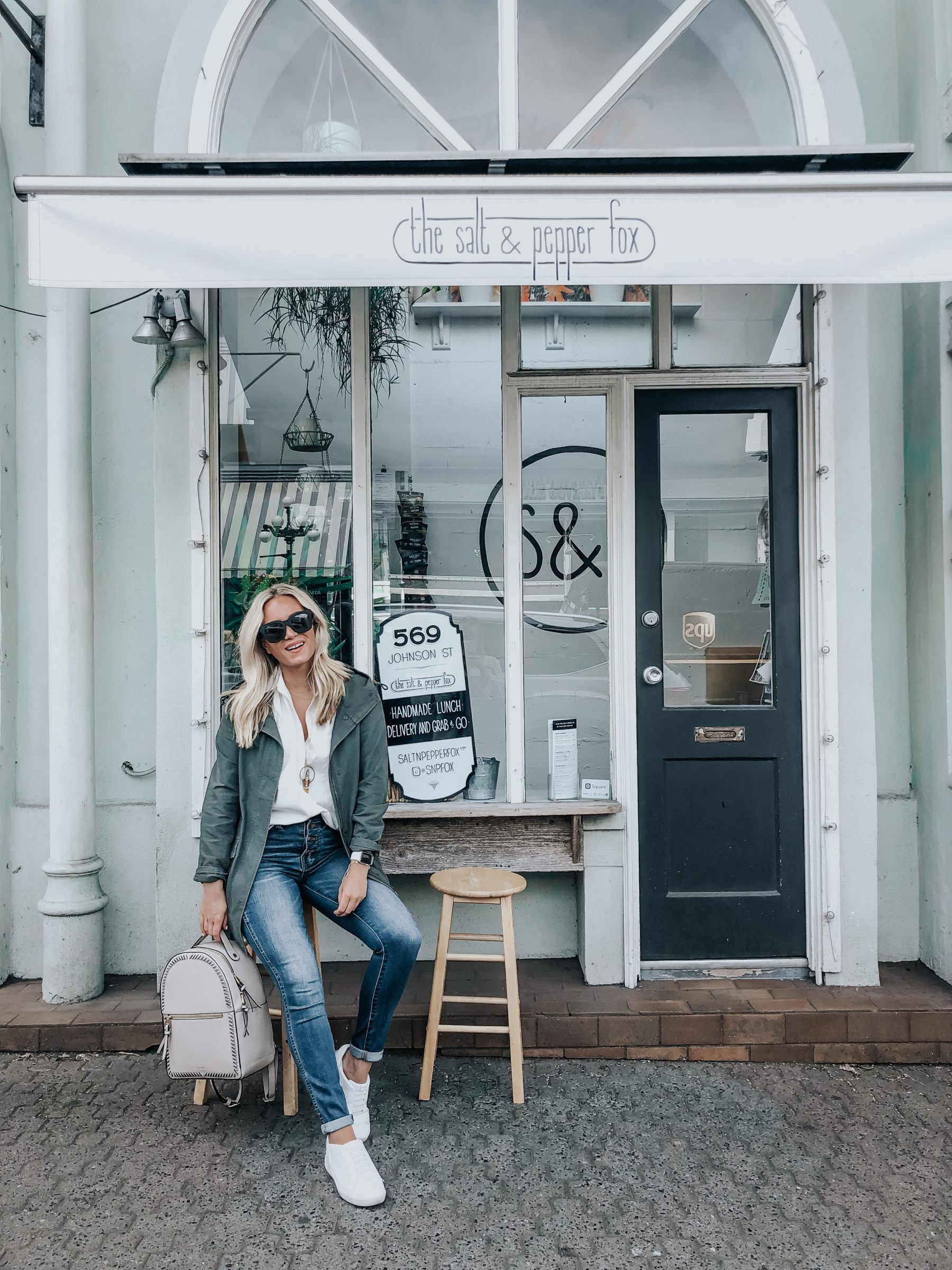 WHEN/FOR: Day in Victoria, British Columbia – this was by far our nicest day of the rip. Gorgeous sunny day + warm!
WHAT I WORE: A short sleeve button up with my utility jacket layered over! Perfect for the warm day – I just tied the jacket around my waist when I got warm!
I hope this was helpful for those of you visiting Alaska – have the BEST trip!!