Okay, I know what you're thinking.. how is it possible to have a healthy Thanksgiving? I just want to indulge!
I totally get it. I (used) to be that way too.. but after finding out I was celiac and needing to go gluten plus dairy free – the A-typical thanksgiving meal wasn't going to cut it anymore. So I set out to find the best of the best out there recipe wise that would be ever better than the traditional dishes I was used to.
As I was creating my editorial calendar for the holidays a few months back, I knew this was a post I wanted on here. Not just sharing my Thanksgiving tablescape, but giving you guys some delish recipes you could whip up (easily) to enjoy with your family, without feeling that 4pm food coma hit you like a ton of bricks. I get super full, don't get me wrong, but that groggy I-just-wanna-take-a-nap feeling hasn't been around for quite a few years now. And lemme tell ya, it's kind of awesome!
So, without further adieu, I bring you guys A Healthy Thanksgiving: a collection of healthy yet delicious recipes for the yummiest holiday of the year! A huge thanks to MacKenzie-Childs for supplying all of the gorgeous cooking ware for this post too – more on that below!
First things first, we keep the turkey as is.. roasting in the oven for hours and coming out juicy and ready to eat. I used to like the dark meat only, but the white is growing on me when it's nice and tender!
For fixings: my mom makes her standard stuffing for those who can eat it (about half our family is allergic to gluten). I've taken over making gluten free stuffing. We've tried the store bought gluten free packs, but they are not good IMO and our family is all about the homemade so I basically just took my moms recipe and swapped for gluten free bread! Here's my recipe:
Gluten Free Stuffing
1 package of Udi's gluten free bread
1 onion, chopped
1 cup of celery, chopped
2-3 garlic cloves, chopped
low sodium chicken stock
– Line the bread on a baking sheet + season (I use garlic powder, salt, pepper, & parsley)
– Toast the bread in oven until golden brown.
– Remove + Chop all the bread into bite size pieces.
– In a large pot, sautee onion + garlic, add in celery after 2-3 minutes. I don't like mushy celery so make sure it still has a little crunch!
– Add in your bread pieces, stirring constantly. Pour in chicken stock, continuing to stir constantly. The bread will soak up alot of the stock, but add according to how much moisture you like your stuffing to have!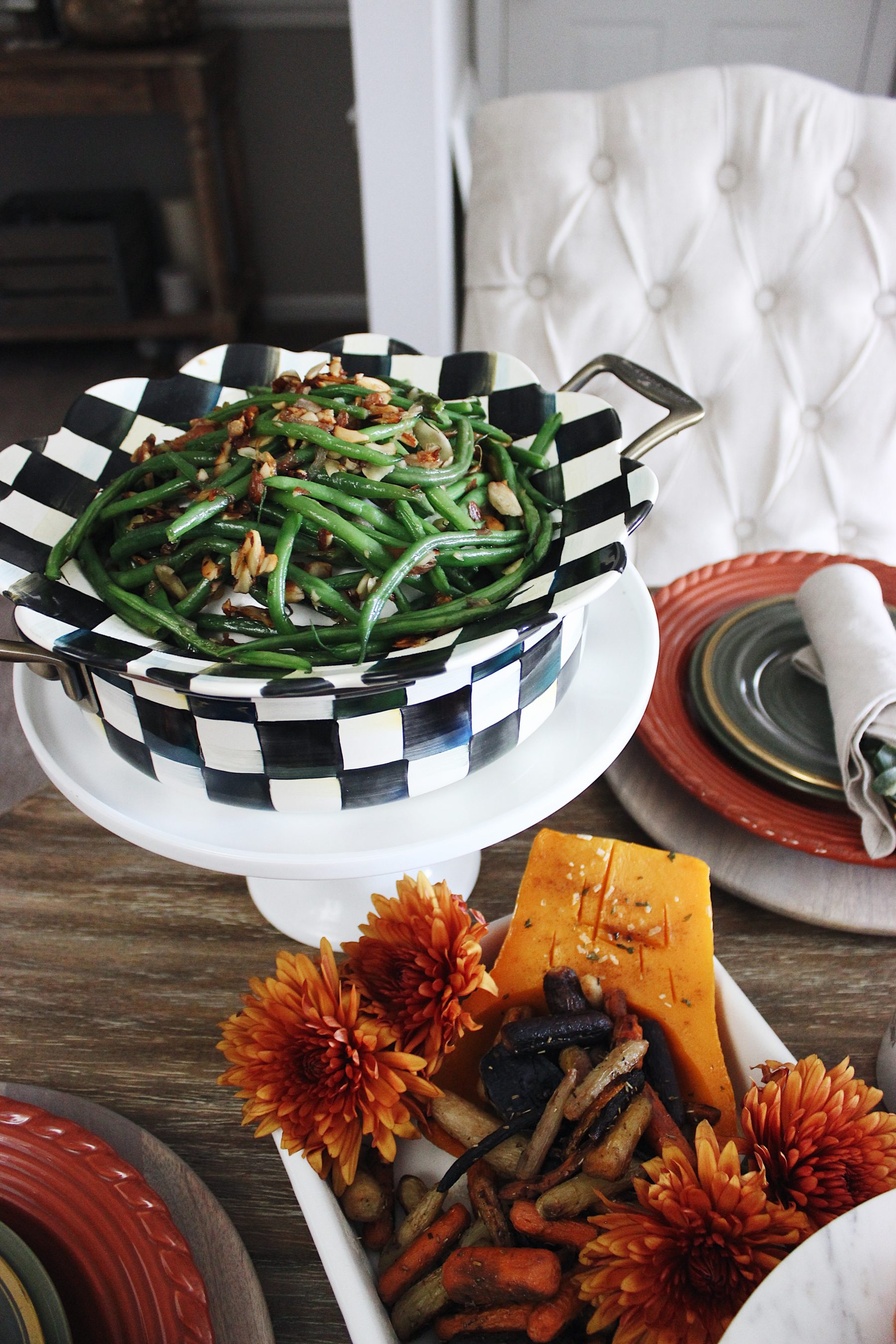 Next up, one of my personal favorites: the green bean casserole. This dish went straight out the window with the diet changes, but lucky for us, I found this amazing recipe that we've been making for the past 5 years. The shallots really pull this dish together and I usually make about twice the listed amount so the top is covered with them! If you want something a little simpler (shown above!) but still absolutely delicious, see another recipe below:
Green Bean Casserole
1 package haricot verts (or french green beans – I like these better because they're thinner + cook nicely)
1 shallot, thinly sliced
2 cloves garlic, chopped
sliced almonds (buy pre-sliced at grocery store)
– Sautee shallot + garlic in olive oil
– Add in beans, tossing lightly for 5 minutes
– Sprinkle with sliced almonds, tossing for another 1-2 minutes
Growing up, I loved the butternut squash dish my Nana made – but it was full of butter and lots of Ritz crackers.. so we've since modified our recipe. We've tried a few different things over the years, and here are my two favorites:
Make butternut squash the standard way, roasting then whipping the squash, adding in butter (or ghee), sugar (or honey), etc. Instead of topping with the Ritz, use this topping recipe which is TO DIE FOR and 100% a healthier choice!
Roast halves of butternut squash with seasonings of choice on 375 for about 25 minutes. Remove, drizzle with honey, serve immediately. So simple, but in my opinion, butternut squash is already delicious, creamy, and sweet by itself, that it doesn't need a lot of doctoring!
For broccoli casserole – we've kept this one the same, lots of broccoli and velveeta cheese baked and melted to perfection. Instead of using ritz crackers to top this, we now use the same topping as the butternut squash, taken from this recipe. You guys, trust me, if you make one thing from this post.. let it be this topping because it is to dieee for!
Some other healthy recipe ideas:
casseroles tend to be laden with lots of high calorie ingredients (cream of mushroom soup, butter, sugar, etc.) Instead of going for these dishes, get fresh seasonal root veggies like rainbow carrots, squashes, golden potatoes, acorn squash, etc and roast in the oven.
instead of adding flour to your gravy, keep it light + natural, just as is when you pull the turkey out of the oven!
for pies, we make all of ours homemade (apple, pumpkin, and blueberry). for gluten free ones, i found one brand of pre-made at whole foods that I usually grab a pumpkin + pecan of!
I know a cheese plate isn't necessarily 'healthy' but we usually have an app or two and I am quite proud of how this one came together! I got all of these goodies above at Trader Joe's – two cheeses (cheddar and truffle), a package of their assorted italian meats, grapes, dried cherries, raw almonds, and cornichons (tiny pickles). I used the above truffle honey mustard as a spread/side and my favorite gluten free rice crackers from TJ as well!
And now for the tablescape. This is always my mom's favorite part of Thanksgiving. She plans out the tablescape weeks in advance and usually has a set theme – I can't wait to show you guys what it is this year! I ended up pulling from some of her past pieces to create my whole place setting above. The chargers are World Market, burnt orange + green plates from my mom, and the gold rimmed dessert plate is vintage. We never set with bowls since everyone gets a huge plate of food.. right?!
For the silverware, I just got this set of gold silverware new from World Market and am already obsessed. Napkins are also World Market. For drinks, we tend to have a 'drink bar' area set up with pitchers of water, sparkling cider for the kids, and a few bottles of wine (Seven Daughters this year!) for us adults. Our goal is to keep as little on the table as possible, since there's so many of us!
Centerpiece: easy peasy. Grab fresh assorted flowers from Trader Joe's and some seasonal pieces like pine cones, pumpkins, gourds, etc. Arrange in the middle. I used this marble cake mount from World Market to just elevate the center a tad!

For serveware – I am soooo excited to have lots of new serveware this season thanks to MacKenzie-Childs! This new apartment I'm in has an extra closet, giving me so much more room to store a lot of the entertaining pieces I'm always coveting. I ended up going with the Courtly Check for everything because I love the neutral yet fun vibe that can easily mix or match with any color or style. I grabbed these two baking pans (a 9×13 + an 8 inch), perfect for roasting veggies or any of the casseroles I mentioned above. I also got this casserole pan/dish and in the tablescape, layered it with the enamel serving bowl. MacKenzie-Childs is a master at layering so I'd like to think I'm starting to up my game there! I also got this saucepan (not pictured) and love the size for making daily meals for two!

SaveSave