Some of you may remember that back in mid-August, my apartment flooded and I ended up relocating to a different unit in my complex. Thankfully, the complex had an opening in my same building a few floors up for a unit identical to mine – with the exception that this new unit had a fireplace! I am so excited to have the fireplace here for the colder months (and have already used it a few times with the cold fronts we've had!), but it did pose some differences in my decor. You may remember this gorgeous TV stand I had – it had to go since the wall opposite the couch now has the fireplace. Hence, I did a little rearranging and gathered some new pieces since some were damaged in the flooding.
I've linked everything throughout the post and then again down at the bottom. If you see something that isn't linked or you're wondering where it's from – let me know!
I'm so excited to give you guys a peek into my home with a little bit of my fall home decor. I kept things pretty simple and clean, incorporating different textures and patterns, along with some fall-ish pieces. I am also really loving that Moroccan inspired vibe right now, so pulled that in with this gorgeous new Annie Selke rug, Little Giraffe Moroccan Wedding Throw, and some assorted throw pillows from Target.
Use MARISSA20 to receive 20% off all full-priced items
on Little Giraffe until 12/31
My old rug got ruined in the flooding and I debated for nearly two months about what rug to get. I finally settled on this Annie Selke one and absolutely love it – it's the perfect touch of texture in the room and has darker brown tones in it as well.
Another piece I debated for awhile – this bold horse print from Minted. I finally ordered it and so glad I did, because I'm obsessed! It's the perfect statement piece for the room.
I'm a sucker for any throw – true life, I have too many. But I couldn't pass up this gorgeous Moroccan Wedding throw with the fringe. It's super soft and is my go to right now!
SHOP THE PIECES

I've shared snippets of my mantle area on Instagram/Instagram stories before – this is a spot I'm constantly updating and changing… adding new things or replacing depending on what I'm currently loving. This windowpane frame from World Market is one of my favorite pieces. I got these wooden houses for my Holiday Decor but pulled one out early to give a little added height to the mantle setup. This fall garland is also gorgeous and I love the deeper metallic hues it adds in to the otherwise pretty neutral room (what can I say, I love neutrals..ha!)
The fireplace actually juts out from the wall, leaving two sections on either side about 4 feet wide. I filled one side with a tufted bench and kept things simple on the wall with the skull head. The other side is currently empty (hence not shown) and I'm trying to find a good dresser or shelf of some kind to get a little more storage in here for things like DVD's, books, etc. since I don't have the entertainment piece as before.
SHOP THE PIECES

As for little details + decor… I utilized mainly neutral pieces scattered throughout with a few orange pumpkins for a seasonal pop. I love pinecones in the fall/winter and usually place them in little vignettes for an earthy vibe. I keep this Mackenzie Childs tray on my ottoman with a stack of books and vignette, including a flameless candle (no toxins, please!). In the colder months, you can always find a mug nearby – this cheese board from World Market makes a great oversized coaster for an ottoman.
On another note, I love pillows as much as I love throws… if you can't tell from the photos below. I usually incorporate some kind of faux fur pillow during each season – because, #fur. And then throw in an assortment of pillows for added color, dimensions and textures.
SHOP THE PIECES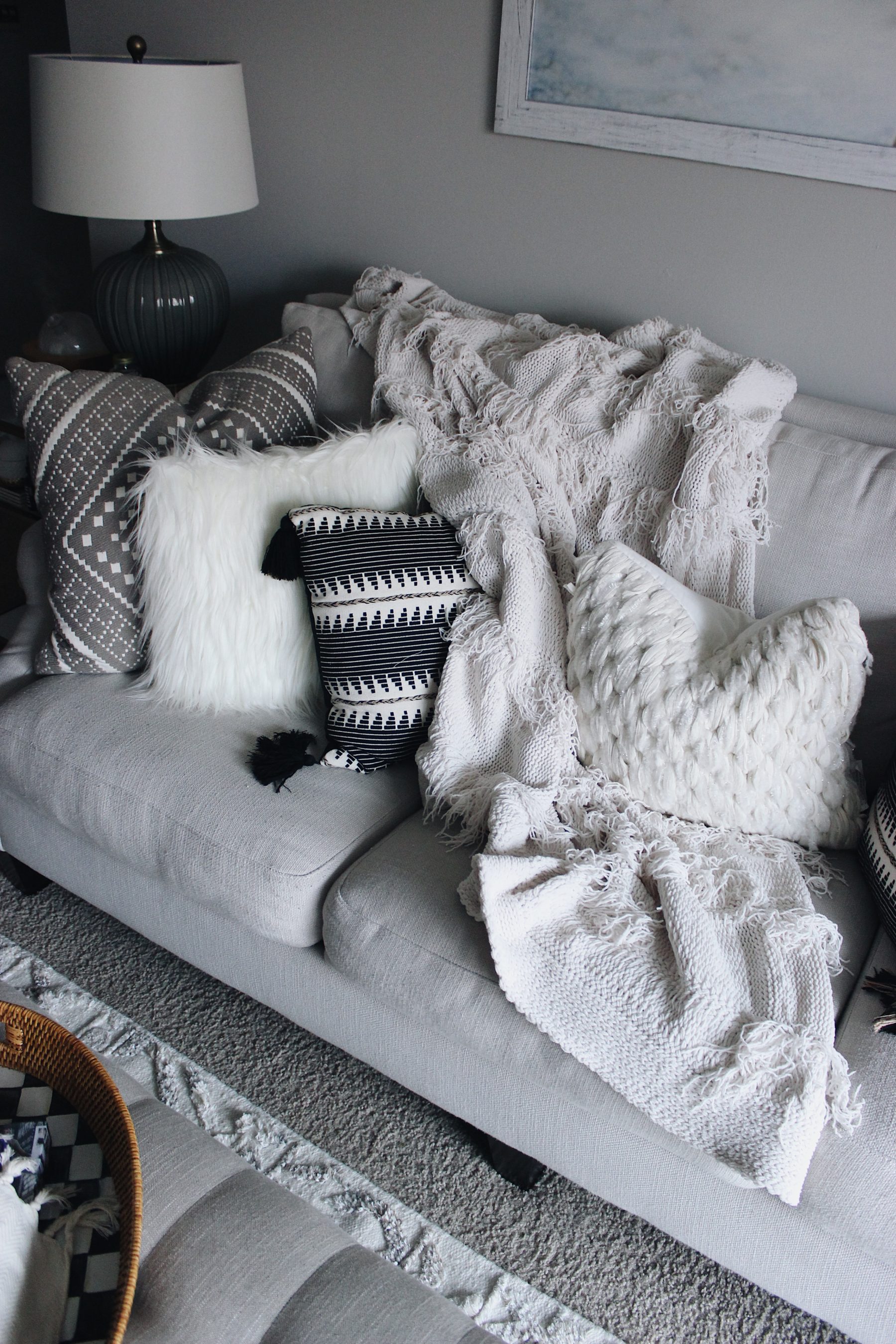 SaveSave
SaveSave
SaveSaveSaveSave
SaveSave
SaveSave
SaveSave