WELCOME to my holiday home tour! I am so excited for this post that is (finally) getting up for you guys.. but better late than never right? I've been in my apartment for a little over a year now and it's been so much fun (and so much work) gathering pieces and then decorating. This Christmas season I really made it my mission to decorate everything. I had my core pieces left over from last year, but little touches here and there really bring everything together. So without further adieu, grab a cup of cocoa, your favorite blanket, and join me as I walk you through my little home!
My overall home decorating style is rustic chic with a little bit of luxe details – think neutrals, wood, faux fur, touches of gold. You'll see this reflected below in my holiday decor as I incorporate woodland animals, touches of fur, greenery, and bits of gold. I've done my best to source all of the products below for you if they're still available. If not, I've told you where it's originally from but linked to something as similar as possible!
THE DINING AREA
I decided to decorate my dining area little more this year to tie the whole room together since my dining/kitchen/living rooms are all really open and connected. The floor length mirror is a Homegoods find and originally sits in the corner of my living room, but since the tree is up I moved it over to this spot near the dining table. I've been dying to hang a boxwood wreath from it, so grabbed a ribbon, tied the wreath, and nailed it to the back. Such an easy DIY (takes seconds) and instantly the mirror was festive and ready to go. I also have a full hot cocoa bar along the wall next to the table – it was featured in a post a few weeks back so check out the hot cocoa bar here.
This is the second time I've used that flocked wreath as a table centerpiece, and I picked up the assorted candles inside the wreath from Homegoods as well. Details on where all pieces are from below.
SHOP THE DINING AREA

---
THE LIVING AREA
My couch is probably one of my favorite spots in my little home. I love filling it with a ton of pillows and cozy throws – making it look cozy, warm, and inviting especially during this time of year. I really wanted to incorporate a mix of faux fur on my couch this season and ended up finding all my pillows at Pier 1! I'm also a major sucker for anything tassel or pom pom'ed – so naturally I had to get both a throw and pillows with fuzzy pom poms. May be slight overkill.. but I'm secretly obsessed. I brought in some depth of color with the faux fur throw on the side chair from Joss and Main. For the side tables, I kept my year round decor on there and mixed in some festive things like sparkly wooden houses, bunches of fake snow, greenery with faux berries, and pieces of garland. I actually bought this long green garland and just cut it into pieces for different spots around the house.
SHOP THE LIVING AREA

---
THE CHRISTMAS TREE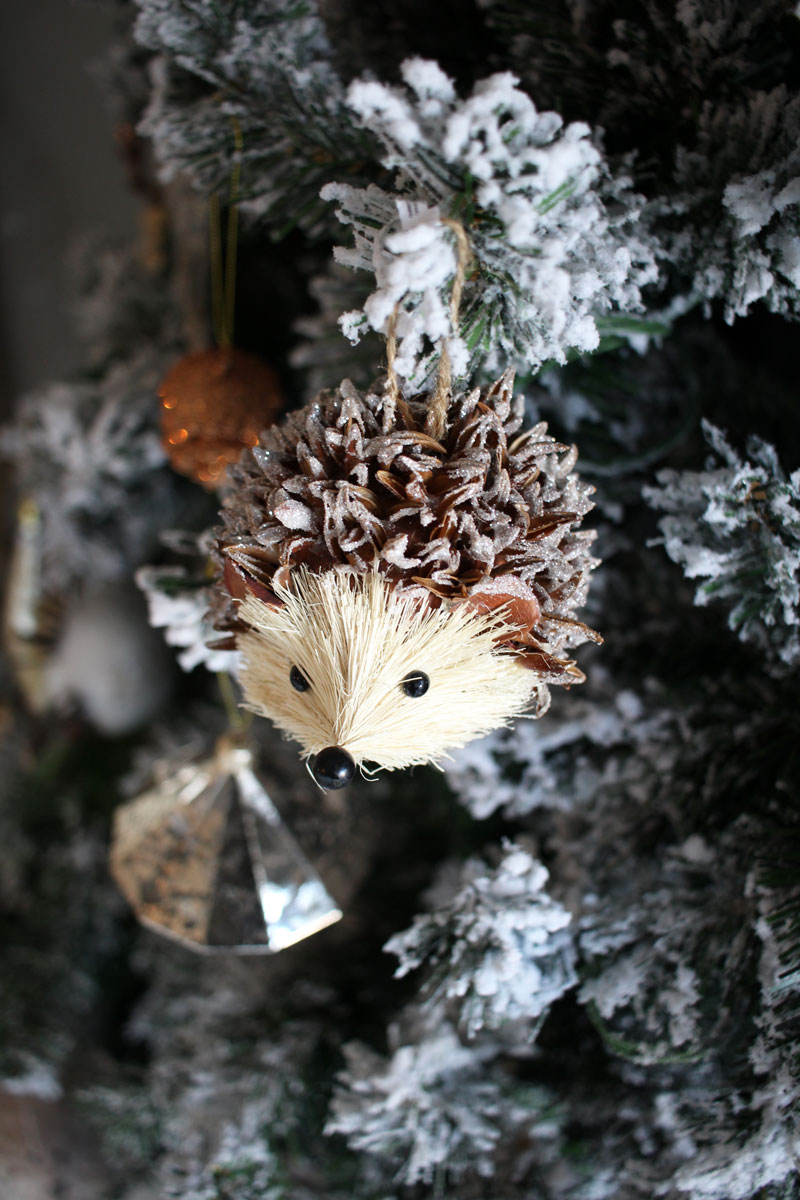 And last but certainly not least.. the tree! If you follow me on snapchat or instagram stories, you know how obsessed I am with my tree. My favorite time of day is when it's just about dusk and I can walk into the living room and turn the lights on – it makes the room so cozy and festive, and I'm more often than not found cozied on the couch with a heaping cup of steaming hot cocoa (you guys are my witnesses..)
I absolutely love the flocked trees – this is the same one I had last year from King of Christmas. I usually pick a wrapping paper theme as well and this year I went with some different papers in the Sugar Paper for Target collection. I found my stocking holders at Pier 1, and most of my ornaments have been gathered from Target, trips I've been on, or gifts from friends. I love mixing the little woodland animals in with sparkly pinecones and spheres. Full details below – you'll notice alot of my tree decor is from Target.. The day after Black Friday Target does a spend $100, save $50 on all Christmas decor and I usually stock up like crazy!
ORNAMENTS – ASSORTED (LINKED BELOW)
SHOP CHRISTMAS ORNAMENTS

SHOP CHRISTMAS TREE

SHOP WRAPPING PAPER

Thank you all so much for heading over here to see my home tour – this post took so much time to put together, but I hope you loved a little glimpse into my space for the holidays! Merry Christmas to all <3