Newport, Rhode Island has been one of my favorite New England destinations since I was in middle school. The first time I ever went to Newport was with my mom and sister for a little girls weekend – we stayed at a quaint little bed and breakfast, toured the Newport Mansions, and ate at Brick Alley Pub.
Since then, we've gone back countless times. It's a quick drive from Connecticut, and you're whisked away into a little coastal island filled with so much charm and history. I've toured the mansions so many times I could probably be a pro tour guide at this point! (seriously) But no matter how many times we've gone, I just love learning about that 'old world' that really isn't so far in the past. Disclaimer: If I could put myself into one time period in history, It would be the early 1900's. Think Downton Abbey + Great Gatsby. 
Aside from the mansions since they are an absolute must, I wanted to put together a few things for you to do should you spend a weekend in Newport and details on where I stayed this trip. I definitely suggest summer as the best time – it's just beautiful with a cool breeze constantly whipping around the air from the ocean. This was my second trip in February (this one was much different than the last) and the weather was gorgeous for this time of year, but that isn't always guaranteed!
WHERE TO STAY
This trip, I stayed at the Hotel Viking for the first time, and I loved it. Located right in the heart of downtown Newport, Hotel Viking is the perfect dose of Newport charm and history. The hotel was under renovation during my visit so I didn't get the full experience (I hear the entry is beautiful), but my sister and I enjoyed yummy morning room service, a Downton Abbey themed afternoon tea, and a wine tasting dinner partnered with Justin wines. The staff was incredibly helpful and accommodating, and the valet boys treated us so well!
5 THINGS TO DO IN NEWPORT
VISIT FORT ADAMS // Fort Adams is a former US Army post built right before 1800. The Fort is open to the public, but if you're interested in a tour, they have them daily! There's beautiful views overlooking the water, and it's one of my favorite spots to just stare out over the ocean at the Pell Bridge. It's a must visit at least once.
2. GRAB A LATTE AT EMPIRE TEA + COFFEE // Skip the Starbucks and opt for this cute little local coffee shop. They have two locations, both have totally different vibes, so visit both! My drink of choice this past weekend was the Nutcracker Almond Tea latte – not to sweet, and not too heavy.
3. TAKE A DRIVE (& WALK) ON OCEAN DRIVE // Ocean Drive wraps right around to Bellevue Avenue where the mansions are located, but the gorgeous coastal scenes and private residences along Ocean Drive will make your jaw drop. There's plenty of places to park along Ocean Drive to hop out, take photos, and walk along the water. The waves were crashing like crazy when we were there this weekend, and the sky was a grayish-blue color, creating the most gorgeous backdrop for photos of the ocean. You don't want to visit Newport without taking a few snaps of Ocean Drive!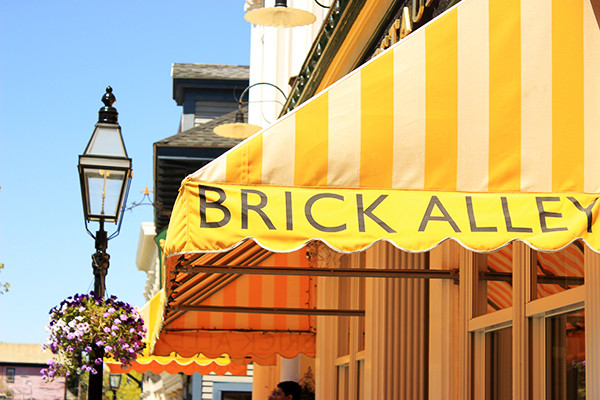 4. EAT AT BRICK ALLEY PUB // This is definitely the most trafficked restaurant in Newport. Every time I've ever visited, there's an insane wait! It's a bit of a tourist spot, but the food totally hits expectations. It's great for a lunch or early dinner if you're looking for that All-American kind of food. Think juicy burgers, loaded nachos, and of course, some seafood. Have at least one meal here!
5. WALK THE CLIFF WALK // The Cliff Walk is a 3.5 mile long walkway along the shoreline of Newport. If you're up for it and the weather is on your side, walk the whole thing. I have yet to do this (I've only ever walked parts at a time), so it's on my list to do the whole thing at once at some point. Two must walk parts: the area off Ledge Road and in front of the mansions. Seeing the mansions from the road is one thing, but I love the views from the water too! This trip we took about an hour and explored the area off Ledge Road – great photo area with gorgeous views!
I hope you guys enjoyed this little weekend travel guide for Newport! If you saw something on my snapchat that you didn't see here, feel free to ask in the comments below. Have you guys been to Newport? If not, bookmark this and plan a weekend getaway!
 Thanks so much to Hotel Viking for hosting Jessica and I for such a fun weekend! 
SaveSave