Last weekend I met Haley down in Amelia Island for a little getaway to just unwind and catch some temps a tad warmer than here in CT. We picked Amelia Island since it was a quick flight for me & just a little drive for her. Neither of us had been before, and I quickly felt like I was in Westhampton on Dune Road but with Palm Trees.. you can see some of the dunes in the above photo. And a little fun fact? Haley and I decided to be a tad adventurous and walk out over the dunes to snap some photos, but a lady at one of the Ritz Residences started shouting at us from her top balcony that we aren't allowed to do that! Apparently they're 'unprotected' (we still aren't sure what that totally means) and ended up seeing a 'STAY OFF THE DUNES' sign near the boardwalk when we walked back up. I mean.. it happens, right? Made for a good little laugh on our part!
We stayed at the Ritz Carlton on Amelia Island and I am so glad. The Ritz is quickly becoming one of my favorite hotel groups to travel with – they're incredibly accommodating, have the most helpful staff, and have really any amenity you need right on property. Here's a few highlights from the Ritz on Amelia Island:
Ritz Club Level – every Ritz Carlton has this and anyone  can include this into their stay. A club level stay offers additional amenities and perks, including an all day long lounge featuring a full breakfast spread, light bite lunch options, happy hour treats, and late night cordials/cocktails and sweets. Coffee, tea, and other refreshments are available all day long, and each lounge features tons of different seating ranging from group tables to cozy couches. Haley and I took full advantage every morning of the breakfast and usually found ourselves in there midday to enjoy some snacks and chat.
Spa – every Ritz Carlton also has a spa onsite with every service possibly imaginable. Haley and I both got massage while visiting and they were heavenly.. mine quite literally as I had the Heavenly Bliss massage. There's also your standard steam room, sauna, hot tubs, pools, and more to enjoy. You can really make a full day affair out of all the spa has to offer!
The Lobby Bar – the Ritz Carlton Amelia Island just launched their new open lobby bar concept, fittingly called 'The Lobby Bar'. What was once an 8 foot area sectioned off now spans the entire back end of the hotel lobby, looking out on the grounds, with lounge tables/seating, and a wraparound bar. It's the perfect spot to enjoy one of their 5 craft cocktails (Amelia Sunset is my favorite!) and some of their house sushi – quite possibly one of the best sushi's I have ever had!
SALT – SALT is one of the few restaurants on the Ritz Carlton Amelia Island property. Haley and I dined here our last night and had an exceptional dinner. I highly recommend the butternut squash soup appetizer (if it's offered the season you visit), and the salmon for a main. They were so delicious!
SHOP THIS LOOK


We also took one afternoon to explore Fernandina Beach, a quick 10 minute ride from the Ritz Carlton. There's tons of cute little antique and souveneir shops, colorful buildings, restaurants and cafes, and even Florida's oldest bar!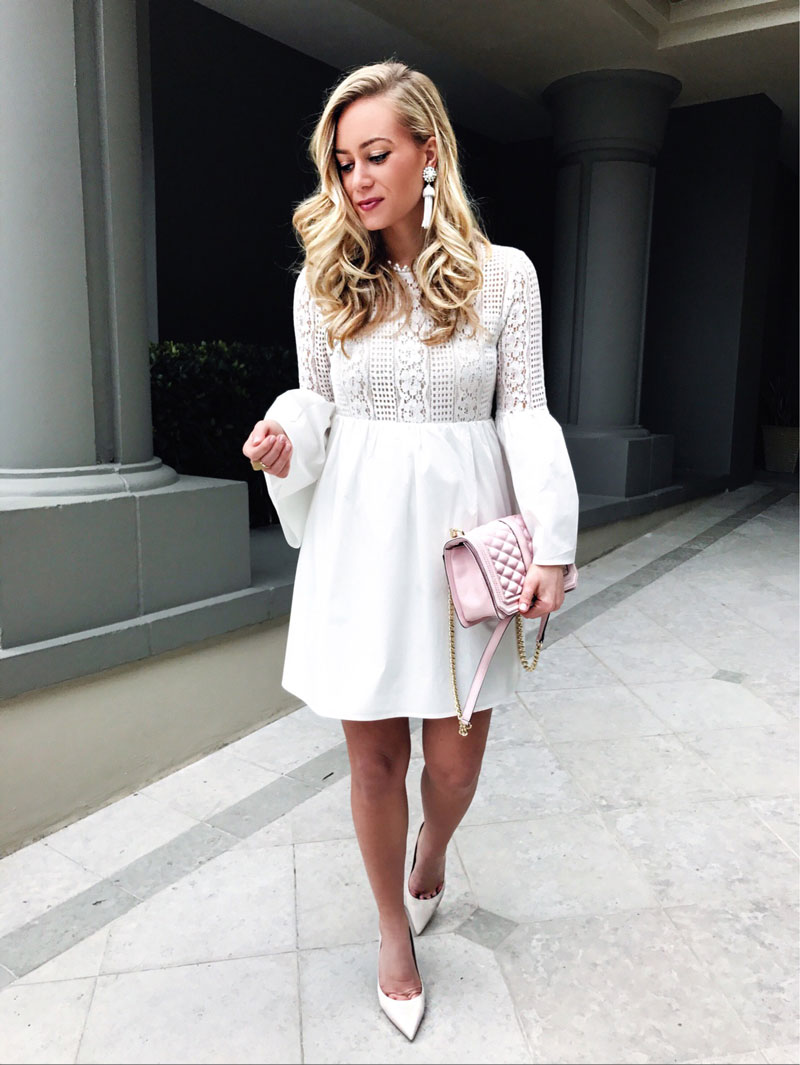 SHOP THIS LOOK

I couldn't get over the breathtaking sunset views we had. Saturday was a bit cloudy so didn't offer much of a sunset, but Friday and Sunday were both stunners. If there's one thing I'll love no matter where I am, it's the beauty a sunset has to offer. Thanks so much to the Ritz Carlton – Amelia Island for hosting us on our little weekend getaway. It was the perfect recharge with great food, gorgeous views, exceptional service, and of course – time spent together!
SaveSave