I'm going to preface this post by saying: I am so over apartment living and not having any natural light. The only spot I get decent lighting in my place is in the living room (kitchen is nearly pitch black 24 hours a day), hence why I have groceries all over my ottoman.. ha! #reallife.
It seems that any kind of grocery haul is highly requested and super interesting to all of you guys – and I love when you share your Trader Joe's, Whole Foods, or other finds with me! This Trader Joe's haul is going to be Whole 30 specific.. however, I buy all of these items even when I'm not doing Whole 30. There are a few things here or there I also buy when not on whole 30 (like their brown rice pasta), but for the most part my grocery shopping is pretty clean.
As a refresher, you can see all of my Whole 30 content here.
I didn't include produce (fruits + veggies) in this, because I feel like that's kind of a no brainer, and fruits + veggies should make up the largest portion of your groceries anyways whether you're doing Whole 30 or not. Eat fresh, not out of a can or box! You can see what produce I typically buy on my Whole 30 shopping list (you can download the print out).
I've broken this into categories to make things a bit easier and given some tips or ways that I use each of the items too!
Frozen Foods
A common complaint I hear about Whole 30 is how much prep time and/or dishes there are because you're cooking so many fresh foods – hello, not a can or box to just heat up! I think this was more existent in the early days of Whole 30 – think 8 years ago when I first did it – and not really now. TJ's has a ton of frozen options that cut down prep time and make cooking A LOT easier.
Riced Cauliflower – I used to buy fresh heads of cauliflower and rice it up in my food processor, but Trader Joe's recently started carrying this organic pre-riced cauliflower and it's been a game changer. I buy 4 bags at a time and keep my freezer stocked with these – use as a base for mexican caulirice bowls, stir fry, orange chicken, and so much more!
Hodge Podge Mix – I love these frozen stir fry mixes that TJ's has. They have several different ones (all in freezer section) and they're super easy for week nights when I can't be in the kitchen cutting up tons of veggies or things for dinner. I'll defrost a chicken breast or some shrimp and throw in a pan with a hodge podge mix, coconut aminos, and garlic and it's ready in 10 minutes or less.
Mushrooms – sautee with some onions, garlic, and chicken breast then simmer with chicken stock for a little take on marsala.. easy week night dinner with not too much prep.
Carrots – same with these – great as a side dish for any chicken or fish you make on whole 30 – no prep time!
Fire Roasted Onions + Peppers – this bag is SO good for weeknights when I'm rushing + need another quick dinner. Throw chicken or shrimp in and you have fajitas within 10 minutes.
Turkey Burgers – you guys know I absolutely love these. 100% a staple in my freezer. I usually have them for lunch or dinner on top of a kale salad with roasted potatoes + my homemade salad dressing.
Chili Lime Chicken Burgers – these are super good too.. more of a Mexican flair to them. I made lettuce wraps and sliced these up with guac + salsa and it was delish!
Protein
I usually don't buy tons of meat at Trader Joe's, depending on the prices at some other spots. I usually always try to get organic, grass fed meats no matter where I purchase them.
Organic Ground Turkey – I grab 2 pounds of this and use both up in one week. I'll make a batch of homemade meatballs, use in the eggroll in a bowl recipe (AMAZING), do a crockpot chili, and infinite other things.
Organic Grass Fed Beef – Perfect amount for a meat sauce over zoodles or spaghetti squash, homemade burger patties, or a chili.
Chicken Sausage – Trader Joe's chicken sausages actually are not Whole 30 approved. Almost all of them have a sugar additive (or another one) that is not permitted on Whole 30. I usually buy my chicken sausages from Whole Foods, but this last time I was at TJ's, I checked the ingredients on each of the chicken sausages to see if any were ok, and these Italian ones are. I personally don't think the TJ chicken sausages are as "real" or fresh tasting as the ones I buy from Whole Foods – I buy those whether I'm doing W30 or not!
Pantry Goods
I go through a lot of these items pretty quickly on Whole 30, and even when I'm not since I still cook with the same things.. so I make sure to keep at least 1 extra in my pantry at all times because running out of things is the absolute worst. And I don't know about you guys… but sometimes my TJ's is completely sold out of things by the time I get there in the afternoon, so I don't take chances!
Coconut Aminos – these are a newer item to TJ's. I actually prefer the coconut secret brand, but these coconut aminos are still good, a bit cheaper, and are a great W30 approved condiment to use. My fave way to use them? Stir frys, eggroll in a bowl, or cauliflower fried rice. I'll also make an asian salad dressing with them sometimes (garlic, ginger, sesame oil, and aminos.. yum!)
Coconut Oil – pretty much a no brainer, but again something I'm never out of. You can get coconut oil pretty much anywhere now, but I always get mine at TJ's.
Ghee – a Whole 30 approved cooking agent.. it's clarified butter which means it's just the butterfat, sans the milk + water protein found in a regular stick of butter. In other words, don't buy regular butter, use ghee. It still has a buttery flavor, so I use this to cook certain things instead of coconut or olive oil.
Organic Chicken Stock – for soups, a moisture agent in recipes (I'll put a tad in my cauliflower rice, stir fry, chicken + olives dish, or the mushroom one mentioned above), and more.
Sesame Oil – I LOVE cooking with sesame oil. It gives foods such a nice flavor, especially any asian cuisine dishes I'll make.. I actually love asian foods and usually miss my Thai and sushi the most when I'm on Whole 30 the most. I'll use this for stir fry's, salad dressing, eggroll in a bowl, marinating, and more. It's also pretty light, and it heats up quick so be careful when cooking!
Nutritional Yeast – this is totally new to me, but it's whole 30 approved. A lot of you said you put it on popcorn (can't have that on whole 30) or spaghetti squash/zoodles. It's kind of like a cheese-ish substitute. I only tried it once so far and IMO there was like no added flavor or texture to make it worth it.. but I'll keep at it!
Bruschetta – this is seriously one of my favorite things at TJ's. It is SO GOOD you guys! Put it on chicken, on your eggs, eat with the plantain chips, and so much more.
Canned Chicken – super easy for a quick + easy lunch. Make a chicken salad with a Whole 30 mayo or dressing, put it on top of a salad, or in lettuce wraps.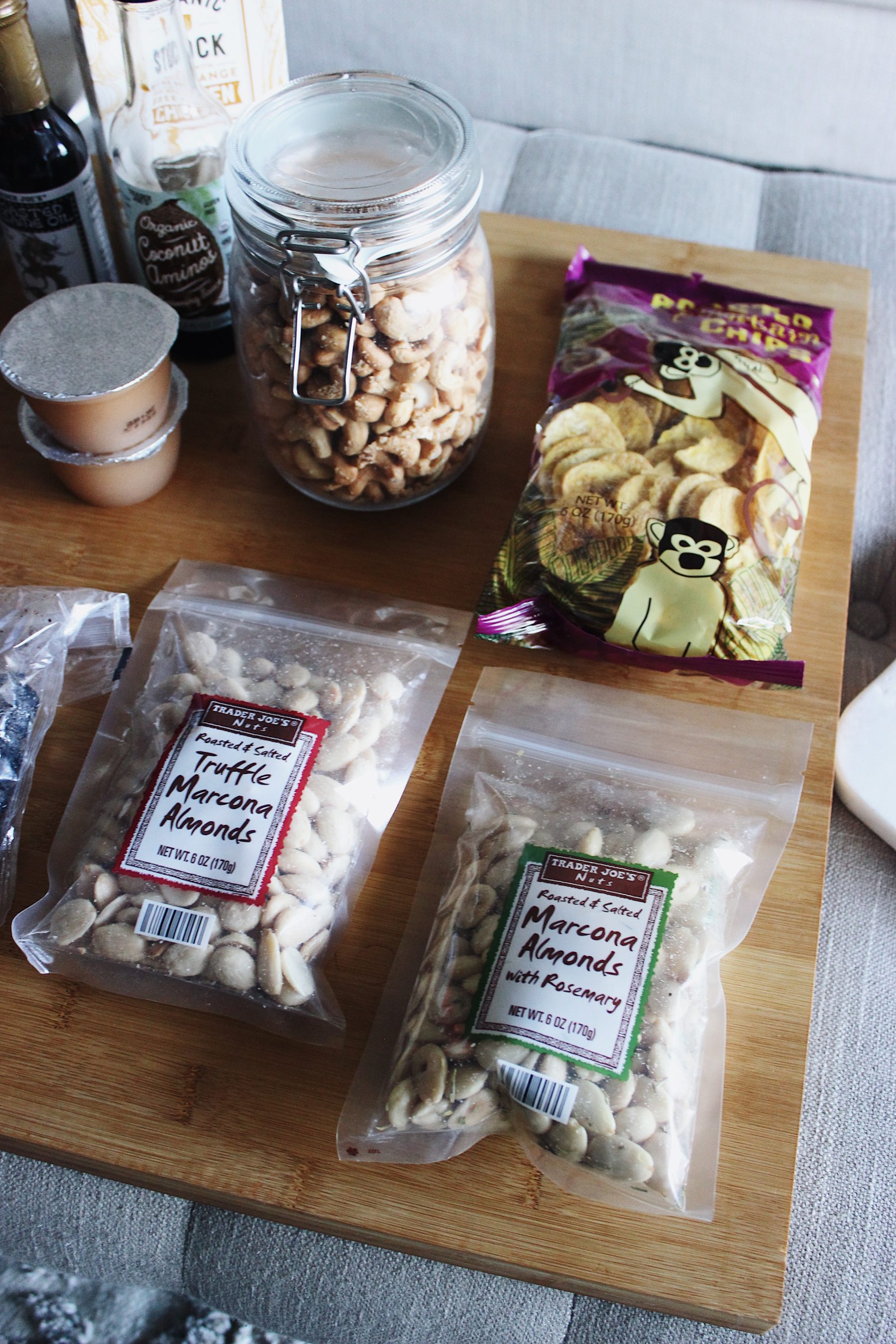 Snacks + Things
I say snacks kind of loosely because on Whole 30 you're technically not allowed to have "snacks". However, my feeling is if I'm out running errands and get hungry, I'm not going to let myself starve + get a headache before the next meal. So I pick things that are healthy and whole 30 approved like nuts, fruit, apple sauce, or roasted plantain chips.
Marcona Almonds – these are literally the BEST almonds ever. I just got the ones with rosemary to try this last trip!
Cashews + Bing Cherries – I eat these two together and it tastes like a peanut butter and jelly! I also keep cashews on hand to make my own cashew milk.
Plantain Chips – I am OBSESSED with these roasted plantains from TJ's. I buy 5 bags every time I go because I hate running out of them! You can eat them with the bruschetta above, put on salads, crush on top of chili or a taco bowl, and so much more. They're literally just baked in sunflower oil so are clean for Whole 30.
Applesauce cups – I keep these on hand for when I'm on the go. I get the organic ones, and double check the ingredient list because one kind has added sugar. This one does not!
Ready to Go Produce
Again, these totally cut down on the prep time + make life so much easier when doing Whole 30!
Broccoli + Kale Slaw – this makes for a super quick salad for lunch or dinner. Just don't use the dressing because it's not Whole 30! I put the turkey burgers on top of this usually.
Zoodles – because who has time to spiralize their own these days.
Shredded Cabbage mix – I use this for the eggroll in a bowl recipe, and you can also add to any stir fry kind of dish!
Beverages
Obviously there's no sugary drinks, energy drinks, sugar laden coffees/lattes, or alcohol on Whole 30. So what can you drink besides water?
Spindrift Sparkling water – naturally flavored with real fruit juice. You can also do La Croix or the Trader Joe's sparkling water is fine too!
Organic Coffee – I recently switched over my coffee to this fair trade organic from TJ and absolutely love it. It's so good and you can 100% tell the difference between organic coffee and just a regular k-cup. I've been making my own almond milk and a cup of coffee is now seriously so delicious!
Almond Milk – make your own using raw almonds from trader Joe's.. recipe to come soon!
Pin the photo below to save this list on your boards and share with friends!