Happy Monday all! My Whole 30 post didn't make it up yesterday, but better late than never right? I wanted to make sure I was nice and thorough for you guys. If you missed my first post last week, head here to catch yourself up! If you're here for week 2 – then let's get right to it!
This post is a little long.. but I promise totally worth it – I also broke it up into each category of my list for your easy reference below!
I officially completed my 30 days on Saturday, but have actually stuck to the 'rules' since.. as I mentioned on my snapchat, I've decided to stick primarily to Whole 30 eating on a regular basis, besides the occasional meals out, weekend takeout, or homemade pizza that I like to make. I'm so used to eating like this now that I really hardly think about it. I've found recipes and go to's that I make on a weekly basis, and have gotten into a routine for grocery shopping.
Speaking of grocery shopping, a ton of you have asked about what my grocery list looks like, so today's post is a complete breakdown of what I eat and where I've found certain products.
Love my list? Download list to print!
(Click to open link, then click to open PDF for printing)
VEGETABLES
Vegetables should make up a huge portion of your Whole 30 meals. I eat at least one dark green veggie with almost every meal (mainly kale or spinach), and then another one as a side. The veggies on the list above are my staples and things I go through every week. For breakfast, I'll include veggies in my eggs. Lunches, I make kale salad, egg or chicken salad, or an Asian slaw (recipes coming soon). Dinner I do a million different things with veggies – from roasting potatoes to lettuce wraps and things in between.
I also got pretty creative with my veggies and tried using them in new ways. For example, I roasted cauliflower with EVOO and spices and then topped with a marinara sauce, or I spiralized zucchini and used it as "pasta" with sauces, shrimp/chicken, or stir frys. Aside from the greens, cauliflower was definitely a huge staple for me. I used this as a main at least twice a week! It's also super easy to make when you don't have an hour to spend in the kitchen.

FRUITS
All fruits are Whole 30 approved, but they should be eaten in moderation. Fruits have a high (natural) sugar content, so make sure you're not depending on fruit too much! If you're a fruit lover, I suggest eating alot of berries or citrus fruits – both of which are high in antioxidants and natural detoxifiers.
I start many of my mornings with warm lemon water. This jump starts your metabolism and get your body going in the morning – it is SO much better than coffee.. trust me! Some mornings I'd have a side of mixed berries with my eggs. I bought clementines and ate them usually as snacks – good to bring if you're headed out for errands and need a little pick me up. Bananas are much higher in sugar than berries so I ate these when I was craving a little something sweet – top with almond butter and unsweetened coconut flakes!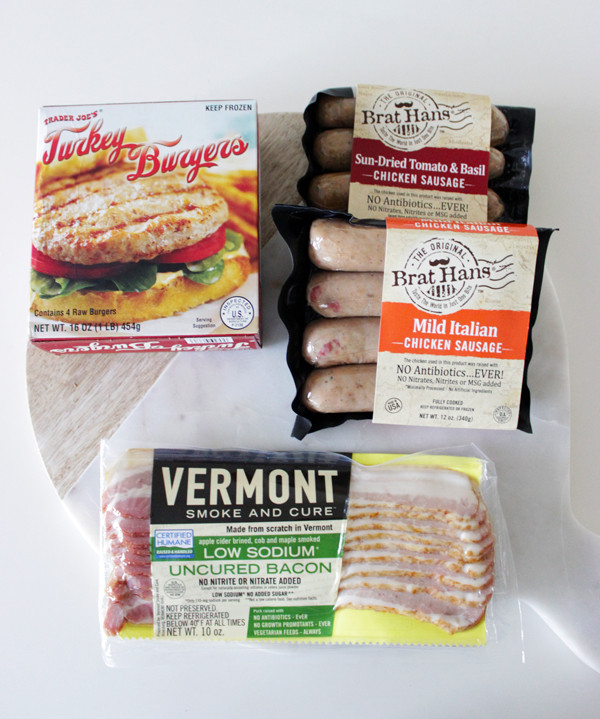 PROTEIN
Buying protein isn't that much different, unless you want to go 100% organic and already don't. Chicken, fish, ground beef/turkey, and any shellfish are all Whole 30 approved. Where it gets a little tricky is finding bacon, sausage, or chicken sausage that is okay to eat. I spent a ton of time searching the regular grocery store, Trader Joe's, and Whole Foods for approved items and finally had some luck at Whole Foods. The photo above shows the exact products I found and bought – with no additives that shouldn't be there!
Proteins obviously make up another huge component of your diet for Whole 30 and you should be eating it at every meal. I love eggs for breakfast, so for me this wasn't an adjustment. If you aren't a huge breakfast eater, you need to be eating breakfast – end of story. Breakfast should actually be your bigger meal of the day. If you think of food as fuel for your body (like gas for a car), then don't you want to start the day on a full tank? If you don't like eggs, then try another protein for breakfast – breakfast doesn't necessarily have to be standard breakfast food.. especially when our culture has made sugar clad crap as 'healthy' breakfast options. P.S. Just a green juice isn't enough either. 😉
If you have a busy week, I suggest prepping your protein ahead of time on the weekends.. make a huge batch of homemade meatballs, grill chicken breasts, hard boil some eggs, make burger patties.. etc. It'll make your meal planning SO much easier! I did all of this at some point and it was very helpful, especially when I had a busy day on the go and needed to whip a salad together!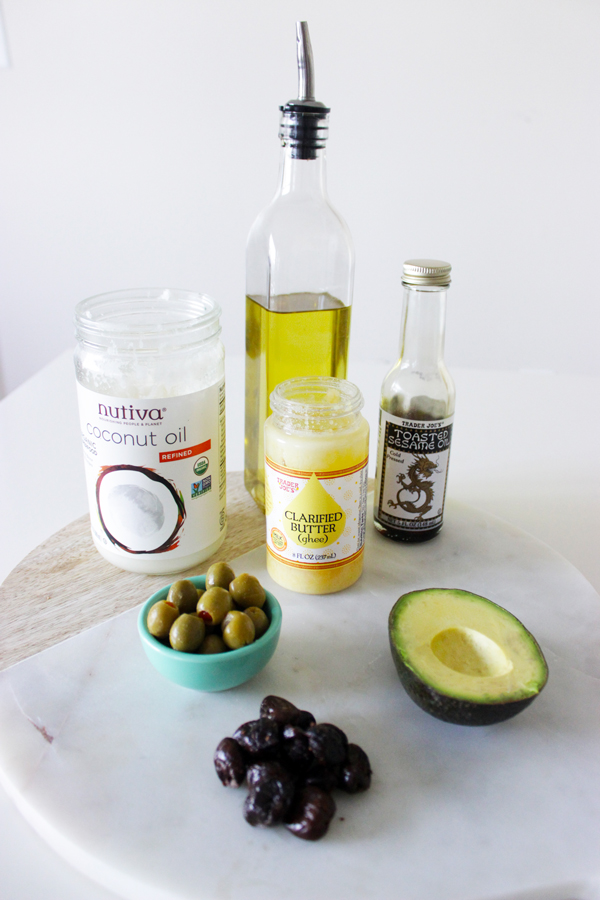 FATS
HEALTHY fats, people! Fat is good for you if you're getting it in the right places. My favorite? Avocado. I eat at least a half an avocado a day – whether it's on my morning eggs, in my salad at lunch, or used as a spread/guac on my dinner. I also use it as the mayo substitute for mixing up some tuna or canned chicken for lunch! Almond butter is another huge staple – I get mine from Trader Joe's. Olives are great to put on literally everything too, and I sprinkle my salads with chopped pecans. Also, I highly suggest keeping the bacon trimmings when you cook it- it makes a great oil/grease for a pan when sautéing veggies for added flavor. One of my recipes actually calls for it! For oils and ghee, I buy all of mine at Trader Joe's. Their coconut oil is one of my favorites – and doesn't break the bank. They also have a great toasted sesame oil that is delicious in dressings and stir frys!
PANTRY ITEMS
This is where you need to be the most careful on reading labels. But once you find a product that works, you're golden.
I highly suggest getting coconut aminos – they're available at Whole Foods or you can order them online. They're like a soy sauce substitute and I used them in stir frys, homemade dressings, and even on foods for a little added flavor. Vinegars are key for making homemade dressings! Mustard is like my secret sauce – I put it on or in almost everything and love the little kick or tang it gives to foods. Most salsas are fine – just check to make sure there's no sugar. (Sugar or forms of sugar are in literally everything.. you wouldn't believe!) I suggest making your own marinara sauce, but if you can't or want to have some extra on hand, there's a few I found that are approved at Whole Foods.
If you don't want to make homemade salad dressings (since every store bought one is pretty much not okay) the Tessamae's dressings are officially Whole 30 approved. Order them here.
DRINKS
Water. Obviously drink as much water as you possible can every single day! I have a designated water bottle that I carry around with me everywhere and am constantly filling up. I'm not a huge coffee drinker, but coffee is okay on Whole 30 – just no creamer unless it's canned coconut milk (TJ's) or a homemade almond milk. Trader Joe's has sparkling waters that are naturally flavored and just 79 cents! You all know how much I love my tea – just check labels for added sugars (yep, again!), and kombuchas are okay to drink – Target actually carries them now!
So there you have it – total breakdown of my shopping list. If you have any questions about where to purchase something specifically, or if something is Whole 30 approved, feel free to leave below in the comments or shoot me an email. Continue to leave your questions because I'm working on the FAQ and any recipes that you've seen on snapchat and want to see! I was also wondering if you guys would be interested in a post of my "meal breakdowns", like a list of different meal ideas for breakfast, lunch, and dinner. Let me know!
Happy Monday + Be Healthy! x