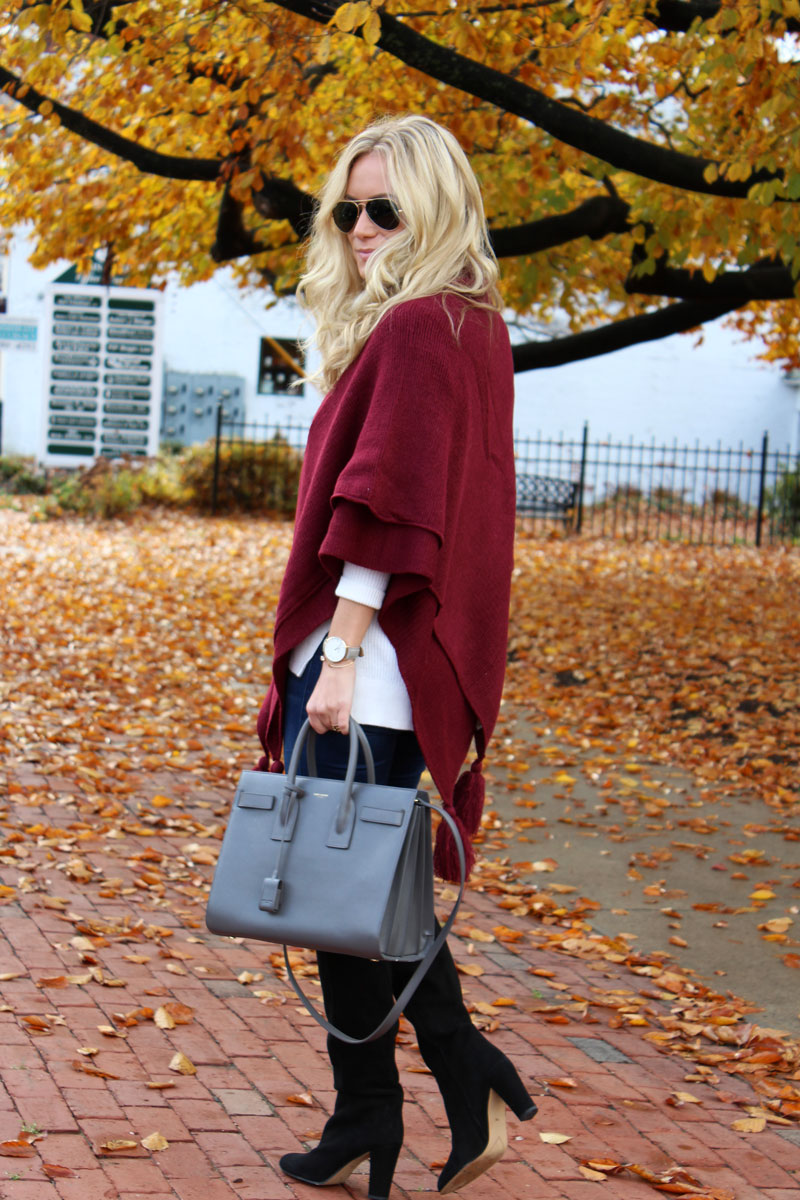 Happy Monday, all! Can you believe it's already Thanksgiving week? We've got a super busy week here on the blog so I hope you'll be checking in for updates. Today we're kicking things off with a spotlight on some of my go to accessories. I don't think it's much of a secret how much I love wearing some type of oversized scarf in the fall. Scarves or ponchos instantly bring an outfit together and sometimes elevate it to an entirely new look! I spotted this oversized wrap scarf at while browsing online at Nordstrom a week or so ago and knew I needed to bring it into my collection. It's got a dream of a price tag (just $38!) and comes in a variety of colors – this deep red being one of the few colors I love to wear in the winter. I wore it semi-casual here with denim and OTK boots, but pair it with a black blouse and leather leggings and you'll be good to walk right into your first holiday party!
Another piece I've had for awhile but absolutely love is my Cluse watch. I used to wear my gold Michael Kors almost everyday, but when I added this gray Cluse watch to the mix, it quickly became my favorite. It's a great everyday watch and goes with almost everything in my mainly neutral clad wardrobe. Most of the Cluse watches ring in just around $100 and Nordstrom carries a great selection of the brand.
Remember that our gift shopping and giving season is quickly already upon us, and these two pieces make such great gifts for the holidays! The wrap is great for a co-worker (who doesn't want to wrap up in that at their desk!) and any sister would love that watch (trust me, mine would!)
SHOP THE POST

Today's post was created in partnership with Nordstrom.