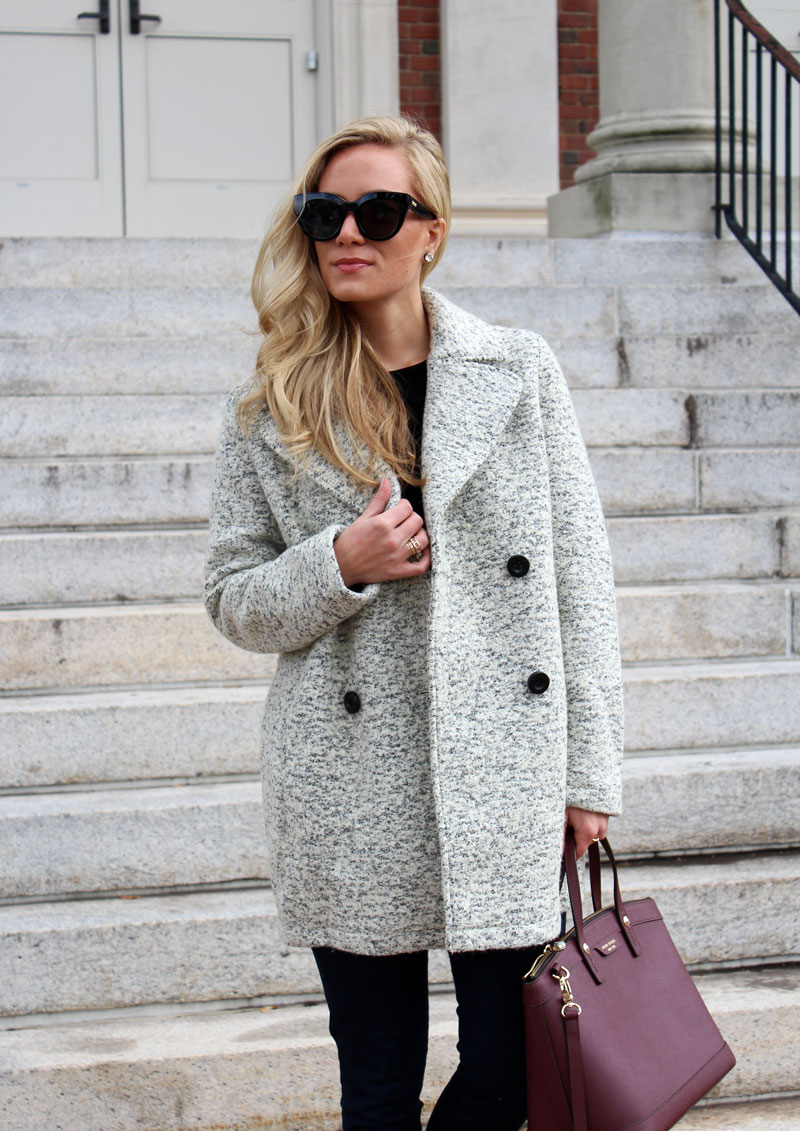 I can't even believe I'm about to say this, but it snowed yesterday. Not just flurries, like full on snow for hours. It (fortunately) didn't stick since it hasn't been anywhere near freezing over the last week, but it was enough to get things wet and be freezing for the entire day. I think we might be in for cold from here until April now.. yikes!
If it's going to be cold the next few months straight, then I'm so glad I've already stocked up on outerwear! I've added three new coats from Abercrombie to my coat closet over the past few weeks including this boucle pea coat. It's nice and thick but not too bulky, and faux wool if you're allergic! One of my pet peeves with coats is feeling like a snowman on steroids when I put it on, especially layered over sweaters. This coat has just enough room thanks to the cocoon style, and you can easily throw a scarf on and not have things feel too tight. I already plan on wearing this Abercrombie coat with a turtleneck sweater and booties too!
I first featured Abercrombie a few months ago, and if you haven't noticed, their pieces have been on heavy rotation in a lot of my looks lately. I might start sounding like a broken record, but the brand has really elevated its designs! When a brand does a rehaul and nails it, then you better get on board! Head over to Abercrombie and grab yourself a little present – everything is 40% off right now (how's that for a pre-Thanksgiving sale?), including my boucle coat, only $120! Happy Shopping x
SHOP THE LOOK

SHOP ABERCROMBIE OUTWEAR – 40% OFF!

Today's post was created in partnership with Abercrombie.