Hello from sunny, quaint, and historic Savannah, Georgia!
Christina and I spent 4 days down in this southern town + I have so much to share with you guys. You all gave such amazing recommendations on instagram, and we incorporated tons of those into our trip. I'm excited to share the highlights of our trip: where to stay, what to do, where to eat.. and just some good travel tips in general for your trip!
This was actually my second time in Savannah – I went two years ago but in September (pre-fall) and I feel like visiting this time of year is so much more fitting. Can I share a secret with you guys? I think I like Savannah more than Charleston. I've been to Charleston once and it's was out of season, so that might have to do with it but so far Savannah is higher up on my list of southern spots to visit!
There is SO much history in Savannah – it's the first planned city in the US, one of the oldest standing, and is the 'most haunted' city in the US as well. It's known for it's cobblestone streets, quaint squares (22 to be exact), and gorgeous Spanish moss covered trees (which actually isn't true 'moss'). The second you pull into historic Savannah, you truly feel the old American southern vibes – and if you're anything like me… you'll be day dreaming about what horse drawn carriages rolled through the streets or who walked the tiny squares. I'm a sucker for learning about the history of places + thinking about what happened on X day 100 years before I was there!
WHERE TO STAY
The incredible Mansion on Forsyth Park is where Christina and I stayed and I could not recommend it enough. It's more on the outskirts of historic Savannah, so you're away from the hustle and bustle, but still in the heart of the city right across from the famous Forsyth Park – which I hear you shouldn't go in after dusk! #haunted We were a quick 10-15 minute walk away from most anything we want to do/see/eat.
The staff was incredibly nice + accommodating at the hotel. They gave us such a warm welcome at the front desk and the valet boys always had cold water waiting for us when we got back from an afternoon out exploring.
The hotel grounds are GORGEOUS – the Mansion is part of the Kessler Boutique hotel collection which are known for their 'inspired dining, art galleries, signature spas, cooking schools and wine blending. Each hotel is artfully unique with its own Bohemian twist.' Richard Kessler (the founder of Kessler Hotels) has created an incredible experience for guests – truly you don't have to leave the property to enjoy your stay!
We enjoyed brunch at the on site restaurant 700 Drayton one morning + it was absolutely delicious. I got the seafood omelette and it was hands down one of the best omelettes I've ever had! DELISHHH! The hotel also made some of their craft cocktails for us one night for happy hour + we sat out on the hotel terrace/back porch area. And on our last morning we took full advantage of the gorgeous pool in the back.

One thing we didn't do – and completely regret – is the hotel cooking school. We didn't realize this is a huge attraction at the hotel and something they're known for! I received this recommendation from some of you + when we toured the hotel and saw the cooking school room, Christina and I instantly looked at each other and said 'we should've done this..' Welppp.. I guess that means another visit is in order!
WHAT TO DO
Trolley Tour – Hands down the best + easiest way to see the whole city. Hop on a trolley + hop off anytime throughout the day! Your guide will tell you so much about the cities history, pointing out specific buildings, landmarks, where movie scenes have been filmed, and everything in between. It's also a nice little break from walking, since you'll definitely do a lot of walking here!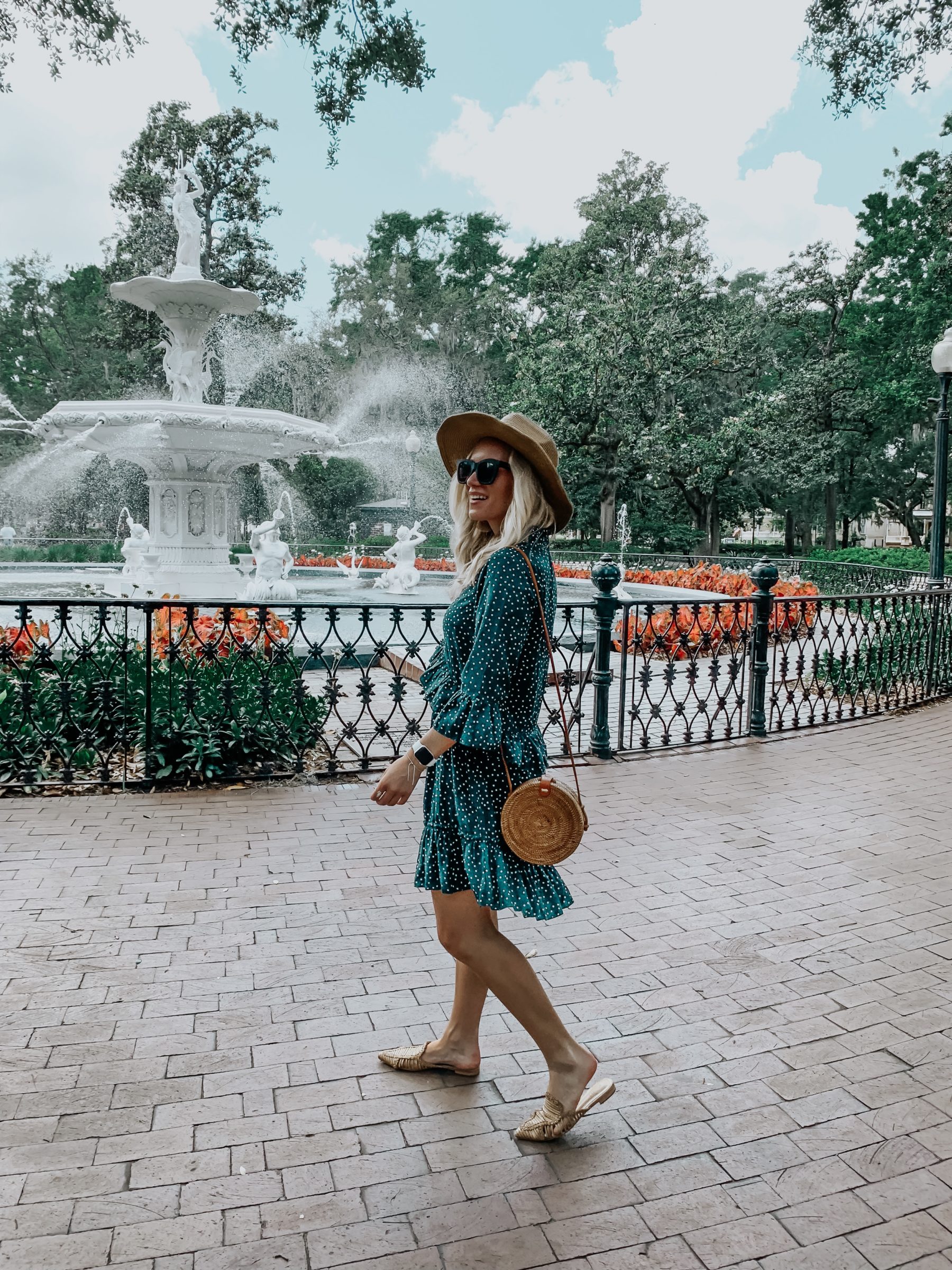 Forsyth Park – Yes, it's a park but it's not 'just a park'. It's like Savannah's version of Central Park!

Walk through the Squares – Savannah has 22 difference squares situated throughout, and each one is uniquely different. Christina and I walked through almost all of them (I think we hit at least 15!). Some have monuments + statues, others have park benches, and others have water fountains. The famous park bench scene in Forrest Gump was filmed in Chippewa Square!

Cooking School – at the Mansion on Forsyth Park // like I said above, this is a must do + we are so bummed we didn't! But based on the recommendations I got, I would definitely schedule this since it's an iconic experience!

Rooftop of Bohemian Hotel – Whether you grab happy hour drinks or full on dinner, the rooftop of the Bohemian is a must. You get gorgeous views of the river! We grabbed a glass of rosé one night before dinner up there.
The Olde Pink House – this is a restaurant, but truly it's an experience in itself. I ate here on my first trip to Savannah and I think it's more about the atmosphere and visiting this iconic spot over the food!

City Market – we didn't spend time here, just walked past + saw it on our trolley ride, but this is one little spot that has little shops, restaurants, art galleries, and more!



WHERE TO EAT
Okay, let's be real. Anywhere I go, I'm really just there for the food – ha! You guys know I'm a total foodie, so trying out new spots and cuisines in different places is one of my favorite things! Christina and I both have similar palettes and we also aren't fans of super heavy food (i.e. your typical southern plates) so we opted to try some more trendy, up and coming spots rather than the ones with your traditional southern fried foods, etc! Savannah, you did not disappoint!
The Paris Market – this is a cafe/coffee shop and ADORABLE store all in one + probably the cutest spot in all of Savannah. It's on Broughton Street which is known for shopping + eating in Savannah. A MUST visit in my opinion + makes for a great photo spot too! Grab a coffee or an iced tea and a macaroon, and then shop around a bit! Don't forget to go downstairs too.
Leopold's Ice Cream – Leopold's is an iconic Savannah spot that's been around for almost 100 years. They're known for their award winning, homemade ice cream, but also have food options too!
Savannah Square Pops – this is a hidden gem in Savannah for sure. Our waitress at 700 Drayton told us about it on our first morning and we knew we had to stop in! Each of the square pops are named after one of the 22 squares in Savannah. Their mission is to use as little ingredients as possible – with many options being vegan, gluten, and dairy free!
700 Drayton – this is the restaurant at the Mansion on Forsyth Park and it is DELISH. I wish we had had another morning or night to have another meal here because I wanted to try so many things on the menu! I got the seafood omelette and Christina got the chicken and waffles – both were incredible. 100% highly recommend. The 700 Drayton is also such an experience with all of the art all over the restaurant thanks to Mr. Kessler.
Collin's Quarter – easily my favorite spot in Savannah. I went here twice the first time I visited, and then Christina and I went twice again! It is just TOO good! I highly recommend the lavender mocha latte with almond milk and the short rib hash – ask for two poached eggs on it (it comes with 1 fried).
The Vault – we ate here our first night and it was so so good. It's an asian fusion spot located in an up and coming area of Savannah (so we heard at least!) and had such a fun vibe to it too. We split the tuna poke and some sushi rolls and had a crisp glass of rosé to go along with it!

The Atlantic – we ate here our last night and it was to die for. It's located near The Vault in the same area (away from downtown Savannah). We sat out on the back patio + split a bunch of their small plates. The plates have a mediterranean twist – with things like spiced lamb, tahini and harissa, and lots of fresh ingredients. I think the fattoush was our favorite!



Savannah Travel Tips
1 – Wear comfortable shoes for walking // Savannah is 100% walkable, and we did a ton of walking while there. I'd recommend flat, comfortable shoes – and if you do want to dress it up at all for dinner, then stick to wedges if you'll be walking! We we wore flat sandals some days and felt like our feet got a little swollen from all the walking so I'd recommend something with more support!
2 – When you get to the airport, the spot for uber/lyft is to the right when you walk down the escalator. A small but important tip that will save you some time!
3 – I didn't know about this until after I left Savannah, but apparently the historic district is one of the few places that you can take your drinks 'to go'! So if you don't quite finish that glass of wine with dinner, ask for it to go!
4 – A fun instagram worthy spot is Rainbow Row – Charleston is known for this, but Savannah has one of it's own little spots (it even has a plaque commemorating this little spot on one of the homes!) The exact address to find this spot is 508 East Bryan Street.
5 – Look both ways ALWAYS. Our uber drive from the airport was going on and on about this when we first arrived and Christina and I were like 'okay…' But we quickly realized that no one really stops for pedestrians here – especially the cars. Kind of strange considering the entire historic district is extremely walkable and has tons of people walking all over.. but true. We were sure to look both ways multiple times and even had to stop mid crossing a few times because the CARS DON'T STOP. Unless you wanna end up like Regina George.. be careful!
Thank you so much to the Mansion at Forsyth Park for hosting us!