The second half of my roadtrip with Kendall was to Portsmouth, New Hampshire. It's a quick 30 minute drive from Kennebunkport, so we left mid afternoon and arrived with lots of daylight and gorgeous weather in the coastal town. I am not as familiar with Portsmouth as I am with Maine in general so this was a totally new exploring experience for me! Portsmouth is one of the oldest cities in the US, and is settled along the Piscataqua river that separates New Hampshire from Maine, making it a metropolitan hub for several surrounding cities.
WHERE TO STAY
Kendall and I checked into the Hotel Portsmouth – another boutique hotel in the Lark Hotels group featuring historical pieces with a little modern flair. The Hotel Portsmouth was completely different from Captain Fairfield Inn, but still had signature Lark Hotel features. There's breakfast served on the first level of the hotel each morning with different refreshments and beverages available throughout the day. I can't tell you how convenient it is to stay somewhere where they have filtered water and snacks available during the day when you come back from exploring the city for a few hours! Kendall and I took full advantage of this.
The Hotel Portsmouth also provided us with a map of Portsmouth that featured a ton of their favorite picks in the city ranging from restaurants to shopping, coffee shops, and everything in between. Kendall and I really had no clue where to start when it came to exploring Portsmouth so this guide was incredible helpful – as well as the staff at Hotel Portsmouth!
We stayed in room #306 – which is on the upper level and features a split level layout separated by a little staircase. The lower level featured a bathroom and little sitting area, and the second level housed the bedroom and another bathroom. This setup ended up working perfectly for Kendall and I since she tends to be a bit of an earlier riser than me (hello night owl over here!). I'm hoping the more we travel together the more I'll become a morning person like K… ha!
Head over to Kendall's post to see more photos of the interior of the darling Hotel Portsmouth.
OUTFIT DETAILS

 WHAT TO DO
I have to totally agree with Kendall and say the best way to see a new city is to just go out and explore. We really had no idea what we were doing our first day but just grabbed our city map from Hotel Portsmouth and started walking. We stumbled on the most adorable bakery, saw 100 different coffee shops, found a salt shop (more on that below), and so much more. We didn't use my car once the entire time we were there. Of course, it helps that Portsmouth is an entirely walkable city! Bring comfortable walking shoes though, since many parts of the city are cobblestone or brick streets and tend to be uneven. (aka don't wear heels!)
Two of our favorite spots we found were Salt Cellar and Profile Coffee Bar. Salt Cellar is on a tiny side street that we almost didn't walk up! I got the most amazing White Truffle Salt (I put it on homemade popcorn this past weekend!) and Kendall got some lemon body butter for her mom that smelled so delicious. We were looking for a good coffee shop to grab an afternoon pick me up and get some work done too. Portsmouth has a ton of coffee shops that we walked past, but Kendall found Profile online and we knew it was the spot. Seriously amazing coffee you guys and we loved the relaxed vibe. I ordered an almond-coconut latte and it was to die for. New favorite? I think yes! We ended up going back the next day before we headed back home for a little roadtrip refreshment.
Memorial Bridge – we took a walk across Memorial Bridge to Badger's Island.. except we picked the worst possible time. This bridge allows barges and other cargo ships come through and we somehow hit it letting huge ships through on both our walk over and walk back! Aside from when the bridge is held up, the walk is only about 8-10 minutes and gives such gorgeous views of the harbor and establishments along the river.
Kittery, Maine – We didn't head into Kittery at all, but if you're in Portsmouth definitely set aside some time to drive over Memorial Bridge and explore Kittery for lots of great shopping and restaurants.
OUTFIT DETAILS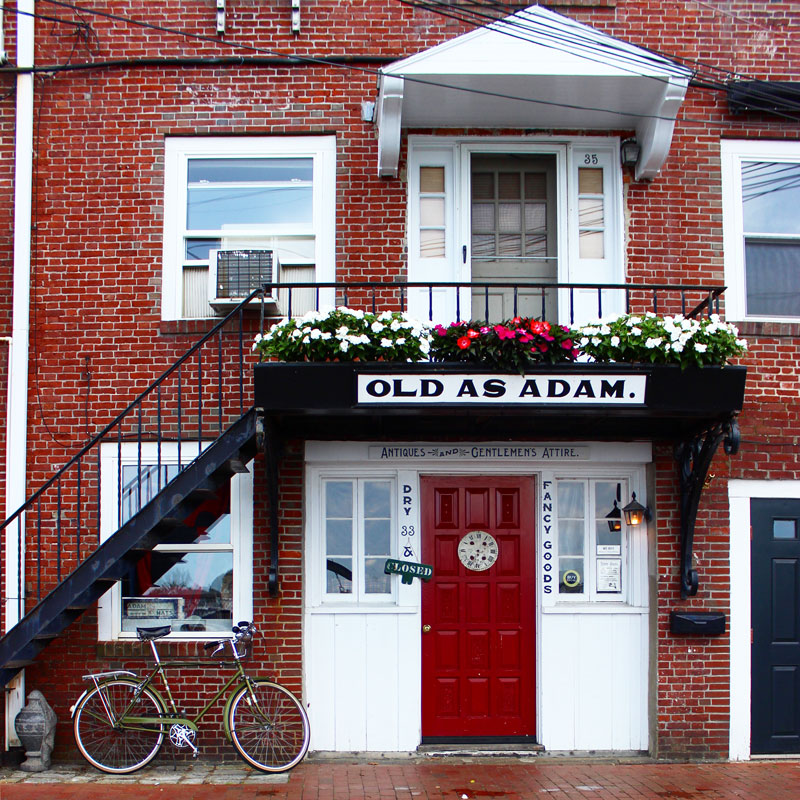 WHERE TO EAT
Kendall and I definitely don't have an issue finding spots to eat – I have to admit we're constantly figuring out where our next meal will be! It's half the fun when visiting new cities, to try the cuisines and food they offer and see what we end up loving. Portsmouth has so many restaurants, we usually had a hard time picking – but I think we got in a good variety of spots. Here's a few of the spots we tried and loved:
Cure Restaurant – We ate dinner here the first night and it was so delicious We ordered the Mushroom Forestiere (drizzled with white truffle oil!) & Blue Cheese Stuffed Dates to start – both were amazing. I ordered the Crispy Duck Breast which was cooked perfectly and Kendall stuck to seafood with the Salmon dish. If the weather permits, request to sit on the back patio for dinner!
Poco's Bow Street Cantina – Mexican is hands down our favorite food to eat, so when we walked by Poco's on Bow Street we decided to stop in for lunch. It's also supposedly home of Gronk's favorite margarita (Gronk is a Patriots player for those of you who don't know!) so I figured it must be worth stopping in, right? I ordered fajitas and Kendall got tacos – it was seriously some of the freshest Mexican I ever had! We enjoyed lunch outside on their deck with gorgeous views of the Piscataqua River area.
Black Trumpet – As soon as we read the Black Trumpet menu, we knew it had to be our dinner spot the second night. It definitely did not disappoint! We both started with one of the tapas style apps and a glass of red followed by their signature seafood paella. We finished it out with a house made blueberry and corn trifle that was just the right amount of sweet to cap off our Portsmouth foodie adventure.
The Friendly Toast – We stopped in here before we headed back home on our last day for a quick breakfast. We ordered omelettes which both hit the spot. The Friendly Toast is a great little local spot to stop in if you want a tastey and fast breakfast!
Portsmouth overall seems to be a pretty health conscious city. As a celiac, I had zero trouble ordering any of my meals. Most of the restaurants are pre-marked with gluten free options or they have separate menus upon request. Aside from gluten, a lot of the menus marked which dishes were vegan, soy free, or even dairy free. I have to say Portsmouth was one of the easiest places to travel to with food allergies! And that's always a breath of fresh air.
I'm not usually one to write 'bad reviews' on spots, but we did stop in Rudi's for happy hour to escape a sudden torrential downpour and we weren't impressed. Our drinks weren't made very well and the app selection for happy hour wasn't too impressive. We also couldn't get any wine on their happy hour menu – it was all full price glasses for these wine loving gals! If you're wanting a good happy hour spot, I suggest trying something else. However, sometimes it's all about the company you're with, so we made the best of it with good laughs and conversation together while the rain passed over!
I love putting these little travel guides together for you guys to different destinations I travel to. Whenever I travel, I always find reading other's experiences is the most helpful thing when planning my trips. I'd love to hear any suggestions you may have for future travel guides, what kind of things you'd like to see, or any questions even!
Thank you so much to Lark Hotels for hosting us in Portsmouth, New Hampshire.
SaveSave