You guys, I am such an organization freak. I love bins, baskets, trays and alllll of that, so organizing my pantry was like a therapeutic exercise for me – ha! When I asked you guys what you wanted to see more of in 2020, it was things in my home, how I'm organizing/cleaning, what i'm decorating, etc… so let's kick it right off!
I ordered all of this on Amazon – and prime for that matter.. so it came quick and I was able to organize things right away! Before I ordered everything though, I took inventory of what I had + what I would need to organize.. that way, I wasn't left with too many large bins, or not enough lazy susans, etc. I highly recommend this, because it helped me so much to know what I wanted rather than just ordering a bunch of random stuff and making it 'work'!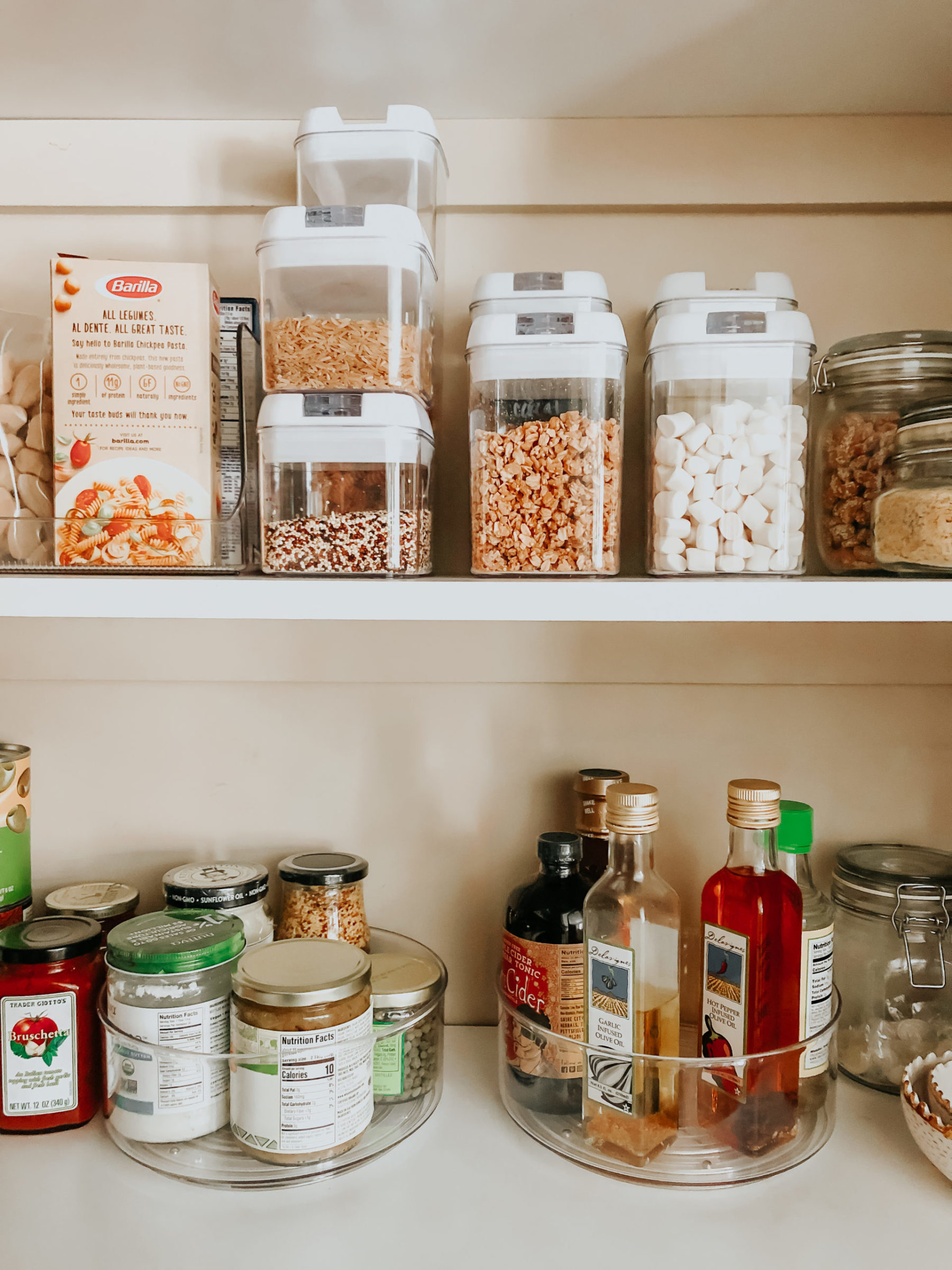 + I ordered these easy lock containers for things like rice, quinoa, granola, etc. There's 7 containers, all different sizes! Easy to stack + also see what's in side. They also came with a bunch of labels you can use on the containers.
+ I have a cabinet for spices and other things, but some of my bigger oils, vinegars etc I keep in my pantry. I ordered these lazy susans for things like that + it's easy to turn and reach for whatever I need!
+ I've had all of those airtight lock jars for a long time + keep baking/sweets items in them.. like nuts, sugar, chocolate chips etc.
+ The clear bin beneath houses some miscellaneous things like nut butter or other nuts I don't have in jars. I have a bunch of these bins all over the house for organizing!
On the other side of the pantry, I stacked all my recipe books + then jars of protein, peptides etc. I keep these in their original containers because it's just easiest and don't transfer to some other jar.
+ Okay I think these two bins are my favorites! I ordered both sizes in these stackable open front containers. The larger ones on the top shelf house my rices and then the smaller ones on the bottom were perfect for protein bars, my ningxia packs, fruit packs (i have these before workouts!), etc. I love that these are so organized in their own containers but also easy to see/grab on the go when I need them!
+ Underneath the open front ones on the bottom shelf, I bought these larger bins for snacks/chips/crackers/etc… and obviously my hippeas needed their own bin! 😉
+ I also was trying to think of how I could maximize the space, and found these hanging baskets for things like potatoes, onions, etc. They create another whole shelf + I am SO glad I got these!
+ For pastas and other things, I used another one of the open front organizers.
+ For cans, I know there's a ton of different organizers for these, but I don't have a huuuuge back stock of cans right now (since it's just me!) and have like 1 of everything. So it's easy for me to just see what I have! I just stacked them neatly in the corner.
+ Last but not least, this tea organizer is absolutely AMAZING! I have a huuuge collection of teas and it was a constant mess of stacking those little boxes in the pantry, having them in a basket etc. Really, just taking up too much space! I found this organizer ( and honestly you can use it for really anything). It's so much nicer and neater to have all the bags in this little organizer – I ordered two because I have so much tea!
So that's it you guys – super easy and now my pantry is SO clean and organized. It's also really easy to keep things in their place when they all have their own bin. I'm also able to see what I need or am running low on so when I go to the store I'm not buying unneeded things!