Hello my readers!
Today's post is entirely inspired by olive..olive colored clothing, olive recipes, and olive beauty uses. I don't know about any of you, but I absolutely LOVE olives. When I was younger I used to stick on them on my little fingers and one by one nibble them off. Now, I can't say they still fit on my fingers (though my hands are on the smaller side still!), but I still manage to eat them by the handful. 🙂 As for clothes, that olive green never ceases to catch my eye when shopping at my favorite stores. I recently purchased a light-weight olive military inspired jacket. Unfortunately, I don't have a picture to share.
But, without further ado, let's take a peak at some of my favorite Olive finds today!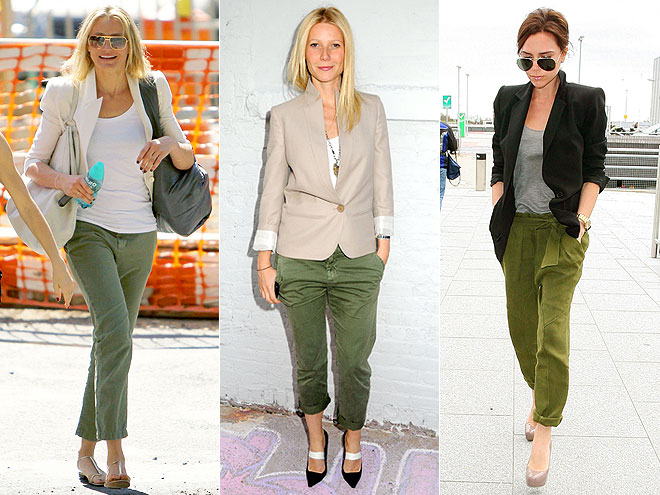 Above: Cameron Diaz, Gwyneth Paltrow, and Victoria Beckham. Each of these classy ladies pair their military crops (can you tell I love this look!?) with a simple tank and trendy blazers. My personal favorite is Cameron's ensemble, but I do love the relaxed chic look of Ms. Beckham.
Olive Oil Bath: How wonderful would it be to have silky soft hands, all in minutes! If you're like me, working non-stop each day, and rarely having time for the regular manicure, this olive oil mix is perfect to end that long day at work, in the yard, or simply just because. To enjoy this little treat, heat about half a glass of olive oil and pour into a small bowl. Then, add 5 drops of rose oil or fresh lemon juice. Soak your hands for as loooong as you would like!
Louis Vuitton – Enough said.
Antheia Bag, olive colored.
Alice & Olivia
One shoulder draped dress
(I'm obsessed with A&O)
What's your favorite "olive" thing ?
Happy Thunderstormy dayy !