I love breakfast food, but I can't always eat super early.. and sometimes I'm just not in the mood for eggs. So rather than not eating (that's no bueno, friends!) I opt for a nutrient packed smoothie that is SO easy to make.
This is actually a spin off my summer time favorite in our little beach town Old Saybrook – I go to a local cafe, The Paperback Cafe, and get their berry protein smoothie. It's my absolutely favorite smoothie I've ever had! So I was determined to recreate it at home.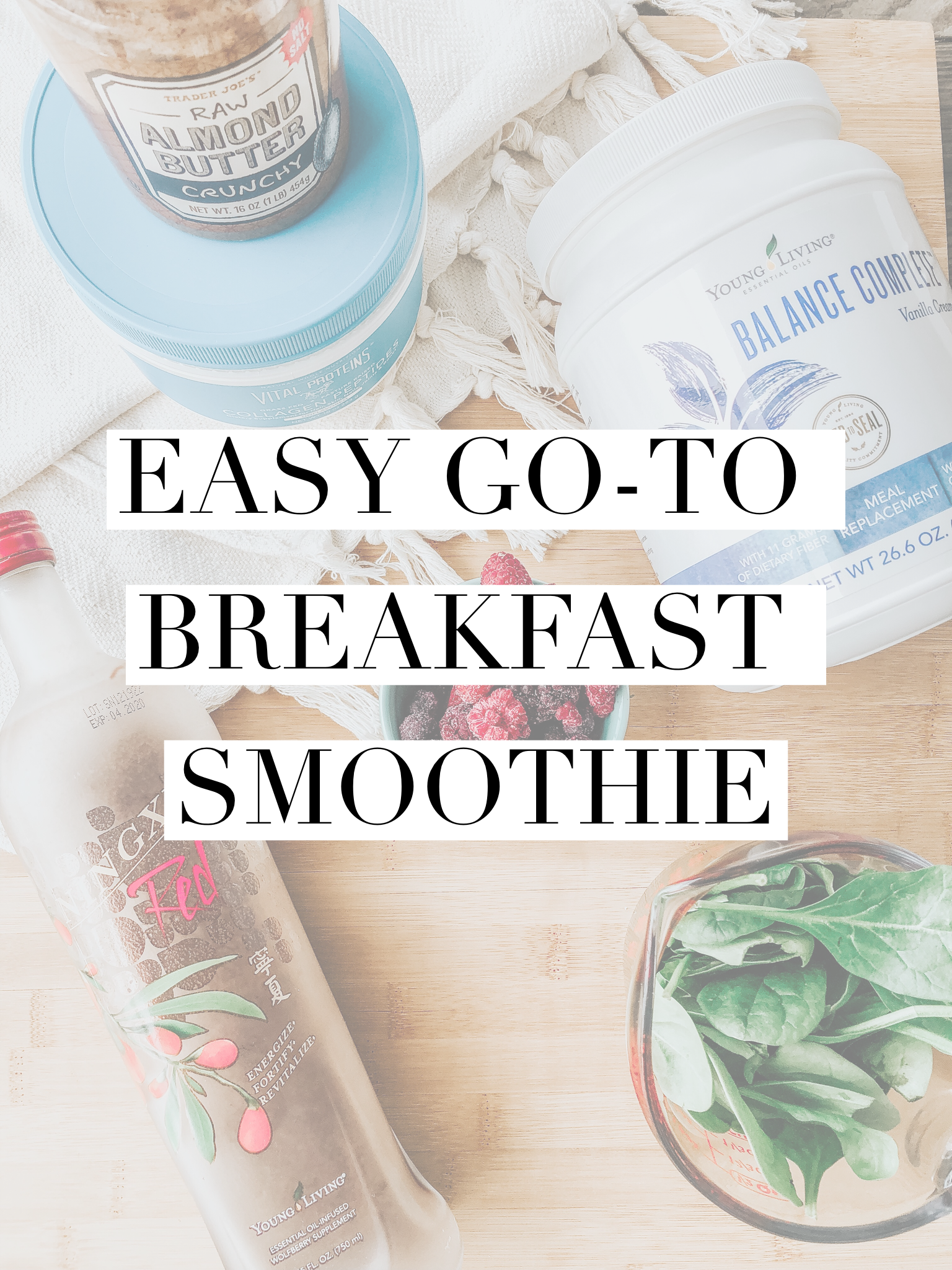 The ingredients are pretty simple:
+ 1 scoop Young Living Balance Complete (this is a meal replacement shake that's jam packed with protein and nutrients. I like using this instead of standard protein since I'm usually eating in place of a meal and it fills me up pretty well!)
+ 1 scoop Vital proteins collagen (keeps your skin, nails, and hair healthy and strong)
+ 1/2 cup organic frozen berries
+ big handful of spinach
+ 1 tbsp. raw almond butter
+ 1 oz. Ningxia
water or almond milk, as needed

Blend it all in a blender (no ice needed since the berries are frozen!) I add in water and/or a little almond milk as it's blending to get the right consistency.
About Ningxia
I talk about Ningxia a ton on my stories, but if you haven't seen or heard about it already here's some details on it. I cannot go a single day without Ningxia! The benefits are so incredible: natural sustained energy, focus, immune boost, bone + joint support, clear skin, brain health and function.. the list goes on. I have been drinking this consistently for almost 2 years now and have noticed a massive difference in these things. I mostly notice the difference when I'm NOT taking it simply because my energy, focus, and skin are the first things to suffer!
About Balance Complete
Balance complete is another one of my favorite Young Living products – yes, I coudl totally get a meal replacement shake from target or Amazon, BUT I love the ingredient quality in the products that YL has:

Balance Complete is a super-food-based meal replacement that is both a powerful nutritive energizer and a cleanser. Offering the benefits of Ningxia wolfberry powder, brown rice bran, barley grass, extra virgin coconut oil, aloe vera, cinnamon powder, and their premium whey protein blend, Balance Complete is high in fiber, high in protein, and contains the good fats, enzymes, vitamins, and minerals needed for a nutritionally dynamic meal. Balance Complete also features Young Living's proprietary V-Fiber™ blend, which supplies an amazing 11 grams of fiber per serving, absorbs toxins, and satisfies the appetite while balancing the body's essential requirements.*

Alrighttttt, so yes that's exactly why I use Balance Complete versus any other protein powder, meal replacement, etc. out there! It's also super easy because I buy both my Ningxia and balance complete in my monthly wellness box.
Who's going to make this?! It is SO yummy you guys – if you want to get yourself some Ningxia and balance complete, then head to this link. Get the Ningxia starter pack (this will last you 2-3 months) and then add on the balance complete in step 2!

Questions?! Of course just ask! Either leave below or shoot me an email – stay healthy and not hungry, friends xo