Today is a LOOONG awaited day and I am so so SO thrilled to finally announce that Style Cusp: The Home Collection is HEREEE!!! You guys – this is entirely surreal for me to even say, I cannot believe there's a line of product out there that I've carefully designed and created that has MY NAME on it. Is this even real?! I cannot wait for you all to see everything!
This launch has been a long time coming – a few bumps in the road pushed our timetable for launch way back, but it's better now than never.. right?!
Okay, so let's get down to it..
This first launch is simple and versatile prints and colors for your home – think neutrals, neutral prints, soft blue hues, and some bright pinks for pops of color. I created a few different series within the line itself  (which you'll see below in some of the photos here..!) that way, there's some cohesiveness and you can grab a few pillows + redo your whole room in one swap. My biggest thought in designing was all of you guys – what makes your shopping experience the best and easiest? I knew right away that was this: having everything you need in one stop.
For right now, everything is available at Wayfair – I'll update you guys as we go, but we'll most likely be available on Amazon and some other retailers too!
The Blue Series

This color is possibly my favorite of all time – you can see that here in my site.. the soft, sea blue hue. It reminds me of the beach, my absolute favorite place to be! And I knew it was a color I wanted part of the first line, without a doubt. This series has a few classic prints rounded out with some textured solids – and I LOVE the way these prints all mix together. Have some fun + pick two prints plus one of the solids for your room!
The Pink Series

Pink is totally outside of my 'comfort zone' when it comes to home decor – but I'm not just designing this line for me and I thought this would be so fun as we head into the warmer months. I love the versatility of this line – it would be so fun for a teenage girls room, but then also a beautiful pop of color on a neutral couch with some whites (why I styled it that way above!)
The white pillow in these above is fun textured print and possibly my favorite solid in the whole line because you can literally use it with ANYTHING!
The Black + White Series

How fun are all of these?! I just love the different prints all mixed together in this line above. The spotted pillow is one of my favorites in the line (also comes in tan!). And I love that pop of yellow mixed right in – the little black dots on that are actually raised velvet so there's a fun texture to the pillow. Anddd, I know you guys are going to ask about that arrow lumbar pillow – I am SO bummed about this one. There ended up being a defect in the fabric for it so we had to remove it from the line. Such a bummer I know, but I'll be on the lookout when we're sourcing fabric for something similar!
The Tan Series


Possibly my favorite series in the whole line – you guys know my love for neutrals so this one just makes my heart happy. I LOVE all of these! That tan spotted print was an absolute score when I found it in the fabric warehouse.. I KNEW it had to be in the line! And that knitted looking one in the second photo above (the two on the end) is one of my favorite pillows in the line. Photos don't do it justice.. I'll have to show you guys on instagram stories!
The Neutral Prints Series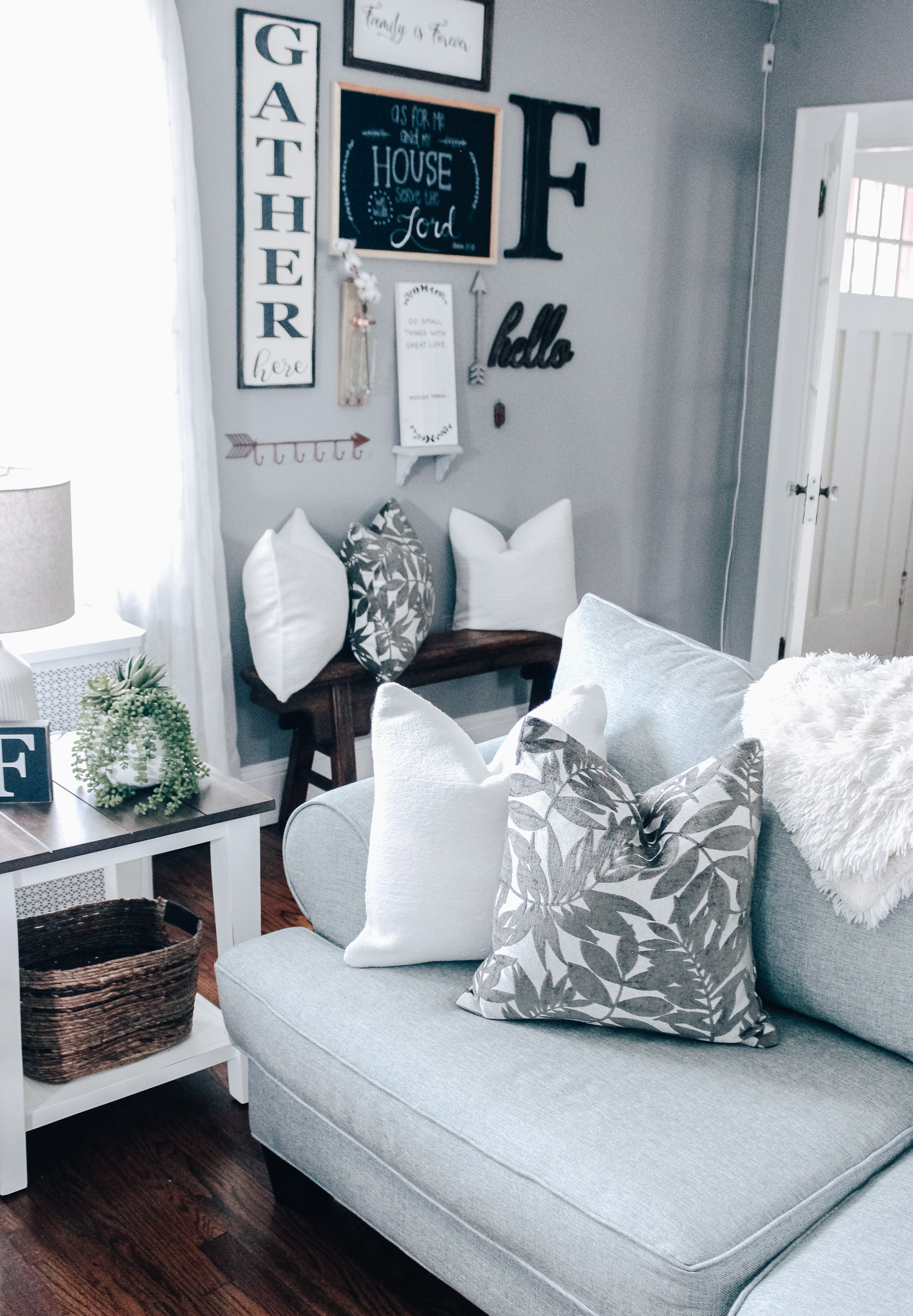 These few pillows were prints I loved that didn't necessarily have a major theme, but ones I felt like could mix in with really any other part of the line – especially the sea blue ones that I shared first. I love love that leaf print above.. even paired with the white textured pillow I mentioned that I like. And stripes are just classic so I knew we needed a few of those in the line overall!
So there it is you guys – Style Cusp: The Home Collection.. our first launch! Designing is already underway for our second line and I'm excited to bring you guys even more gorgeous designs, some fun add ons like tassels and fringe, and more. Never in a million years did I think I'd be doing this but it has been such a fun creative outlet for me to delve into. Thank you to the team at Vesper Lane (my investment + production company) for believing in me + trusting me to run with this. I just hope that you all love this line as much as I do!
I'm running a giveaway over on my instagram, so be sure to check that out HERE!
Thank you all for following Style Cusp, supporting me, and sticking with me since day 1. The support and community that we've built together and are continuing to build is so valuable to me – I hope that you guys are reminded of that every time you walk by your couch with one of these gorgeous pillows on it. And, you better be tagging me when all your pillows arrive so I can see them!