Christmas + Holiday posts are some of my favorite of the year – and this year is no exception! I LOVE snapping photos of my cozy space for you guys.. seriously, if I could, I would only post photos of my Christmas decor from now until December 26th! But I know that's not entirely realistic.. 
I wanted to get this post up a few weeks ago, but some important life things got in the way.. and, if there's one thing I've learned this last year, it's to take the time you need when you need it. So I put my family + some things priority the last two weeks instead. There's so much pressure in the blogging world to perform, perform, perform, and post, post, post.. but I've totally taken that off of myself this year and if I don't want to post, or miss a post.. then IT'S OKAY. The world will go on. My blog will still be here. You guys will still be here, as you've proven to me so many times the last months. For that, I am so thankful.
Anyways – I digress! Here's my holiday home tour + I am so excited to share it with you guys. I wish I could snap the other parts of my apartment but the light doesn't permit.. it's literally SO dark in here pretty much all day long because I don't get ANY natural light shining in at any point during the day. Cue Marissa is searching for a house (and I have been!)
Ahh this famous view – you guys have seen it so many times, but I swear it never gets old. I LOVE walking in to this view every time I get home. The only thing that makes it better is when there's a fire roaring in that fireplace.. which you guys know I absolutely love in the winter months. It's super rare for apartments to have wood fireplaces, so I'm super lucky here!
Overall, I kept things pretty neutral this year – per usual. Last year, I mixed in pops of red, but this year decided to keep those pieces stored and just use the creams, tans, charcoals, and golds that I had. I used tons of twinkle lights too! I reuse alot of the same pieces year after year, just style them in different ways. To see previous years decor, go here.
tip 1
Get the battery powered twinkle lights at Target that have a timer. They're so much easier than the plug in ones + also come with a timer setting.
MANTLE
I was talking about this on instagram stories the other day – but I chose to keep a small TV and not mount a huge one above the mantle for a few reasons..
1: I rarely watch it so why do I need it.
2: I love being able to move my TV around for shoots or things like this!
3: I'm not going to be in this space forever, and didn't want to get a TV specially for this space and then need another one once I move!
In general, I'm not a huge fan of TV's above the mantle. Growing up, my parents had our TV in a separate room from the main living room – mainly because they didn't want all of us to get in the habit of sitting there watching tv, but rather conversing and spending quality family time. If we were going to watch tv, we went down the hall into the office to watch TV. It's just what I'm used to, and honestly, love that they did that with us growing up!

tip 2
Put your TV in a entertainment cabinet or a smaller flex room in your house to keep the main family living area open. Also, makes decorating so much easier! 😉
TREE
I've kept my tree pretty much the same the last few years, just adding in some different ornaments and changing up a few. I absolutely love love the woodland animals – covered in flocks of snow or bits of fur and wintery details. I mix in textures with some faux fur pieces, sparkly neutral ornaments, glittered pinecones, and more. Decorating the tree is probably one of my favorite home decor things ever – it makes me so happy!
I get most of my ornaments from Target and Pier 1. I also will buy them while traveling if I see one that goes well with my theme, but overall keep it pretty consistent – I don't have a tree that has a random smorgasbord of ornaments on it!


tip 3
If you want a themed tree but love the sentimental ornaments, get a smaller tree for the sentimental ones (like a 3-5 foot) and keep it in another area of the house.. like a stair landing, kitchen corner, etc. This way, your main tree can be themed + fit in with your overall decor!
COUCH
I didn't get any new pillows this year – mainly because I have my home collection launching with tons of my OWN pillows! I didn't need to add any to my collection. My couch doesn't have any of my own designs right now, but my bedroom does.. and I absolutely love it. It's an amazing thing to walk in and see pillows I designed sitting on my bed!
I mixed together a few different pillows I've collected over the seasons. World Market + Pier 1 are my favorites for great pillows. The beaded reindeer one is from Pier 1 last season + no longer available online. The fuzzy mongolian fur is from World Market and I actually usually use this one year round styled on the couch.
I love having the couch look full and fluffy so use tons of pillows and at least 1-2 throws. There's always a ton of throws all around my apartment too.. blanket queen over here!

tip 4
If you want to bring in pops of red or green, do this in your pillows + throws. Keep the overall canvas of your room neutral (easy to change and decorate season to season).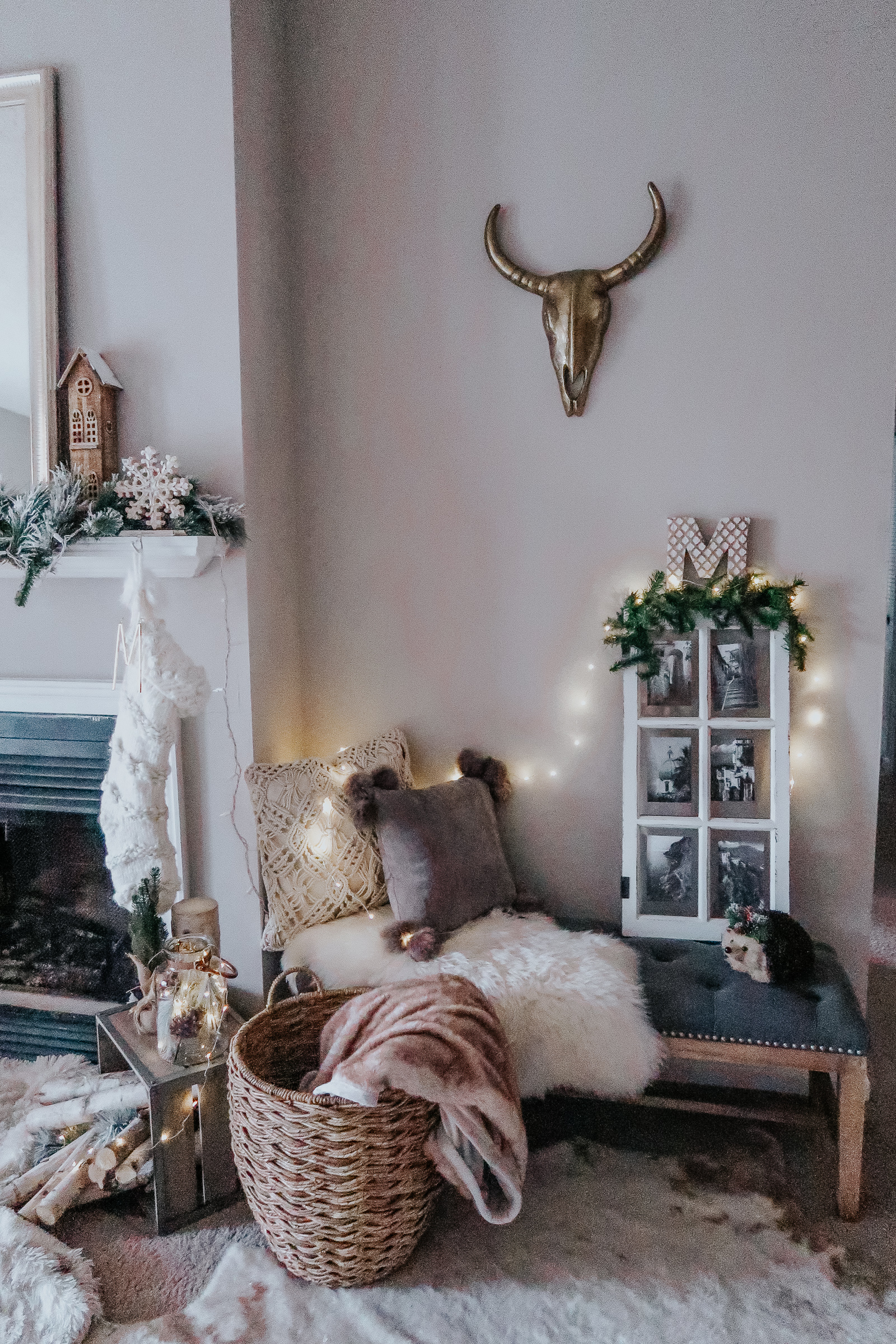 tip 5
Shop for holiday and Christmas decor right after Christmas. Target always has a huge sale starting the 26th, as do Michaels, Pier 1, etc. I always go out with my mom and we stock up or replace things like garland, ornaments, lanterns, etc. I've gotten most of my Christmas decor from shopping like this and usually score things anywhere from 50-70% off! It's the best way to get a ton of stuff for a fraction of the price.. especially if you have a large home and are trying to decorate multiple rooms.
Here's a little peek into my bedroom + some of the decor in there! I went with neutral and rose gold tones in there. The two rose gold pillows on the bed are part of my home collection launching SO SOON! I'll add links to those as soon as they're available to shop for you guys. The two twees on the left side of my dresser are from homegoods, and the gold bottle brush trio is a set I scored on Amazon – SUCH a good find!