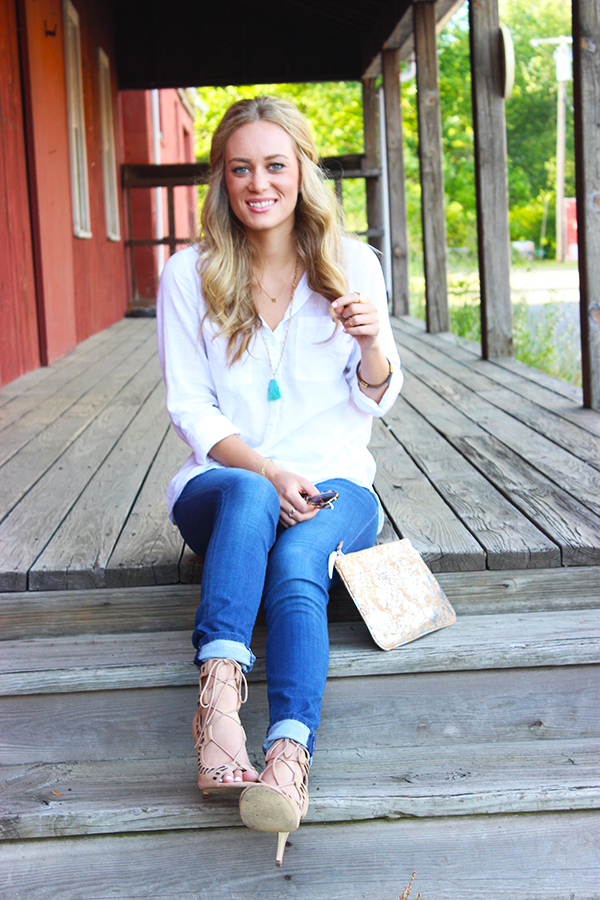 No matter what trends I try, I always fall back to basics like this. I've noticed I've been wearing more basic outfits on the weekends – they're lax and so much more easy going. This gauzey white top from Old Navy was next to nothing and I've been wearing it heavily the past few weeks. For the price, I highly suggest picking up a few colors! It's so lightweight and perfect for even a hotter day with shorts. I'm also obsessed with this lace up nude heels – who wouldn't be? You must grab yourself a pair! They kick up any outfit, especially one with really simply basics like this.
And let's talk about AYR denim. I wore another pair here a few months ago and recently got a few more of their pieces. I am so obsessed! I'm super picky when it comes to denim and AYR has completely sold me – it's incredibly soft and "flexible", yet doesn't stretch out or get loose in the wrong places. It sits perfect on my waist – not too low or high. And they nail it on the washes! I love this true blue denim color I'm wearing. I have my eye on their white poplin shirt  and slouchy white jean. When I say I don't really care to wear any other denim again, I am completely serious! They're priced just about the same as any of your other favorites (J.Brand, Rag + Bone, etc.).
Don't forget to enter my $100 South Moon Under giveaway! You have until next week. Happy Wednesday!
 SHOP THE LOOK