I've been dragging my feet about decorating for fall this year – for some reason I wasn't totally feeling it.. but got my butt into gear for a fall home decor tour collab with a few other CT girls! Here's how it all came out + I can honestly say now that it's done, I'm so glad I freshened up my space a bit. I used mostly things I had from previous years, combined with a few new things + linked as much as I could for you guys!

I've wanted to incorporate bats into my decor (they look so fun on everyone's feeds!) and didn't feel like they were totally 'me' but ordered them anyways.. and then realized they go PERFECTLY with the vibe of my entryway. I added a bunch and love love how they turned out!

My dining room is *finally* pretty much complete now that it's been repainted. I went with Sherwin Williams Perfect Greige, and it honestly is the perfect greige – LOVE how it turned out. My curtains arrived this week so I'll be hanging them soon and then this room is done! For fall, I just added a simple centerpiece to the table.

The living/kitchen area is truly the heart of my home and where I spend most of my time (aside from my office). It's the space I try to make comforting and inviting, both for myself and guests.

Always get so many questions about this blanket ladder!
& my TV stand – I have the European Ivory color!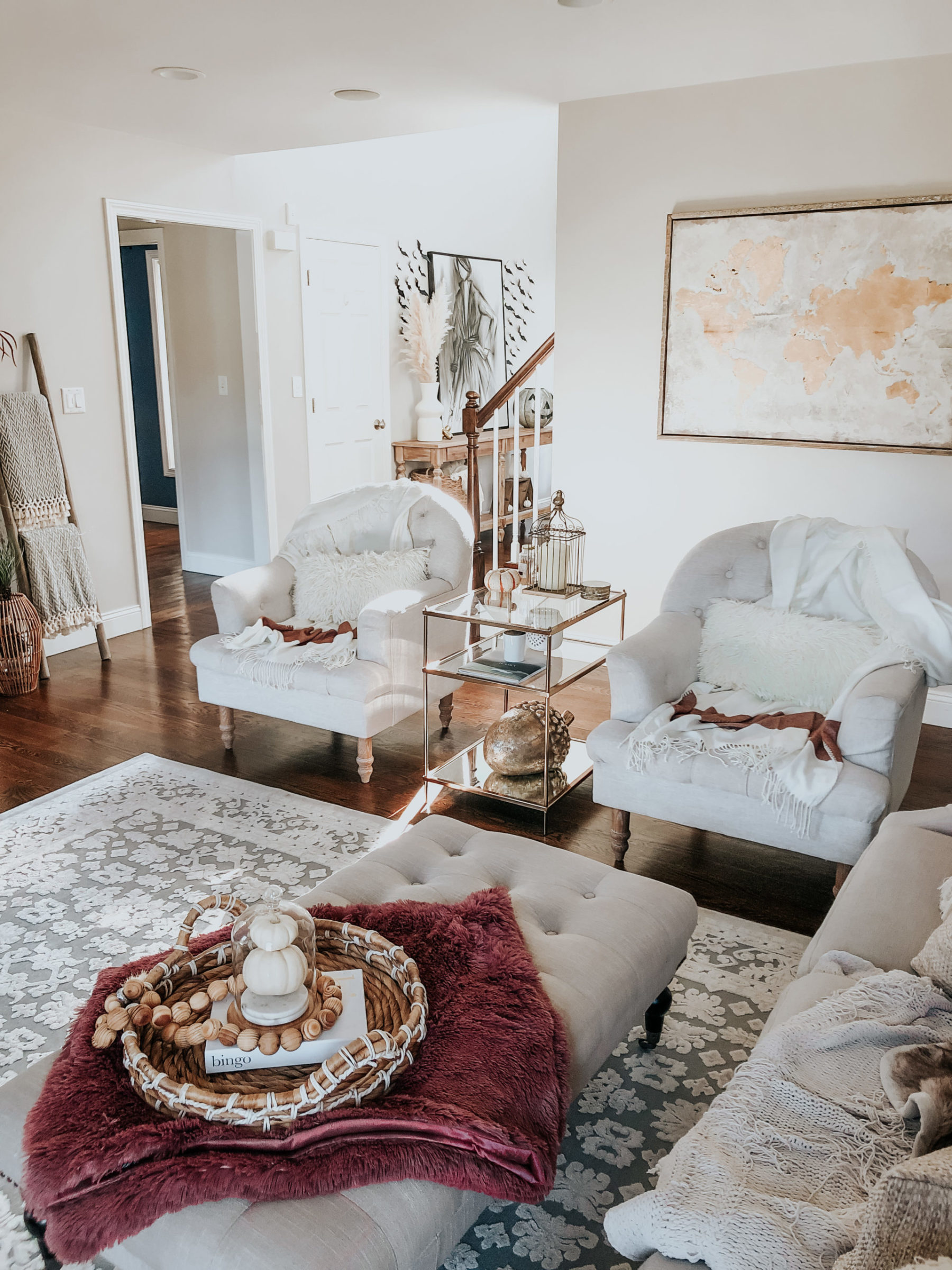 This year for fall, I wanted to do more of a burnt rust/brownish color than the sangria/burgundy color I had last year. I grabbed some new fall garlands + florals from Crate and Barrel, these throws from Target, and kept around the pampas I have up year round. For pillows, I grabbed what I had last year, but I think will be switching them out for these brown pillows.

I changed up the mantel and added this round mirror (similar/cheaper here). Jumbo faux pumpkins are as favorite of mine + I just stacked a bunch for a fall look. These eucalyptus stems are so pretty for fall but I can totally reuse in spring too!

For the kitchen, I used real mini pumpkins placed all over, combined with a berry garland just placed on the counters for a small fall touch. I like to display fall fruits (like peaches or apples) this time of year.. and of course I have my diffusers out + going constantly with some mix of orange + cinnamon + stress away. Smells so good!