Sharing parts of my home with you guys is one of my favorite things to do – and I'm nothing short of excited to (finally) reveal my home office to you guys today! What better way to kick off the new year than with a fresh, clean office space – free of clutter, organized to a T, and full of inspiration. I worked on my office design with an online interior design service called the Havenly. They pair you with a designer that goes through several rounds of pulling inspiration, sourcing items, and creating 3D mock ups of the room before finalizing on the actual design. I worked with my designer to create a space I love within my personal budget and even included items I already had.
Creating a home office space sounds a lot easier than it is. Let's be real, I spend the majority of my time in my office during the week – as I'm sure you do as well whether you work from home or in an office. That being said, I knew I wanted my space to be one that I'd love walking into, find inspiration in, and ultimately be a true reflection of me and my personal style. Right off the bat I communicated the goals of my office to my Havenly designer to ensure that we were both on the same page for the design. Here's a few of the things I shared with her:
bright, clean, light colors (whites, light grays, neutrals)
desk facing the window (because who wants to stare at the wall..?)
optimal organizational space (for all the real life necessities, like electronics, supplies, files.)
a seating area (to have a spot I could move to in the afternoon an work or an intimate corner to share with friends when they visit)
My Havenly designer achieved all of this in the design with seamless functionality while still keeping my space stylish. She brought my visions completely to life and I can walk into this space every day feeling excited to sit down and work at my desk – not feeling like I'm sitting in a heap of overcrowded mess (although it's definitely been there.. don't get me wrong!) So, without further adieu, welcome to my home office – I hope you enjoy the view! 🙂
All product information & sources are listed at the end of the post.
If there's something not listed, just leave a comment or shoot me an email!
This view from my desk is my favorite part of the room – it's brightly lit with 3 windows and I hung the wall clothing rack to keep pieces I need to shoot, am currently loving, or use as inspiration for upcoming posts.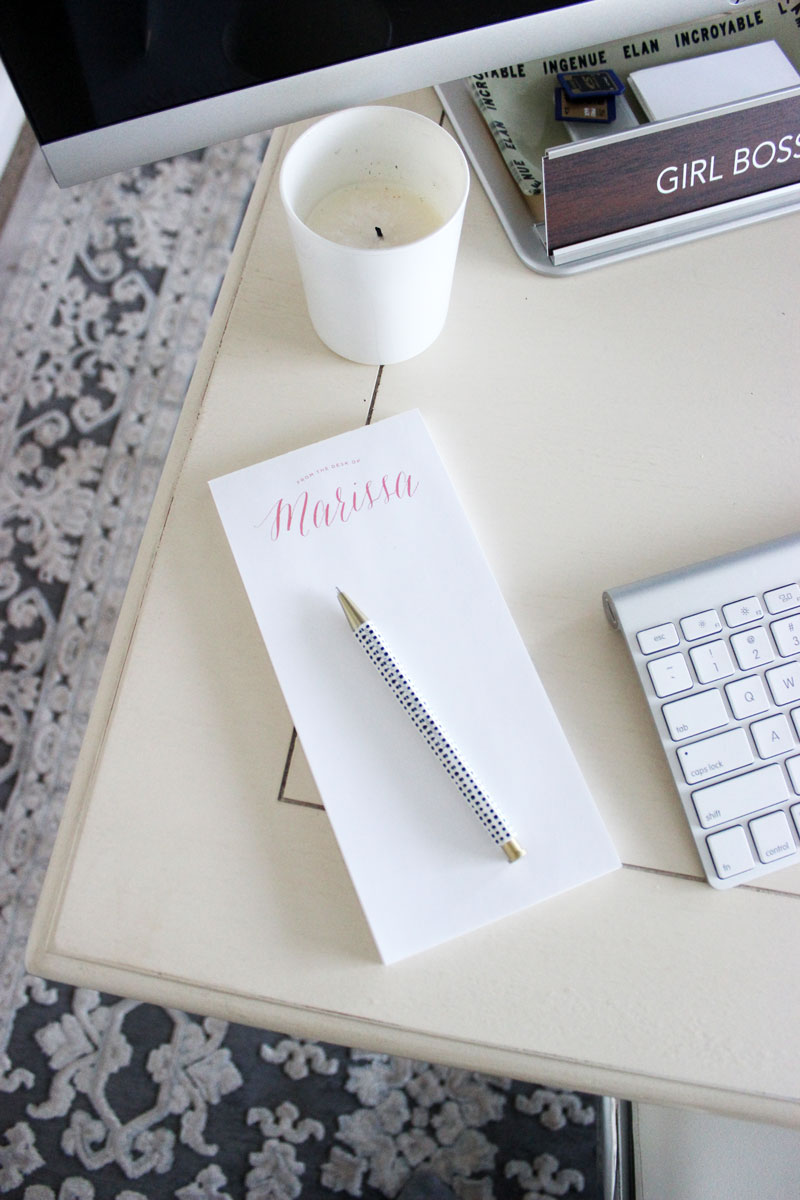 My desk chair is one of the pieces I kept from my old office because it's incredibly comfortable, has wheels, arm rests (majorrrrr key!), and is adjustable.
After investing in a new laptop this year, I didn't want to take the plunge and buy an Apple desktop as well even though it's more realistic for when I'm working from home editing photos, multiple projects, etc. Instead I opted for this HP screen for just a few hundred bucks and use an HDMI cord to plug in my laptop – hence it's really like having an Apple desktop since the laptop screen is what's displayed. Best decision I ever made and I actually love the big screen so I sit at my desk more!
The gallery wall is a collection of pieces that have been given to me by some of my closest friends and sisters.
My sister Emily painted the lips in the top right corner, and my best girlfriend gave me the bottom right print when I moved into my new spot. I use the chalkboard for weekly reminders or goals and love the dimension these wall sea urchins bring in!
Being a Type A person, I am an organization freak. I love putting things in boxes and giving them a place making it easy to find. I found these white photo boxes on Amazon and ordered a ton (clearly). They house things like small electronics, travel items (foreign outlet converters, etc.), chargers, office supplies and more. I also use the organization file on left for temporary paper placement so it doesn't clog up my desktop and the file folders on the right for important blog paperwork I have.
I've shared this in a post before, but I use the above drawer organization for all the beauty samples I receive from cosmetic and skincare companies. I organize each drawer by item (eyes, lips, face, skincare, haircare) so it's easy to find any product when I need it or want to try something new!
I also did something new this year and created a 2017 goal sheet for myself with Style Cusp. I always have a few goals or levels I want to reach throughout the year but I've never openly displayed them in my office. I decided to type them out this year and keep them front and center as a constant reminder of the things I want to accomplish this year!
My desk was one of the first pieces I definitely decided on for the room – and what my Havenly designer and I really developed the rest of the room around. I wanted my desk to face the windows so that I wasn't staring at the wall all day, so wanted a piece that essentially looked good from all angles – and not one of those desks that only looks good against a wall.
Having a little seating area in my office was also top priority. I wanted a spot that I could move to during the day if I wanted a break from the desk, have a meeting if needed, or even bring friends in to sit and enjoy conversation and a cup of tea. The second I saw these two tufted accent chairs at Joss and Main, I knew they were perfect – and when I move into a larger space they can easily translate into a living room or guest room area. Having the little seating area also keeps the room feeling a little more inviting and comfortable to be in, rather than a stiff and structured office. Mission accomplished!
I also wanted a clothing rack but wasn't exactly sure where to fit it in the room. I didn't want a huge piece housed on the floor with wheels (too industrial) but also couldn't opt for a stylish white or gold one because most of the time they aren't practical. Trust me, been there, done that.. and waking up to the sound of a crashing clothing rack is anything less than ideal. I found this floating wall rack at Home Depot and picked out the exact pieces I wanted for both size and function. The shelf on top provides some extra display storage and the rack holds just enough pieces to keep me inspired!
Usually people have these flokati faux fur stools for looks, but I actually use this to put my feet up when I'm working – so much more comfy!
Working with Havenly to design my room took such a load off me – I was able to share with my designer what I liked, edit her designs, and ultimately end up picking everything for the room without having to dig through tons of websites looking for the pieces I needed. If you've recently moved into a new space and aren't sure what to do with a room, or if you've been in a place for awhile and just want a refresh – Havenly is your one stop shop to get it all done. Based on your personal preferences, Havenly will match you with an interior designer that will execute your dream room in a jiffy.
I am excited to share that Havenly has extended a discount to Style Cusp readers valid through March 31, 2017 for 20% off an entire room design. Use code STYLECUSP when checking out on their website. Click here to find out more about Havenly and get right to designing your dream room like I did!
All the major office items are listed below. If you see something not listed, please feel free to ask! I listed the items where I originally found them, however if they are no longer available the link may take you to a differing website where you can currently purchase. Thank you to each of the vendors below for helping to create this space for me!
DESK – WAYFAIR
FLORAL RUG – JOSS & MAIN
DESK CHAIR – ALERA
FUR THROW – IKEA
DESKTOP SCREEN – HP
CHARCOAL PAINTING – JOSS & MAIN (NO LONGER AVAILABLE)
WALL CLOTHING RACK – HOME DEPOT
CHARCOAL GRAY STOOL – WORLD MARKET
CURTAINS – TARGET
CURTAIN RODS – WAYFAIR
LAMPS – WAYFAIR
ACCENT CHAIRS – JOSS & MAIN
TURQUOISE VELVET PILLOW – WORLD MARKET
SHAGGY FUR LUMBAR PILLOW – PIER 1
FAUX FUR HIDE RUG – RUGS USA
4X4 ORGANIZATIONAL SHELF – IKEA
DRAWER ORGANIZER – IKEA
ENAMEL MIRROR – WORLD MARKET
GRAY DESK LAMP – TARGET
SHOP OFFICE FURNITURE

SHOP OFFICE DECOR