A few weeks back I had the pleasure and excitement to go on a media sailing for the new Celebrity Cruises Summit – the ship just underwent a $500 million renovation in just about a month! How insane is that?! The ship, which had its inaugural sailing back in 2001, got a major facelift complete with tons of luxury accomodations, details, restaurants, and more.
I hadn't been on a cruise in several years, so this was such a special treat and it totally ignited the cruise bug in me again. Cruises are such a great way to see a handful of places at once which having so many necessities, activities, and things right at your fingertips on board!

Going to give you guys a quick overview of the trip – my sister Julia came with me and it was also so special to have some QT sister time in the mix!

We boarded the ship and headed right to our stateroom to drop off our bags, then headed out to explore the ship a little (of course had to stop at the pool deck!) to get our bearings on where things were + grabbed a bite to eat in the main dining area, Oceanview Cafe. Can we just talk about Ocean View for a second? HOLY. FOOD. You guys – every single thing you can possibly imagine, from Mexican to fresh fish, pasta stations, charcuterie, salads, stir frys, international cuisines and literally everything in between. Julia and I spent a good 10 minutes walking around the entire cafe (which is hardly a cafe if you ask me!) scoping out our options before we even grabbed a plate.

We ended up grabbing just a few small bites since we had a group dinner planned for later that evening – but everything we got was so delicious and fresh!
Our main activities and things were planned out for us since this media sailing was just two nights – our first night entailed a welcome cocktail reception, a show in the theatre (December 63 – a tribute to Frankie Valli + The 4 Seasons), and a group dinner at Qsine.

I shared lots of these things in real time on stories while aboard so will just quickly walk through some of the highlights!

+ December 63 – an hour long performance that included some of the best Frankie Valli hits and commentary. I SO enjoyed this since my guy and I recently went to see Jersey Boys in NYC! These 4 guys did such a great job on the songs and characters – a must see if you are on a Celebrity Cruise!

+ QSine – oh. my. gosh. One of the most exquisite meals I have ever had. This was a group dinner for all of us influencers on board, and it completely rocked our palettes to say the least. I don't even remember how many courses total it was.. maybe 9? Each course was a different cuisine from around the world – ranging from seafood bites (like sushi rolls, lobster popovers, crab rangoons, and escarole meatballs) to an Asian Fusion course (egg rolls, teriyaki chicken, orange chicken, and stir frys), to Indian Cuisine and currys, to All American sliders and fries. I totally stuffed myself on the front end of the meal (not realizing what we were in for) and by the end, couldn't possibly fit one CRUMB more in my mouth! I would go back on the Summit just for this meal, hands. down. Such a unique experience that our group absolutely loved!
One of my favorite spots we peeked at the first night is The Retreat Lounge which is an exclusive area for all suite class guests. It has a sundeck (shown above), stylish pool chairs + cabanas, hot tub, and pool butlers who are gracious to serve drinks + food 24/7! It's like it's own little oasis on board and I loved the quiet, cozy vibe compared to the busyness of the main ships decks. It's a great little 'retreat' to escape to if you want a break from the lively happenings elsewhere!



Our second day, we woke up early to take advantage of the gorgeous weather, and found ourselves right near the island of Tortola – I feel like that's a place you only ever really hear about so was totally giddy when I heard this from another guest on board!

We grabbed breakfast at the Oceanview Cafe – YES, to their omelettes stations, fresh fruit, and crispy home fries.. and then planted ourselves out at the pool for the afternoon to catch some rays. The main pool deck has live bands that play all day long, as well as pool butlers who can grab anything if you ask! There's also an outdoor food spot for quick grab + go things.. or you can walk right inside to the Oceanview Cafe – it's on the same deck!

After a day out at the pool, Julia and I got ready for another full night of activities..

+ Cosmopolitan Restaurant – our dinner was in the main formal dining room our second night. This has a set menu you can order anything on the menu from.. we took full advantage and ordered salad, appetizer, and dinner! Julia got dessert but I couldn't fit one more bite.. ha seems to be a theme of the trip here right?! This was good, but personally I enjoyed QSine more the first night!

*Since our sailing was only two nights, we didn't get to try every single restaurant on board. All guests were booked dining prior to the trip, to make sure all could be accommodated on such a short sailing. There's a sushi spot, Italian restaurant, Luminae (the cafe in the Retreat Lounge), and Blu which is 'clean cuisine'.. Given that the few restaurants we did have were so delicious, I am sure that all of these are just as good too!

+ American Ballet Performance + Violinist – our show for the second night was incredible and one of a kind! Celebrity has partnered with the ABT and has select sailings with performances on board over the next year or so. We were also treated with an incredible violinist performance – violin isn't my favorite but I have a whole new appreciation for the instrument after this!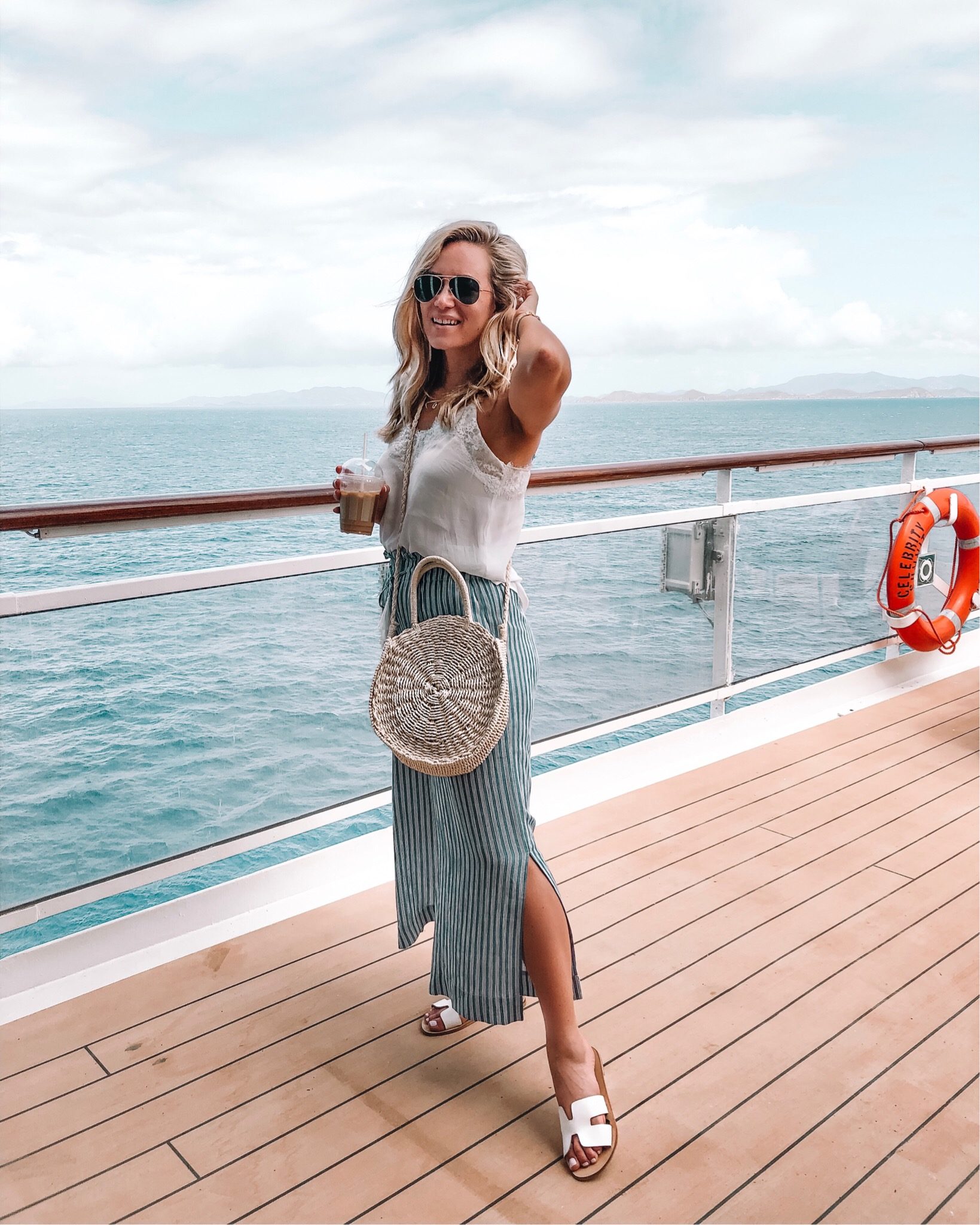 Our last morning we had to disembark, but not before filling up on another amazing breakfast spread at the Oceanview, and then Julia and I stopped down at Cafe al Bacio – the ships coffee spot that also serves gelato and pastries. Girls had to get their ice coffee, ya know?!
Thanks so much to the Celebrity Cruises team for hosting us – though a quick trip, it was SO worth it to experience the new ship.. and like I said, I totally have the cruise bug in me again!