Things have been a little quiet around these parts this summer, and to be honest, I've been trying to enjoy the summer days, family time, vacations and trips I've been on.. and focus on a lot of behind the scenes things that are developing, changing, and growing for Style Cusp. ALL good things and I can't wait to share more with you all in the coming months. That being said, thank you all for being the best and sticking around through all of the seasons this little corner of the web has gone through! I so appreciate you all 🙂
I just got back from our annual family Maine vacation and it was an absolute blast. This year, we all ended up being in Maine together (more on that coming later this week) so it was an amazing time with family making so many incredible memories. We're right on the coast up in downeast Maine, so the weather is super temperamental. I always joke around that I sometimes wear 3-4 outfits in one day because the day starts out cool, gets warm, ends breezy, and then is freezing.. I end up packing along lots of pieces that can me mix + matched along with things easily layerable.
Cutoffs, tees, light sweaters and jackets, cardigans, and sweatshirts make up my Maine suitcase. I usually stick to just one main color palette so I can layer up, delayer, and relayer throughout the day without looking like a circus! This year, that palette was denim, white, navy, stripes, and hints of army green.. 100% exhibited in the outfit below. I wore some variation of this combo nearly all week.. swapping the jeans for cutoffs or tank for a long sleeve tee.
Right before heading up to Maine, I stocked up on a lot of great basics and classic pieces from Abercrombie. I've been shopping with them again for about a year now since their rebrand, and consider them to be one of my go to retailers now. Affordable price point, great basic pieces, comfortable denim (obsessed with the pair I'm wearing!), and overall classic style. Abercrombie is big on their neutrals – which for me is pretty much synonymous with my first name.. ha! Here's a few of the pieces I picked up: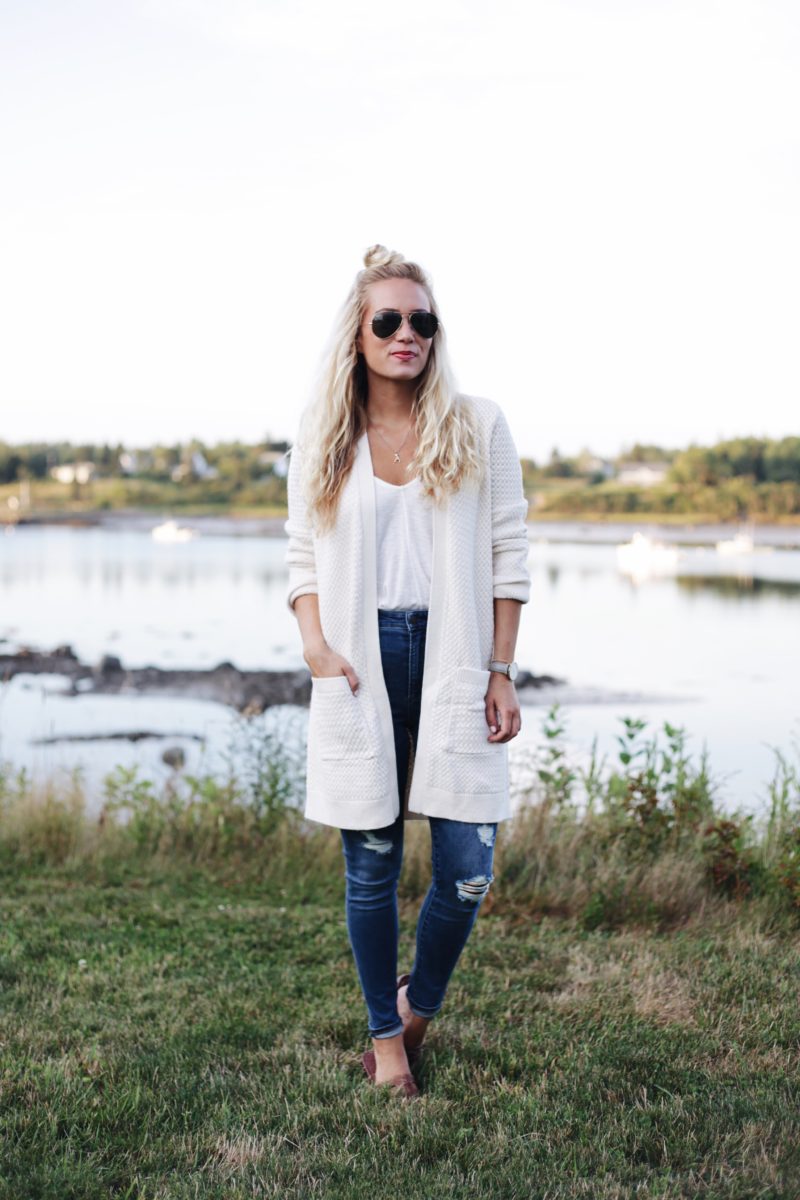 Heads up – right now, Abercrombie is having a huge sale on a ton of items on their site – shop now for major savings up to 60-70% off!
SHOP THE POST