One of the most common questions I'm asked is what do you do to your hair? Or what products do you use in your hair? I sometimes have to laugh because I use as little things as possible and try to be conscious of what I'm doing to my hair to keep it as healthy as I can. And so many people are always so surprised! But I truly think keeping your hair healthy and not loading it up with harmful products is how to keep it healthy, strong, and shiny. I'm rounding up 5 of my top tips for keeping your hair healthy today!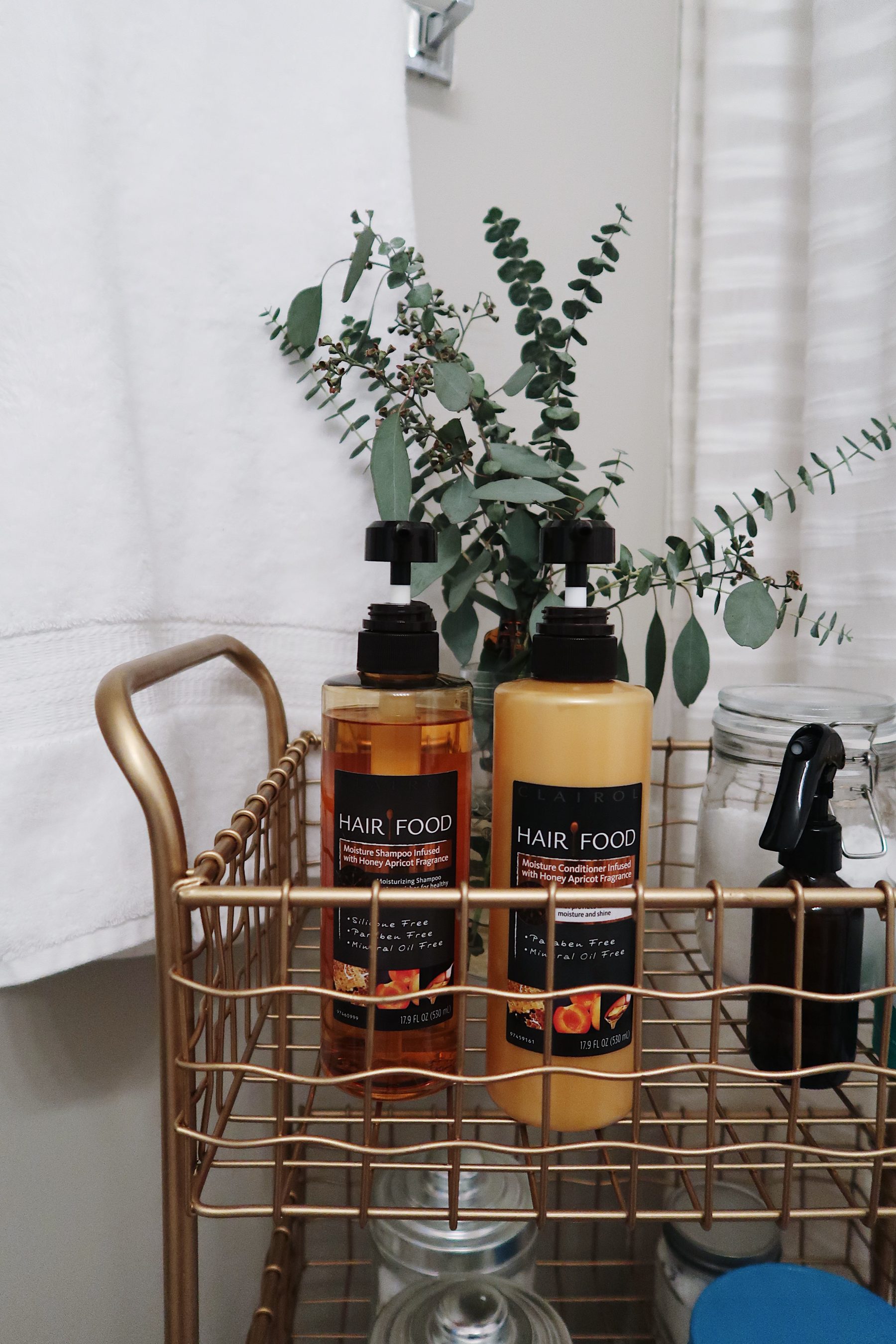 Use a shampoo/conditioner combo that won't strip your hair.
By now, you guys know how passionate I am about chemical free products + being conscious about the toxins and chemicals in things. I used to use shampoos and conditioners from the drug store, and to be honest – they were damaging my hair. To the point that my hairdresser asked what I used because she could feel a 'coating' on my hair as she ran her hands through it. From that moment, I ditched the junk products and started searching for something free of all the harmful stuff in it. I'm conscious of what I put IN my body – so shouldn't I be conscious of what I'm putting on it? Enter Hair Food. They're a hair care line designed with this in mind. Free of sulfates,  silicones, mineral oils, and parabens and instead with ingredients like honey, kiwi, nectar, and more. Right up my alley! They have several different shampoo/conditioner combos available depending on what type of hair you have!
Supplements, supplements, supplements!
Going right along with being mindful of what I put in/on my body, I take supplements to support healthy hair.. I've shared them tons before, but Collagen peptides help grow healthy hair, skin, and nails. One scoop a day keeps the dullness away 😉
Less heat, more natural. 
I do my hair as little as I possibly can. I realize I may have this luxury more than most since I don't necessarily have to get ready for work every single day. BUT, there are things you can do to use less heat on your hair. I NEVER blow dry my hair. I can count on one hand the amount of times I put a blow dryer to my head every year. I always air dry, with no products, and let my hair do its thing. If I'm not going anywhere, I just leave the natural wave in it. If I'm headed out or shooting content, then I'll curl it – but I don't use an iron with anextreme heat setting.  In the summer, I let my hair go natural pretty much the whole time. Between the sun, any chlorine/salt water, and heat outside, my hair is exposed to enough that can damage it. So I don't add to this by putting more heat to it with curling tools.

Hair Masks. 
This is something I want to get better at, but being I don't have tons of junk going onto my hair all the time, I feel like it's pretty healthy overall and doesn't need intense moisturizing or replenishing treatments all the time. I do, however, put Mirah Oil (from Young Living) on the ends of my hair. It smells incredible and is 100% infused with essential oils including cedarwood, lavender, and sandalwood – all incredible for supporting healthy hair. Coconut oil is also great for your ends as well!
Wash Sparingly. 
Realistically, I wash my hair about 3-4 times a week, and rarely ever two days in a row. I utilize dry shampoo on the off days of washing my hair, but I also don't go 5 straight days without washing. I think the longest I've gone is 3 days? I feel like too much dry shampoo isn't a good thing, soaking up all the oils our hair/scalp is naturally producing. So I've found a balance that works for me! Hair Food has a dry shampoo that is free of sulfates, parabens, mineral oils, dyes, and even gluten.. again, being conscious about what I'm putting on my body, because if I'm using dry shampoo it's sitting on my scalp and ultimately seeping straight into my head!
You can find Hair Food at your local CVS. Learn more here!
This is a sponsored conversation written by me on behalf of Hair Food. The opinions and text are all mine.