I'm so excited to (finally) share all of my holiday home decor with you all! For the first time ever, I decorated before Thanksgiving because 1- #2020 and 2 – I needed to get it out of the way in prep for some projects. Honestly, I've loved having my home feel cozy and festive the last weeks.. my favorite thing is sitting snuggled on the couch right around dusk, with the lights + fireplace on – and usually I am just inwardly thanking the Lord for the beautiful home I am still shocked I get to call mine!
Okay, now on to the decor! This year I decided to switch things up entirely and move away from flocked everything. I wanted a more classic, clean look for the holidays, so bought a new tree from Balsam Hill, cedar + cypress garlands, and got to work decorating. I also usually pick a certain theme or color to focus on, and as you guys know, I'm having a serious moment with the dark jewel toned green. Last year was flocked things with pops of red, this year I went classic green with dark green + white accents.
Come on in and let's take a peek!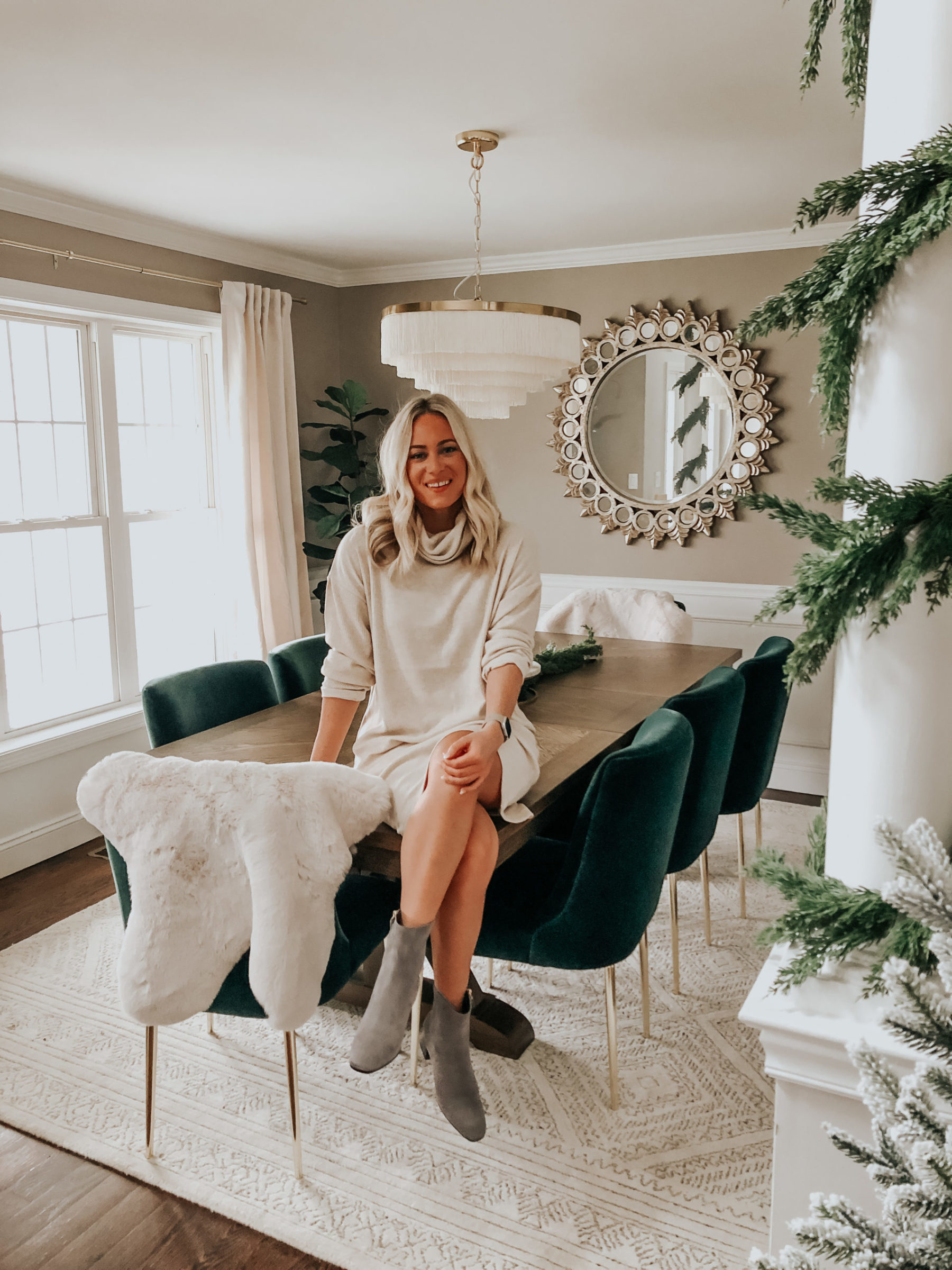 My front porch actually isn't complete yet – I'm waiting on these baskets to put the cedar trees in, new lanterns, and a festive underlay for the doormat. I cannot say enough good things about these little cedar trees – thanks to my friend Jen for sharing them with me! They 100% look real and are such good quality. (I have the 4 foot.)

My entryway is pretty simple this year – I loooove the pampas grass and since they're white kept them up for the holidays. I added the flocked tree from Target (I have a few of these!), some mini bottle brush trees, and that was pretty much it!


I absolutely adore my dining room – the room is exactly what I envisioned and wanted when I moved in and it came together soooo perfectly! It's pretty festive already thanks to the green chairs.. but I added some garland and a few bottle brush trees to the center of the table. Of course, added garland to the pillars too!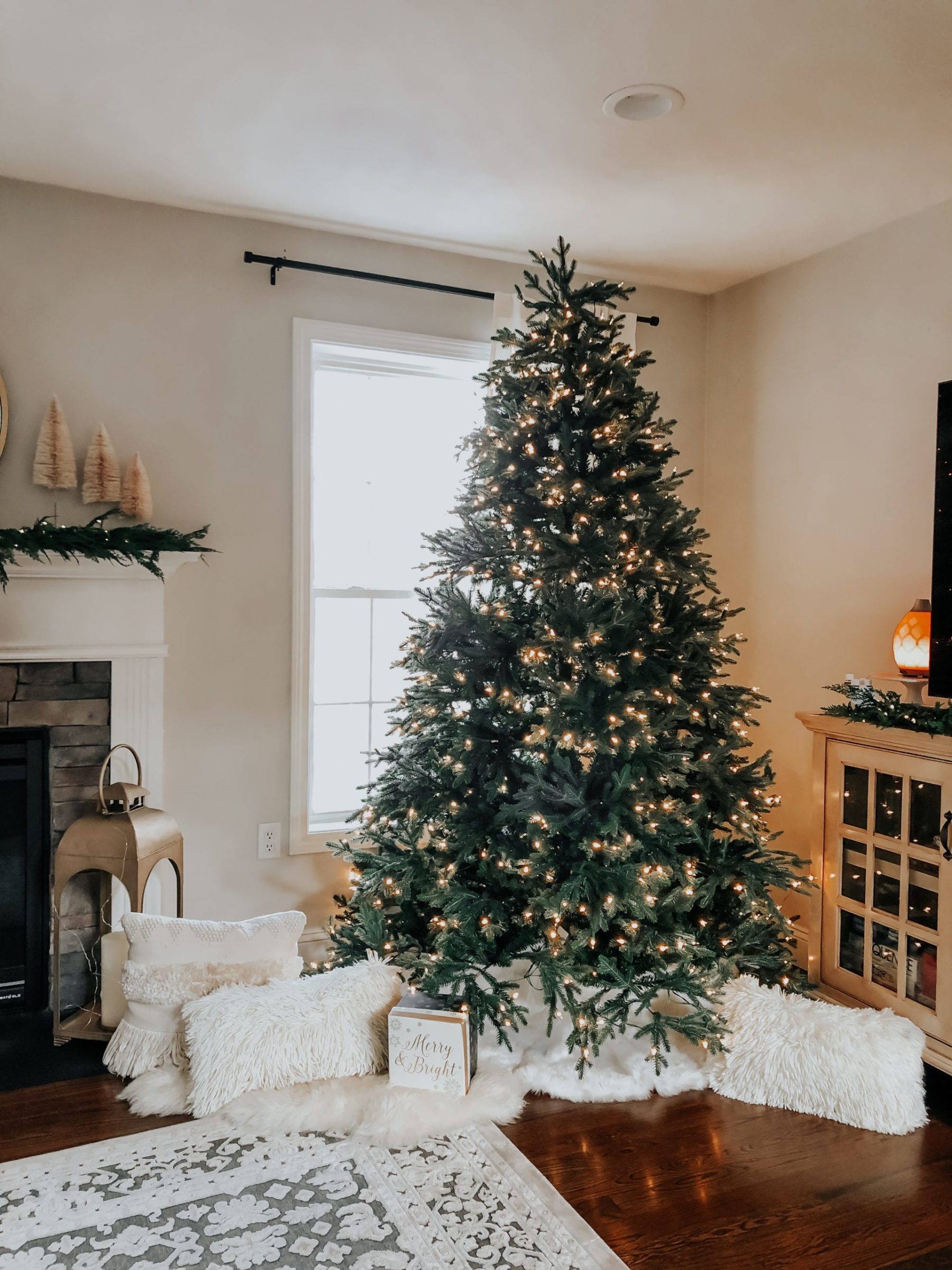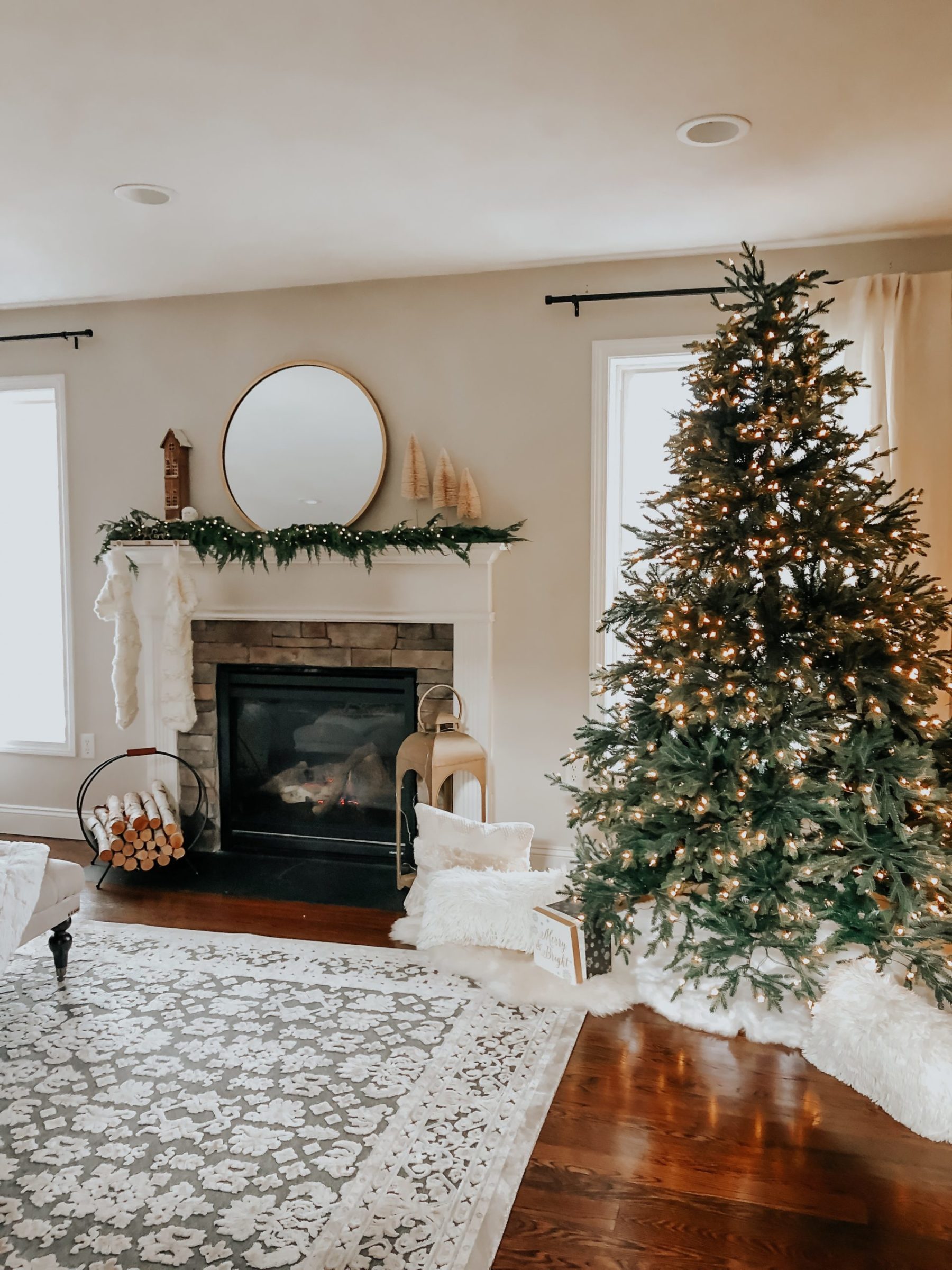 Ahhh the living room – the coziest spot! Sitting on my couch with the fire going + lots on is seriously a dream. I look forward to it every single day! I went with a new tree this year from Balsam Hill – the Norway Spruce and absolutely LOVE IT. It's incredible quality and worth the investment 100%! My exact garland is from Crate and Barrel but sold out, so I'm linking a bunch of similar ones below for you


Last year I did real garland strung all through the kitchen but decided to just keep it pretty low key this year + add little things here and there. I did a garland around the window/sink area, and then little trees or festive things sprinkled around. The garland I have there is the same that's in the dining area, it's from TJMaxx + no longer available!