Happy Wednesday, everyone! Super excited to be sharing this recipe today – I can't believe all of the amazing feedback you gave have given on #whole30 this time around, and sooo many good ideas for posts! Keep them coming. I do have quite a few #whole30 posts here on the blog already though, so if you search Whole 30, they will pop right up. I decided to share some stuff here on the blog at least once a week over the next few weeks, but then also share some extra info/recipes in my wellness newsletter – subscribe to that here to make sure you receive all the updates + whole 30 tipes. This newsletter is separate from my normal one too, FYI!
Now, let's get down to the yummy stuff.
My friend Brittney sent me this recipe for a salsa she homemade – I visited her a few weeks back and it was SO good so knew I needed to make it for myself.
I gathered all the ingredients this past weekend and finally got to work yesterday. If you guys know me, you know I'm hardly one to follow recipes or do exact measurements – I always, always eyeball (unless its like, baking.. ha!). My salsa came out a little on the sweater side and I concluded I'd probably add an extra onion and jalapeno in next time. Obviously salsa is totally relative when it comes to sweet vs savory and how spicy you want it.. so do you, and adjust as you need to!
(full recipe at bottom)
Now, if you watched my instagram live the other day (that somehow mysteriously deleted..) you'll remember I talked about how I wanted to have my own cooking show when I was little. I would stand at the island in the home I grew up in and talk into the living room at my "audience" while I cooked. I remember the first big recipe I made/followed was from a pampered chef cook book for a Mexican taco stack. It was SO so good & total hit with the fam… so I was confident that my days as a Food Network star were right up ahead!
I found myself yesterday looking at these veggies and saying things like.. wow, aren't these beautiful?! Okay, who am I? I used to die laughing when my Italian great grandma would say things like that, and now here I am staring at veggies in my oven saying the same thing. But in all seriousness – the color of these was just stunning + the smell that permeated my whole apartment? mouth watering. Between the garlic, onion, and tomato it was mmmm so good! Confession: I didn't use my diffuser yesterday afternoon because it was just too good.. ha!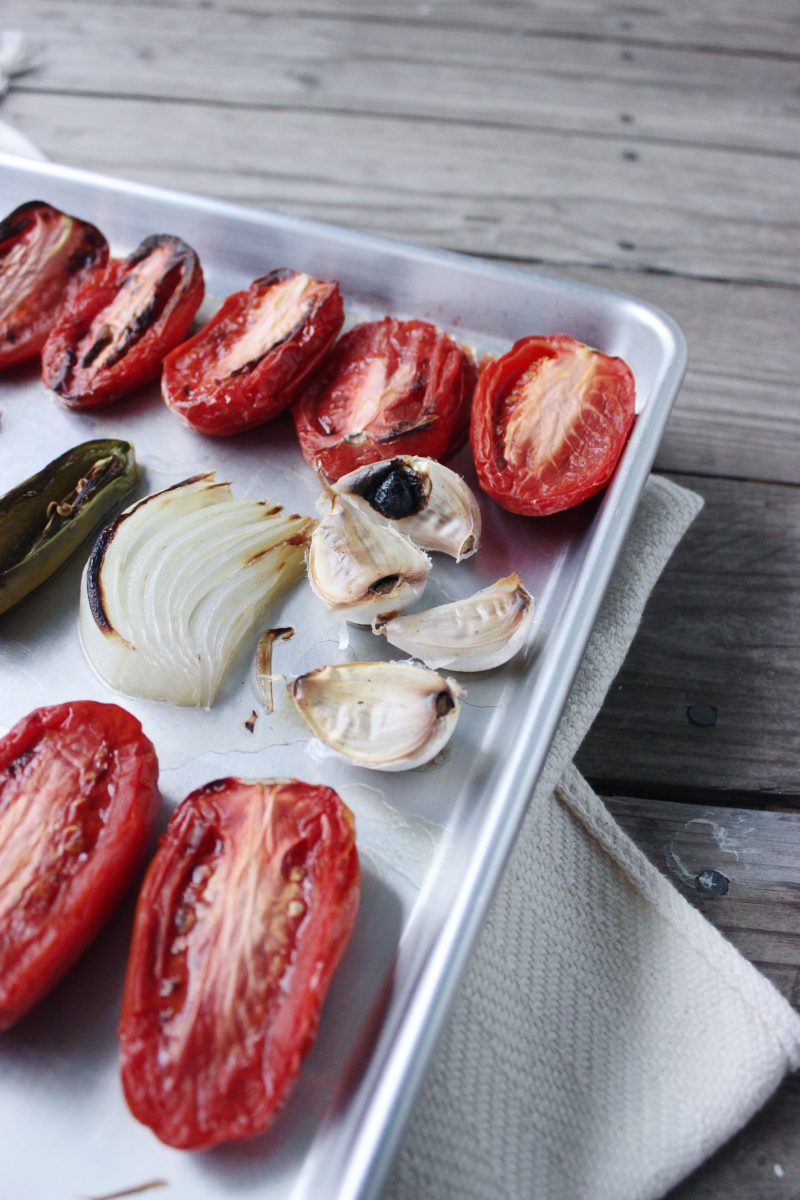 INGREDIENTS:
1.5-2 pounds of roma tomatoes, sliced in half
1-2 large onions, sliced into quarters
1-2 jalapenos (depending on how spicey you like!), sliced in half
4 mini sweet peppers, sliced in half
4 unpeeled large cloves of garlic (6 if they're smaller)
1 large handful fresh cilantro
Lime
Salt
Cumin
*last 3 ingredients I did completely to taste!
DIRECTIONS:
Preheat your oven broiler to HI.
Place tomatoes, onions, peppers, jalapeno's and unpeeled garlic cloves on a baking sheet. Put in broiler for about 8 minutes or until the tops have slightly blackened.
Remove from oven + un-peel the garlic cloves. Place everything in a good processor (including fresh cilantro) and process until desired thickness. Store in mason jars + enjoy!
I allowed my veggies to cool first before putting them in the processor, but it really makes no difference!
For a whole 30 approved snack, eat this salsa with baked plantains or veggie sticks.
Other whole 30 ideas: atop your scrambled eggs, over chicken fajita lettuce wraps, or mexican cauli-rice bowls.
Let me know if you guys make this in the comments below – enjoy!