I actually can't even believe that I'm kicking off actual wedding content here on Style Cusp. I can hardly still believe that I'm actually engaged – it's insane! I mentioned on stories the other day that I would be kicking things off this week, and here we are. (I'll be sharing Kristopher and me's engagement story here soon, don't worry.)
So let's dive right in.. shall we?
The Registry.
Oh man – aside from creating the guest list and setting a seat assignment, this might be one of the more daunting tasks related to the wedding. It sounds like a blast to walk around a store or just click to add things to a huge list.. but there's so many questions – What to pick? What will I actually use? How many pieces should I get? What's really necessary?
I haven't started our full registry yet, but I knew that I wanted some classic, timeless crystal glassware. Both my mom and two grandma's have beautiful china sets, with Waterford crystal glasses to match, and silver cutlery sets. I think the fancy china is kind of a thing of the past now, and more everyday pieces are used frequently. But gorgeous glassware is quintessential to any table setting. My mom always pulls out her Waterford crystal pieces for our Thanksgiving meal, Christmas dinner, and any special occasions – or sometimes just pulls them out for a Sunday dinner. She also has a gorgeous vase that always held our birthday or piano recital flowers.
I knew I needed some beautiful Waterford pieces, hands down! If not for any reason other than to hold the Waterford tradition strong in our family.
I decided to start looking now for some Waterford pieces and settled on shopping at Bloomingdale's Registry. They have a wide selection of Waterford crystal pieces, ranging from the fine china settings, to vases, pitchers, and glassware. You may remember I polled you guys a few weeks back when I (finally) had narrowed down my selection to 2 different glass styles! I ended up going with a classic wine glass that could be styled with any place setting or even used for a wine + cheese night with friends. I also grabbed the small wave vase – the Waterford wave design is so iconic to me so I knew I wanted to grab this one!
Within 20 minutes of my purchase, the Bloomingdale's Registry customer service team gave me a call to confirm that I had actually made the purchase and it could be processed. I loved this gesture on their part, to ensure their customers aren't being fraudulently charged – small details like this are so important.. especially as a bride when you have 900 things on your plate and every cent counts, am I right?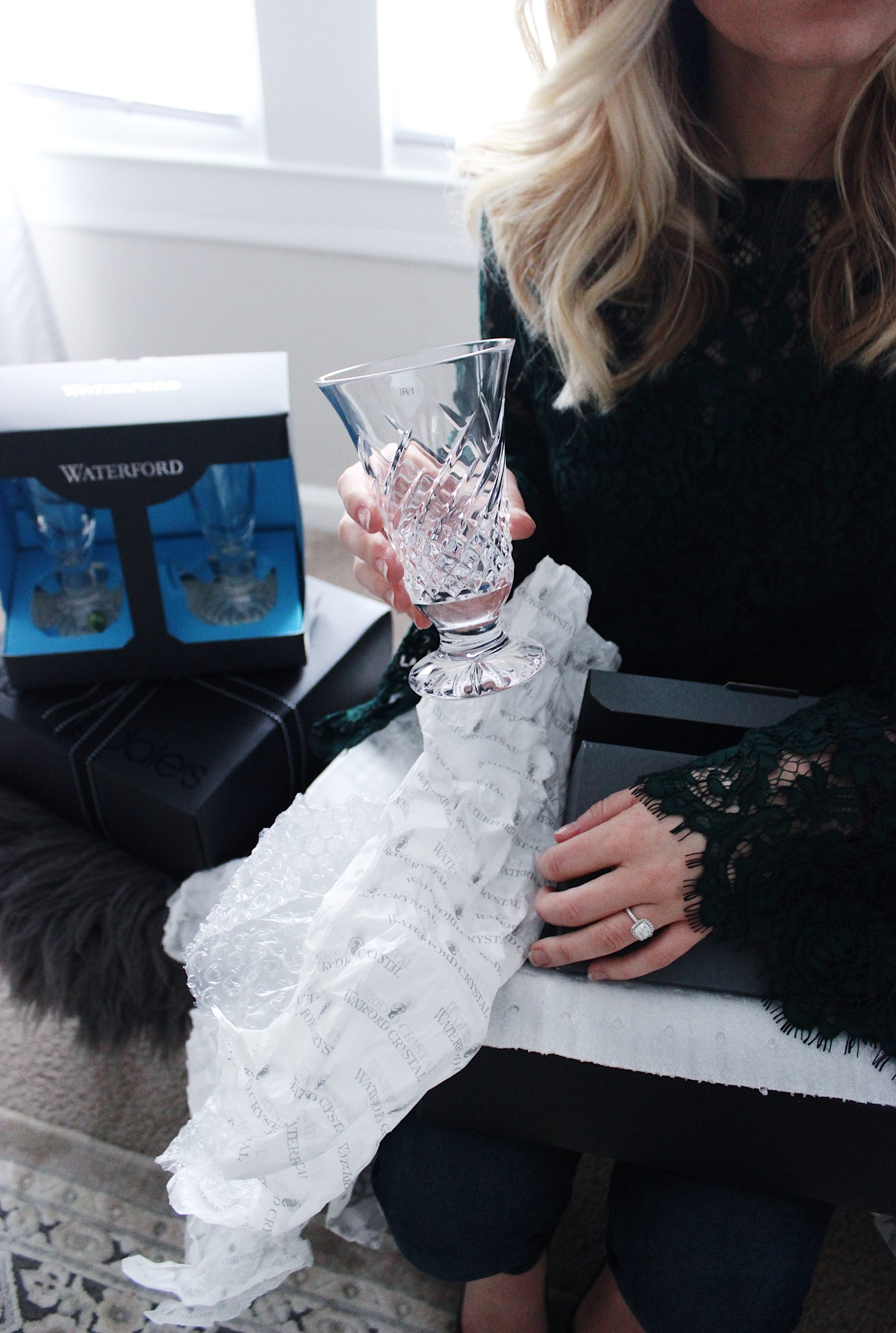 A few tips for creating the perfect registry:
Don't go overboard. Stick with your gut on what you know you will use. Wine glasses? Yes. Vase? Yes, girl – get it!
Pick pieces that have meaning in some way, especially when it comes to the pricier ones. I decided on Waterford because it's been in my family for generations.
Go with a retailer that you know and trust, and ultimately one that you already shop at. Also, one that will be for your guests to shop at!
And if you're shopping for a bride, remember she put things on her registry list for a reason. Make the effort to purchase pieces from her registry – this is her new home that should be filled with pieces she will love and use!
Today's post was created in partnership with Bloomingdales.