The Nordstrom sale has (obviously) started and to be quite honest, it can be really overwhelming. Every store has different inventory and pieces, and there's just so much online to sift through. I headed into my local Nordstrom this weekend to go through the tons of pieces they had in store, and picked out about 1 pieces here that are great pieces to have in your wardrobe.
Two of the most common questions I've gotten this year is 'what are your top 3 things to buy' or 'what should i buy in the sale'. My advice? Take a quick scan of your fall/winter wardrobe and see what you're lacking, then stock up on some basics from there. I'm talking cardigans/sweater, v-neck tees, jeans jeans jeans, and booties. These are the hot ticket items in the sale and usually what sell out pretty fast – in fact, a lot of these things have sold out or are almost sold out. My next piece of advice is to buy more than you think.. especially if you're ordering online. Don't order 1 cardigan, order 3. Don't order 1 pair of jeans, order 5. The worst is getting in an order, not liking the style, something doesn't fit, and you're stuck with everything being sold out! Trust me, I've learned my lesson on that one.
So – that being said, here are some pieces that are must haves from the sale. I also placed a few online orders and will be sharing pieces from that here and there over the next week or two as public access opens up! If you guys have any questions about style, size, fit, etc. please email, message, comment below, etc!
The BEST basic tee. I stocked up on a few colors in this, and also went up one size for a looser fit (small). $15.90 in the sale! This is a MUST BUY – you'll see below that I wear it under almost all of the jackets + cardigans featured. Closet staple right here! It also comes in a long sleeve version which I also got (small).

I said this on instagram stories the other day, but I really think this draped coat is the hidden gem of the sale. Online I didn't order it, but when I tried it on in store – I was sold. I actually got the burnt reddish color since I have so much gray already, but the gray is an AMAZING staple piece. Purchased a size small + worn above with the FRAME denim on sale. (The Nordstrom site says these run small, but I took my true size.)

This ribbed cardigan is a total steal ($31) and perfect for now on chilly nights or in the fall as worn above. Here's a first look at my favorite jeans in the sale too – the AG slim boyfriend!

You know I love a good oversized vneck sweater – and this one is the PERFECT draped fit. It came in cream but completely sold out – however, this color is beautiful for fall! $45 – wearing a small above. Also wearing the 7 jeans above – go down at least 1 size.

I always buy 1 designer piece (usually Vince) in the sale, and this year absolutely loved this cardigan. It feels like a cloud and is a classic staple piece you'll wear season after season. My cutoffs aren't in the sale, but linking below anyways!

Plaid tops – you guys know how I feel about them! I want to love them but usually can't unless it's a select print. Rails makes the best plaid tops, hands down, and this muted plaid is perfect. It comes in 2 other colors and I recommend sizing 1-2 sizes up for a looser, tunic fit. Usually their tops are more fitted!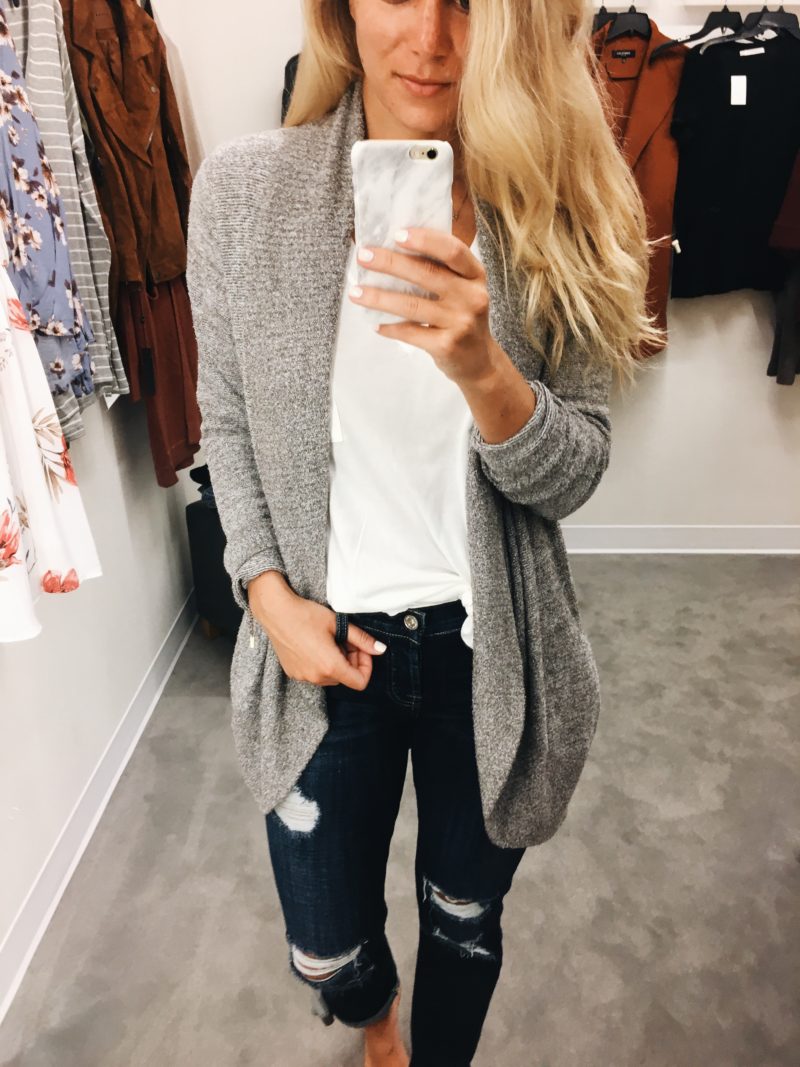 You guys, this cardigan is hands down the softest thing I have EVER owned. There was no way I was putting it back! It's $76 and also comes in a hooded version which is as equally as cozy. Bunch of colors – fits true to size.

This loose vneck sweater is another great closet staple. It's $24.90 and comes in a ton of colors! If cardidgans aren't your thing, then scoop up this sweater in a few colors and you'll be set for fall. Super soft, runs true to size, but if you want a more oversized fit then go up one size. And here you can see the hem of those FRAME jeans a bit better – love it!

This sweater might be my favorite sweater buy – I love the deep V and longer bell sleeves. It's perfect for now with cutoffs or paired with those AG Jeans I just can't get enough of either! Oh and the price tag is a cool $38 – don't pass that up! It also comes in a maroon that would look amazing paired with the darker denim below.