When Vince Camuto reached out to myself a group of my favorite bloggers to do a Secret Santa gift swap, I of course said yes! You all know my love for Vince Camuto goes way back so I thought 'how fun would it be to pick out something from the site and send it to one of the other gals'.. completely without them knowing (and total disclaimer: we really did a keep it a surprise!) I've been teasing you guys with snaps of the present all perfectly wrapped the last week or so, but today is finally the day that I can share what's in the package and who it was from!
Side note – you guys are getting a tiny peek at my holiday decor today in this post – I am hoping to have everything set to share the tour with you guys by end of this week, so check back to make sure you don't miss it! 
Vince Camuto arranged the whole secret santa behind the scenes for us ladies. We just had to pick out a 'wish list' which was sent to our secret santa. She then picked which gift she wanted to send us and it arrived just in time for the month of December. If I didn't have to do this post to share it with you guys, I would have kept it wrapped until Christmas day – the wrapping was just perfect (thanks Vince Camuto!) I included a bunch of different items on my list, ranging from shoes, to bags, to coats.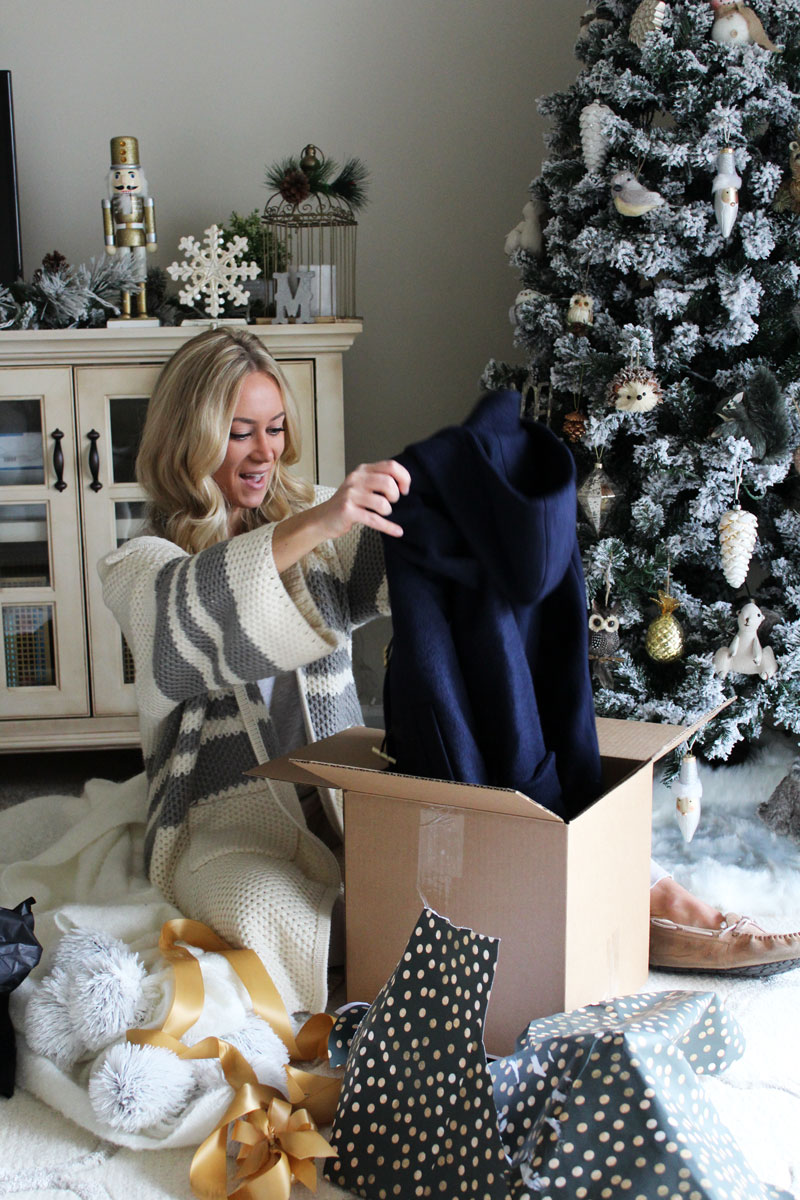 Being the lover of warm weather that I am.. all of the shoes I picked were open toe or lace up heels. #naturally Completely not practical for this time of year. My secret santa was thinking a little more on the ball than I (clearly) and sent me this gorgeous navy toggle coat! I absolutely love love it and was so excited to open the box and find something that I could use immediately. This navy coat is such a classic too – it will transfer year to year in my closet!
And last, but not least… my secret santa was Krystal from A Pinch of Lovely! Thank you so much K for the beautiful coat – I just love it!
Today's post was created in partnership with Vince Camuto on behalf of a blogger Holiday Gift Swap.