After crowd sourcing from you guys, the standard gift guide round ups were voted out – BUT I did want to share general gift ideas with you all (as promised) for this holiday season. Remember, you need to order things much sooner this year to combat the extra shipping times, so don't wait until December 14th to get your shopping done!
Rather than give you guys lists of things that I don't even have to use for gift ideas, I wanted to round up my 10 absolute favorite things that I use regularly and have for a looong time. These are my tried and true favorites, and gifts that any lady in your life will love! They're all at varying price points too, so there's something for every budget here.
My absolute favorite beauty tool : my facial steamer. I use this 2-3 times a week and it has helped my skin so much! On Sundays I do my at home facial routine with it and then on the days I wear make up, I use a cleansing balm or oil with steam to remove my makeup. It helps to deep clean our your pores and my skin has improved so much since using.

It's currently on sale for $42 – such an amazing buy! Use code: earlybf40

2 // Amazon Fuzzy Slippers
I wear slippers (aka house shoes) every single day in the house – I'm never barefoot, even in the summer! I've had 4 pairs of these slippers (replace them every so often!) and they're one of the most popular items you guys have bought for all time. If there's someone out there who doesn't have a pair, or who needs a new pair, these make such a great gift. It's something people will USE!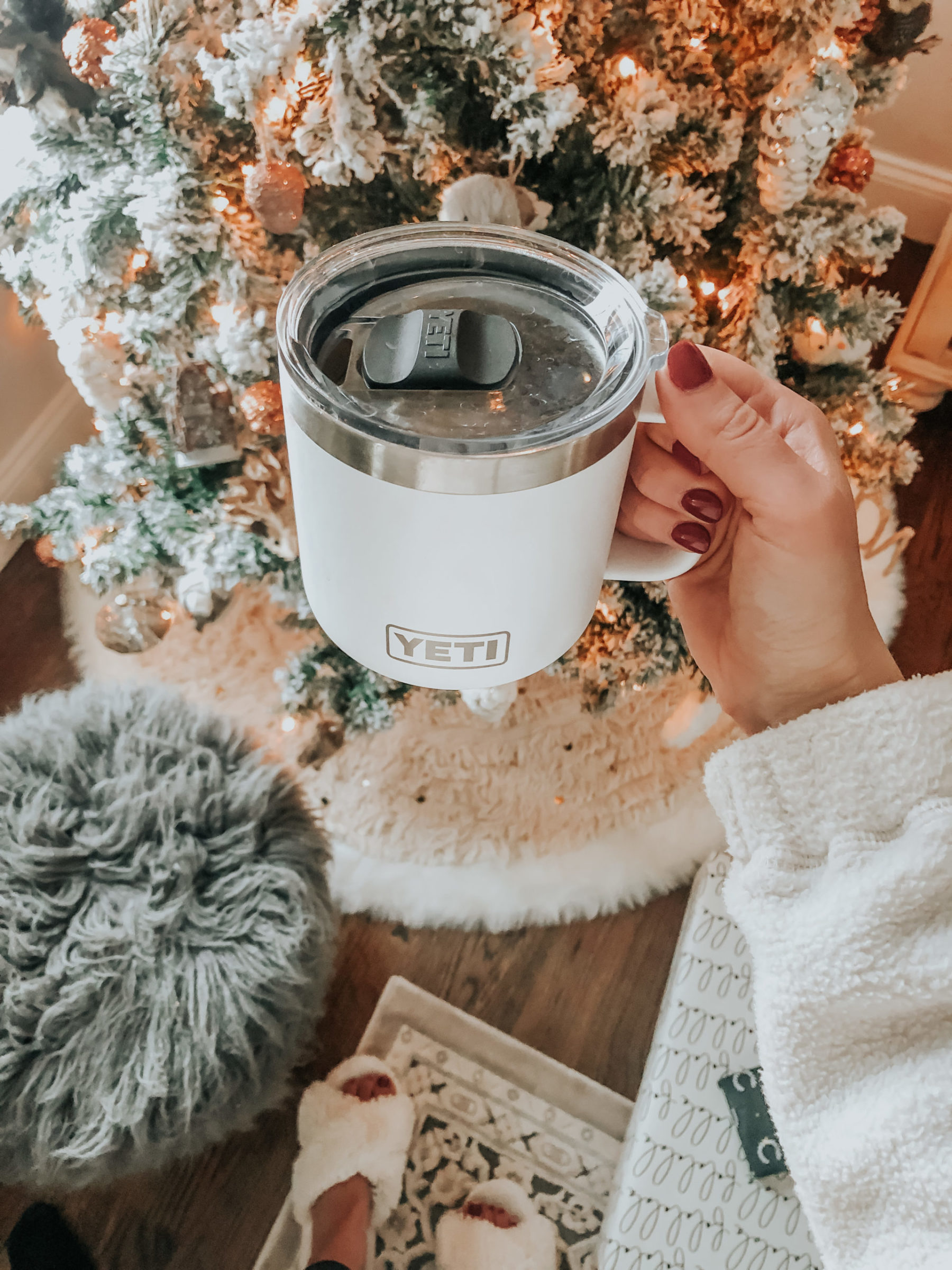 3 // Yeti + Brumate
Anyone who knows me knows my Yeti is pretty much glued to my hip. I am NEVER without it anywhere I go. I drink water constantly, so this is full and by my side at all times. It keeps your water ice cold (or hot drinks hot) for hours.


Last year for Christmas, I scored a Brumate slim in a family grab bag, and it was seriously life changing. These fit the clim cans like white claw, truly, etc so keep your drink cold until the last sip! There's nothing I hate more than warm white claw, am I right?! These are the BEST – also such a good thing for any grab bags too! I have a discount code for these exclusively on my stories when you shop right on the Brumate site – so check there!!
No secret I'm the oils queen.. or as some of my friends say: their oils dealer hahaha.. but seriously you guys, essential oils have drastically impacted and changed my life. I ditched candles almost 4 years ago after discovering they were affecting my health (you can read more about that here).. and haven't looked back. One of the single best decisions I've ever made. I now use oils to make my home smell good all year long, for cleaning, hormones, immune system, and so much more!

Start slow though and just grab oils + a diffuser to get going. There's tons of Christmas smells you can blend/make, they're so much better for you than candles, and they'll save you tons of money in the long run too. PSA: don't get your oils from target or amazon either! Those are just cheap, fragrance filled junk.

You can grab your starter bundle here. Pick your diffuser. + then I would add in christmas spirit, orange, and pine. (hello christmas loooove!) Then add in your shipping info, make sure my ID comes up as who referred you (#11296434) and you're all set! If you want to buy one for a friend too, then just input their info and use your own member ID (instead of mine) after you sign up. You'll get $50 in referral cash so basically $50 off your friends gift!
5 // Senreve Bags
Hands down my favorite bags. I have three – the belt bag, the mini maestra tote, and the midi maestra. They're an investment piece for your closet but 100% worth it. I have gotten my money's worth with these bags and they are still in near mint condition. I use these more than anything else in my closet and year round too!

The Senreve bag is a splurge but 100% worthy of it and a beautiful gift for someone special – maybe even pass over to your boyfriend or husband as a gift idea.. or save up some Christmas cash to treat yourself. I personally would spent the $600-$800 on one of these than buy a lot of other trendy designer bags out there right now! (Louis, Gucci, etc.)
The three below are the exact three that I have!

6 // Isle of Paradise Tan Drops
Call these the secret beauty weapon.. but honestly, we all need a warm glow in the cold, dreary winter months. I feel like I look as pale as a white styrofoam cup in the dead of winter (ha!) so need a little glow. I've been using these drops for over a year now and love them. They're super easy to incorporate into your beauty routine and I only use them 1-2 times per week!

Right now, you can get a pack of two bottle for $29.50! CRAZY good steal! Keep one for you + gift one! There's also an amazing gift set available with all the products for $50.

7 // Golden Goose Sneakers
These are another splurge item that *seem* ridiculous – hence why I waited about 3 years before purchasing. But I can honestly say I've worn my GG sneakers more than any other pair of shoes I own since I've gotten them. I absolutely LOVE them + wear them with literally everything and anything. They're incredibly comfortable and have such good support. I waited a few years to make sure I liked them and then finally bit the bullet.. wondering what took me so long. I totally understand why they have a cult like following and people have multiple pairs!

Oh my gosh. Talk about heaven! I got these pajamas last year and they are my absolute favorite thing to sleep in – I didn't know I was missing so much in my life by not sleeping in silk pajamas. (40% off right now!! if your size is OOS check back soon because they're getting more in.) They are a GAME CHANGER. WOW! I also got their pillow cases + bath robe.. literally you cannot go wrong with these! They're the perfect luxe gift too, something everyone will love.. especially for moms or mother in laws – my mom always loves to get a nice pair of pajamas to sleep in! You won't sweat in them, and they're like sleeping in a cloud. I only have one pair and honestly need to get about 3 more.

Fisher's Finery is also a local company here in Connecticut – which I LOVE! And one of my sweet followers works for them + introduced me to the brand!
Obviously this is an item that's more just for winter, but it's one that I grabbed last year and was incredibly impressed with. It's had an absolute internet fame/phenomena the last two seasons and for good reason – it is SUCH a good coat. I have a pretty extensive coat collection and this amazon coat was one of my top worn coats last year. I have the black but also love the military green color + the bright red! If you need a good every day coat, live in a city and do lots of walking in cold, have a sister/child that's in college + walking across campus, need something to throw on to take out dog.. literally the list goes on: this is perfect for you!

10 // Dyson Vacuum
Honestly this should probably be the first thing because I'm literally obsessed with my vacuum.. ask any of my friends, they will tell you! haha I am a freak about the floors being clean and if there's a small speck that vacuum comes out! It was one of the first new house purchases I made when I bought my house and it's been the thing I use the most – multiple times a day! If you don't have a Dyson yet, I honestly don't know how you are surviving hahah! But really – get one!

I have the V10 Animal Cyclone, and it has a bunch of different attachments which I use allll the time!