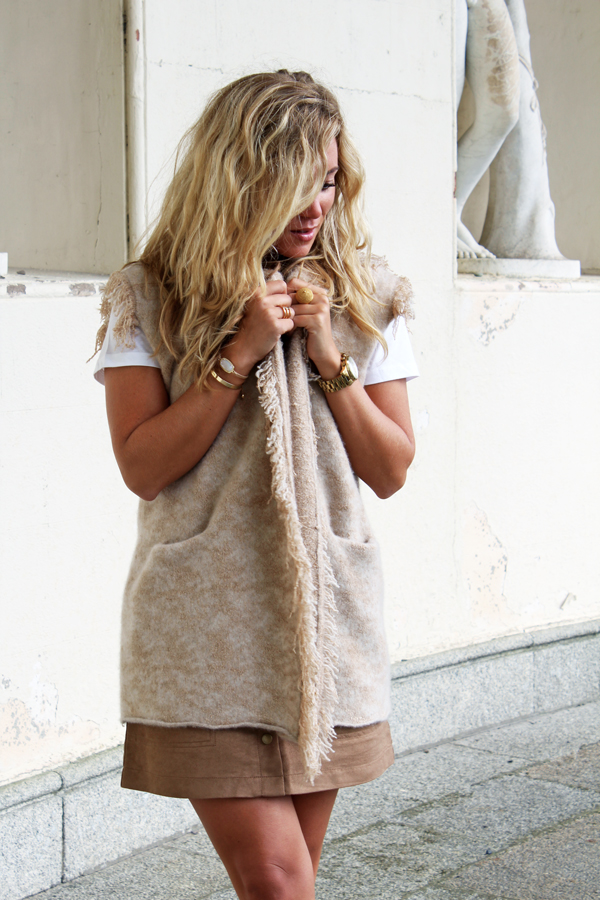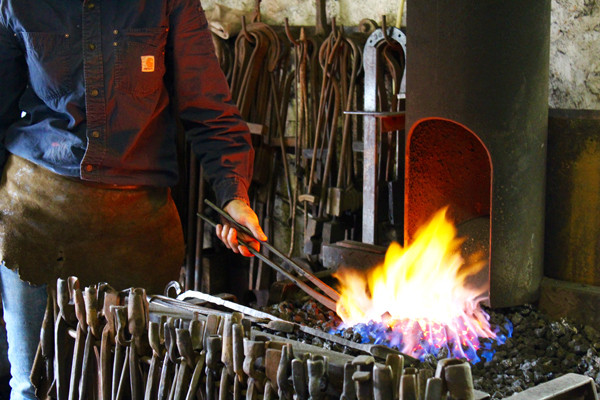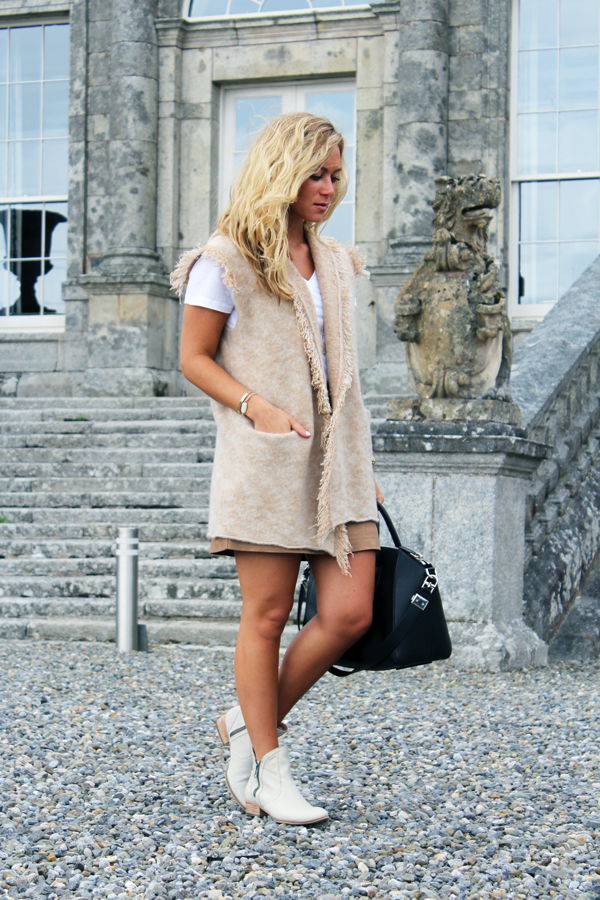 Our third full day in Ireland on The Retreat felt laid back and I loved it, especially after having such a full few days upon arriving. It was our last morning at Powerscourt, and you bet I enjoyed breakfast like no other. I decided to pull out the Lainey Keogh piece I had purchased during her studio visit and wear it with this faux suede skirt and neutral booties. These booties are SO comfortable – I had them in gray last season and wore them to death. It ended up being the perfect outfit that day – the weather changed on us about 3 times! That's one thing with Ireland, the weather can be all 4 seasosn in just one day. I highly suggest wearing smart layers if you're visiting anytime soon.
We made our way over to Russborough House, the luxurious home of the Beit family with the most incredible art collection you'll ever find. The property now houses many artisans in its surrounding buildings and we stopped in at the blacksmith's shop (a forge) before touring the house. Calnan and Anhoj gave us a quick demonstration of how their pieces are made and even crafted one of their Celtic brooches for us to see the process. We got to head around back to their studio and see some of their finished pieces – my favorite was the ladies leg with the shoe and garter shown above! Take a look at their site – their work is absolutely incredible. I was just amazed at what can be done with metals and scorching hot fire.
After visiting the forge, we headed up to Russborough House for a private tour. If you're a Downton Abbey fan, you would love walking through Russborough! Anytime I have the chance to visit older mansions, I always imagine what life was like and what went on in the halls. Our tour guide, Joan, was an absolute dream and Irish to a T. She reminded me of a Mrs. Hughes – she knew the house inside and out, as if she lived there herself. It was hard not to get lost in the entire atmosphere and feel like you were an actual guest at Russborough. Interestingly enough, the Beit family lived in the house until the early 2000's – quite uncommon for large older homes like that today!
If you've missed previous coverage on our trip to The Retreat: Ireland, be sure to check out Day 1, Powerscourt Dinner, and Day 2. More posts and photos to come soon!
Photos by Jessica Meade
SHOP THE LOOK