While it's pretty much full on fall here in Connecticut with crisp 65 degree days and chilly 40 degree nights, I realize that over half the country is still in a heat wave and you're probably break into a sweat looking at half of my posts or photos. Might I just say I'm a tad jealous? I love cozying up in a cardigan, but I miss those hot beach days like no other.
So while you wait for things to cool down, I wanted to give you some style ideas to 'feel like fall' but still be somewhat weather appropriate for where you are! It can be hard to figure out what to wear in that transition time when it's the awkward warm but not hot but not cold and end of September-October time. Trust me, I totally get it! Being a blogger, I have to forecast for the seasons, meaning – my job requires me to be ahead of what's going on outside. So yes, that means wearing a cardigan when it's 80 and bare legs when it's 40. Because I realize in September, you guys aren't wanting eyelet dresses and bikinis!
I'm rounding up a few suggestions below to take your wardrobe from summer to fall during these few weeks of transition. You'll see a few outfits I've worn recently over the last few weeks while it's been warm-ish during the day but cooler at night. You'll notice a lot of these looks are made with a shorts + booties combo – gals, those two things are your best friend right now!
1. THROW A SCARF OVER YOUR LOOK
The below scarf is perfect to transition into fall with. It's lightweight yet features on season colors in the black-gray-camel combo. And with this tri-color combo, you can wear it with so many pieces! Totally get your money's worth and it instantly making your outfit feel more fall-ish!
SHOP THE LOOK

2. CARDIGANS, CARDIGANS, CARDIGANS!
This is probably the easiest thing you can do to fall-up your outfit. When it's a little chillier in the morning throw it on, and when the temps rise, stick it in your tote until the evening. Can't tell you how many times I did that over the last few weeks! I'm linking a ton of my favorite cardigans below these few looks – because they're just that good!
SHOP CARDIGANS

3. WEAR YOUR PLAID.
Come on – bring out your plaid! Plaid is quintessential fall, so start wearing it now if you haven't already. I've worn both of my plaid tops with my black cutoffs paired with booties and you instantly look fall ready!
SHOP THE LOOK

4. WEAR LIGHTWEIGHT, LONG-SLEEVE TOPS.
An easy way to transition into fall with your tops is to wear lightweight, long-sleeve tops. I pair mine with my denim shorts and booties, and you're good to walk right into October. Pick breathable tops in crisp white or a fun fall print. You'll be way ahead of the game and once the full on cooler weather hits you just swap those shorts for jeans!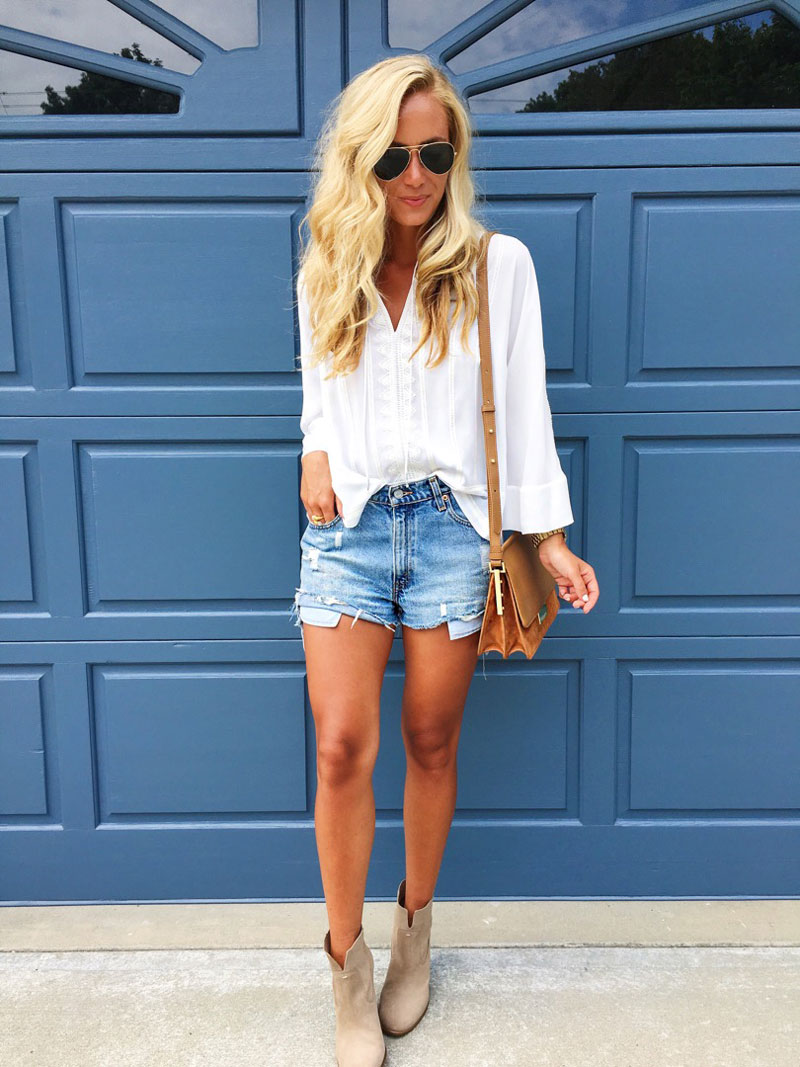 SHOP THE LOOKS