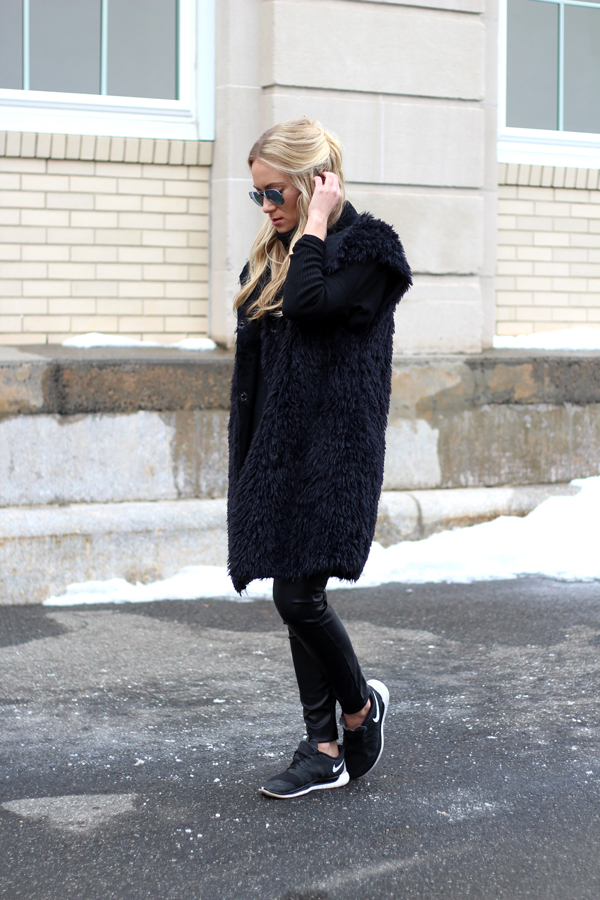 Contrary to popular belief (I've had a few of you ask me), I don't get dressed up and super spiffy every single day! Working from home does have its perks – one being that I can kick it in leggings and an oversized sweater the majority of my day at home. As the casual vibes have come more into style, I've gravitated towards throwing on my Nike's with any outfit – stylish yet comfortable. Athleisure has been a long time coming, but is seemingly just starting to hit it big. (see how I've styled these Nike's in the past here and here.) My Nike Free's have been my tried and true go to for the past 2 years. The Nike Free style is incredibly comfortable and perfect for athleisure wear. I've been loving it so much, I actually just ordered these Air Max Thea's (currently on sale!) last week which I am SO anxiously awaiting to come in.
You're also seeing these leather leggings I keep raving about again – if you guys haven't ordered them, seriously go and do it! I promise they're totally worth the little splurge. My faux fur vest is actually French Connection from last season, but here's a few similar ones if you're interest – here, here, and here. Also, it's a little hard to see here since my vest is covering it, but my turtleneck sweater has fringe along the bottom – also comes in gray!
It's snowing here again today, and is expected to several days this week. I am supposed to be heading to NYC for NYFW on Wednesday with a jam packed schedule to go along with it. So, as you can imagine, I'm hoping it holds off to make the travel and bustle around the city a little bit easier!
Don't forget to check out my first #Whole30 recipe – and shopping list if you missed it!
xx
SHOP THIS LOOK