A few weeks back, I flew up to upstate New York with a special group of ladies to spend the week with the incredibly extraordinary brand phenomenon otherwise known as MacKenzie-Childs. I really had no clue what to expect from the week, and wasn't too familiar with the brand outside of the adorable check teapot I've seen on my friend Katey's blog.
MacKenzie-Childs is a whimsical brand that began in the early 80's and has since garnered a cult following of brand lovers nationwide. Some of you may be familiar with the brand because of Neiman Marcus, others because your mom or grandma has collected pieces since you were a little girl. Or maybe you're from the northeast like me and never heard of the brand or seen anything like it until now. No matter what your story or history is with MacKenzie-Childs, I can assure you there's a place for you with the brand.. and that's the magic I discovered while in the little town of Aurora, New York.
All the other girls on the trip had had MC a part of their lives growing up, thanks to their southern moms who love color, whimsy, and a splash of the unexpected. I, on the other hand, was walking around in awe, learning about things like courtly check, flower market, taylor and more – an experience that was quite unmatched to any I've ever had.
The week was literally a dream.. Lynsey, Molly, Kathleen, Amanda, and I were housed in the sweetest of little bed and breakfasts for the week that are decorated to a T with MacKenzie-Childs pieces. The Inns of Aurora, as they are appropriately called, are placed right in the center of the little under 500 in population town.
We toured the farmhouse at the MacKenzie-Childs headquarters and ate some of the most delectable lunches in the farmhouse dining room two of the days. The MacKenzie-Childs visual team set the table for us so uniquely for each meal and we all were heart eyes over the magic they created so differently each day!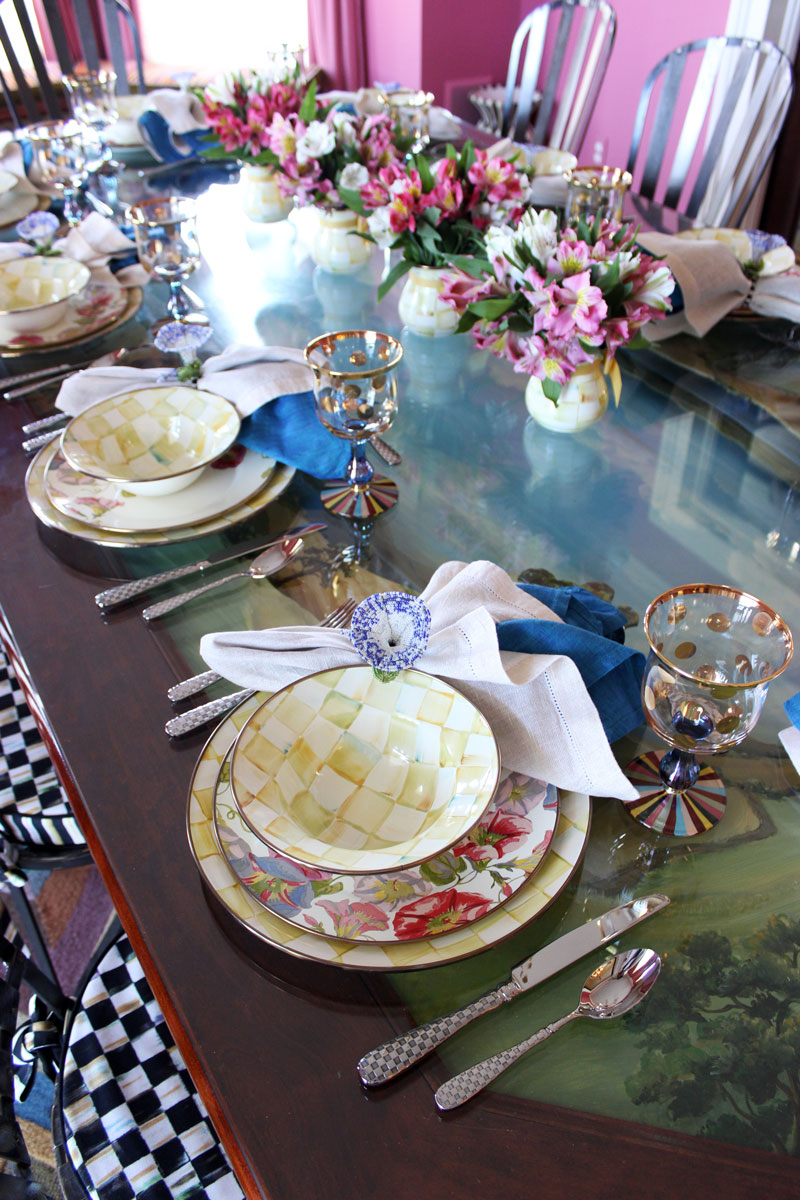 We also got to tour their entire headquarters, visiting stations of all the artisans that create their pieces every single day. Every MacKenzie-Childs piece is created by hand, painted by hand, fired, sealed, and all – by HAND! It was incredible to see the work of these artisans and how passionate they are about what they do. I love that MacKenzie-Childs has each of their artisans stamp their initials on a piece. If you own an MC piece, flip it over and you'll see one, two, or maybe even four little initials stamped on the bottom. These belong to all the artisans that helped create your piece! We also got to pick out a mug, and paint it with our favorite MC pattern, which I shared with you all on instagram stories several times. In fact, I'm currently sipping out of that mug right now!
As I mentioned above, we got to tour the farmhouse and see each of the rooms. This house is ENTIRELY decorated with MacKenzie-Childs pieces, from bedding, to MC couches, silverware, sinks, and everything in between. I really have no words for this experience other than mind blowing! The MC team shared with us that they have some brand loyals who literally have built second homes just to store and use all of their MC pieces – because MC spans far beyond just their dishware + housewares!
It's really hard to explain the experience of MacKenzie-Childs unless you are there and be around this brand. Seeing how passionate these people are about what they do gave me such life. The group of girls I was there with was so inspiring, uplifting, and encouraging – by far, the best group of bloggers I have been around on an influencer trip. We all fell in love with the brand, or refell in love with it, leaving inspired and uplifted in a way that's really intangible. For a girl who loves all things neutral, I have to 100% admit I wasn't sure if I would love MC, but being around this brand, their employees + artisans, and experiencing the actual experience of MacKenzie-Childs made me a total believer. There is a piece of MC for everyone, it's up to you to find out which.
The best way for me to explain MacKenzie-Childs is to say that it's truly an experience. This brand isn't such about setting a plate at the table, it's about the story behind that plate, the artist that created it, the memories it holds within your home and family, and being able to share that with someone else – in the hope that they will create their own MacKenzie-Childs memories.
Now excuse me while I go scour the website and start my own MacKenzie-Childs brand obsession.. so excited to be sharing how I style their pieces in my home with you all SOON! You can shop a few of my current favorites below.
SHOP MY MC FAVORITES