I'm finally sharing with you guys my travel guide/recap to Bermuda. I just scoured all my memory cards and realized I am missing some photos from this trip – they must've gotten lost in that Bermuda triangle! 😉 But I still have tons of info and things to share with you guys, so let's get right to it!
Kendall and I took the quick 2 hour flight from JFK right into the Bermuda airport. I didn't realize it was such a quick and easy flight from NYC! Bermuda is located in a direct line off the coast of South Caroline. For some reason, I had always thought it was further south – but nope! Bermuda is such a special little island – I felt like I was in a mix of Florida and the Bahamas, if that's possible. The people are insanely nice (everyone said hello, even on the streets), everyone was so helpful, and I of course loved all the iconic colorful buildings.
The only downside to our trip was that we unfortunately didn't have the greatest weather so didn't really get to take advantage of everything our hotel, and Bermuda in general, had to offer. Our trip was in March (a few weeks ago now) which is at the end of Bermuda's winter season. Their summer season doesn't officially start until April-May. If we had known this, we totally would have waited and made our trip a little later! We were hit with insane winds (25-30 mph), intermittent rain, and cooler temps (in the 60s). If you're traveling to Bermuda, I suggest doing a little research on the time of year beforehand to make sure it's during their warmer season and you can take full advantage of the island!
Regardless of our weather obstacles, Kendall and I still tried to see as many sites as we could so we could report back to you guys per usual with our travel guides. We ended up spending most of our time in jeans and light sweaters (aside from shooting our looks!) and hanging out inside our hotel. The Princess Bermuda is beautiful though!
WHERE TO STAY
Kendall and I stayed at the iconic Princess Bermuda located in Hamilton, Bermuda – otherwise known as 'the pink palace'! It's like your little girl Barbie house dreams come true. A 20 minute taxi ride from the hotel, and you'll arrive at the resort that's located on the Hamilton Harbour. The hotel features different artwork pieces inside, has an open concept lobby with a bar + cafe, little tourist shops inside, a spa, and of course, pool! It's also a quick 5-8 minute walk from Front Street, which runs parallel to the water and houses tons of shops and cute spots to eat. We ate on Front Street a few times (more on that below.)
We also had access to the Gold Lounge which features a full breakfast, afternoon tea, happy hour cocktails + apps, and late night refreshments. Having access to the Gold Lounge was perfect for Kendall and I as we were in and out between trying to shoot, stay warm, and even work a little bit! There's also a large balcony featuring patio couches, umbrellas, and more. On our last night, the wind finally died down and we were able to grab a glass of wine and sit out on the porch! The staff in the Gold Lounge was also so warm and friendly. We got to know the staff over the course of a few days, and they treated us so well. The staff was quick to give us tips on things to do around the island, where to eat, and even history of the island. Little things like this make an experience great IMO!
WHAT TO DO

FRONT STREET – As I mentioned before, Front Street is a quick 5-8 minute walk from the Princess Bermuda. It's filled with the iconic colorful Bermuda buildings that house tons of little shops, restaurants, and more. This strip featured a few designer shops (like Calypso and Vineyard Vines) as well as your typical tourist shops for souvenirs or island pieces.
ST GEORGE'S ISLAND – SGI is located on the northern tip of the island. Based on the direction the winds were during our stay, we were able to luck out and visit SGI & have a decent afternoon to explore sans the wind! This area is so quaint, filled with spots to eat and shop. Kendall and I spent a good hour or two just walking around in all the little streets, snapping photos of the buildings. We took a taxi ride up to this area (about 20-25 minutes), and were able to see so much of the island on the way too.
BEACH CLUB – the Princess has it's own Beach Club that is about 15 minutes or so away from the resort. There's no beach front right at the Princess Bermuda, so if you're wanting some sun + sand, the Beach Club is your spot! They run a shuttle to an from the hotel and beach club throughout the day, making it easy for guests to get to and from. We headed over one morning to check things out. During prime season, the beach club features cabanas, beach chairs + umbrellas, a beach bar/eatery, paddle boarding, and more. there's also a few hammocks in the water that are perfect to cool off in with a good book on a blistery hot day. The Beach Club is located in a private  little cove with gorgeous views of the water and surrounding area!
PRINCESS BERMUDA SPA – As you guys know, Kendall and I always try to visit the spa on our trips for a little R+R. It's our favorite way to unwind after traveling. Our first full day ended up raining the whole afternoon, so we decided to take advantage of a special the spa was having for a facial + massage. It was one of the best spa treatments I have ever had, and we left feeling so relaxed and rejuvenated! Totally worth it.
HORSESHOE BAY – We didn't make it over to Horseshoe Bay, but it was named as one of the top 10 beaches in the world and absolutely gorgeous from all the photos I have seen. It has some of the softest, pinkest sand and from above, resembles a horseshoe – hence the name! This is one my list to for sure visit on my next trip to Bermuda!
CRYSTAL CAVES – This was another thing on our list that we didn't get to, and will for sure be a stop on my next Bermuda trip too. The cave is an underground limestone phenomenon – Ken discovered it via instagram prior to our trip and now I'm kicking myself we didn't get over there! Check out the google images – so incredible!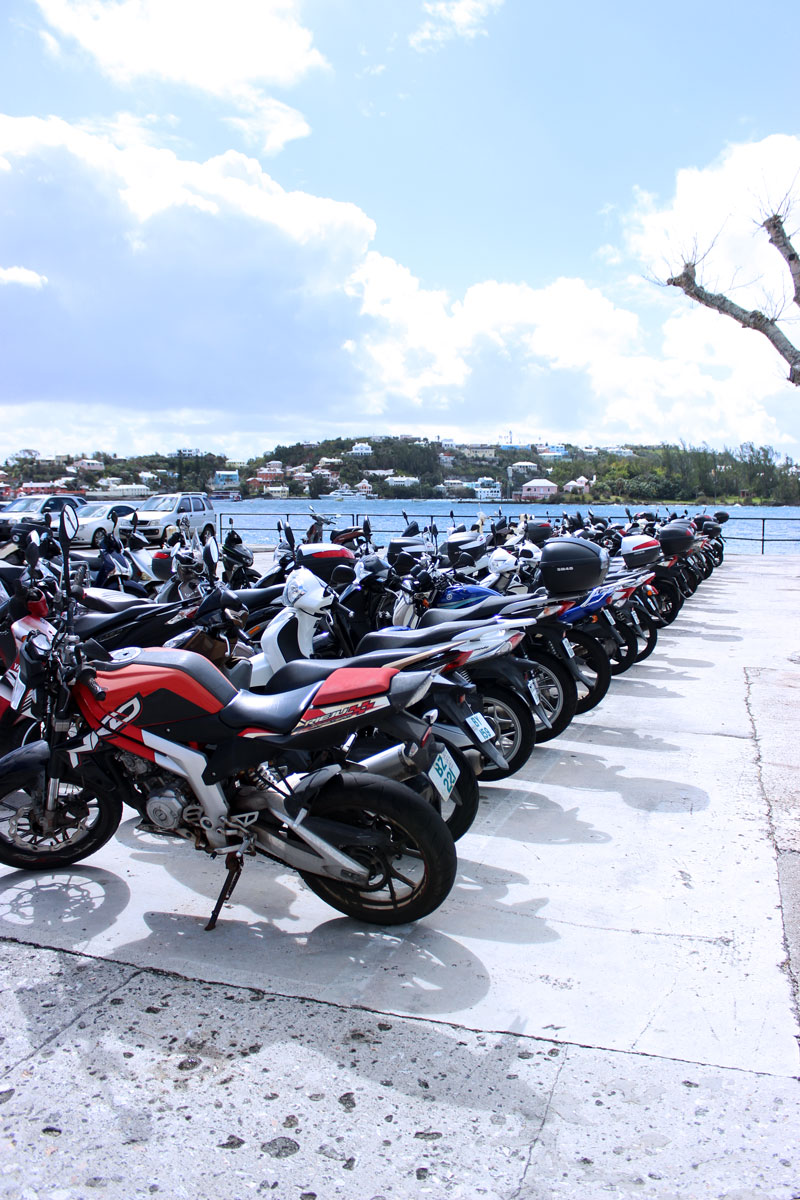 TAKE A TAXI RIDE – This is such a fun way to see the island, and all the taxi drivers (that we had at least) were so eager to share with us about the island, the history, point out certain buildings, and such. As I mentioned before, the people of Bermuda are so helpful and want to share their island with everyone they possibly can.. take a taxi ride and ask away with your questions! Most of the taxi drivers have been doing this for years – some of them 15-20, and are more than happy to talk to tourists.
WHERE TO EAT
You guys know I am a total foodie and half the reason I love traveling so much is trying different food and cuisines specific to certain areas. Kendall and I have the same taste when it comes to food, so we love to pick a few things off menus, split them, and get to try a bunch of different dishes or cocktails. We usually do a little research either before we get to a location or when we first get there about where we want to eat on the trip and plan it around our activities as best we can!
VILLAGE PANTRY (Flatts Village) – We ate here our first night and it was out of this world delicious. The vibe + decor instantly had us smitten, and we chose to sit outside on the enclosed patio. It was a humid but rainy night, so this was perfect to soak in the island vibes. We split the blue cheese fries – which was a new thing to try for us both! We both ended up ordering poke bowl for our meal and they were by far, the best I've ever had. Not sure I can eat another one – these set the bar so high! VP is located in Flatts Village which is about 15 minutes from the hotel via taxi.
PORTOFINO (Hamilton) – We couldn't figure out where to eat our second night, but after befriending a family in the Gold Lounge who frequents Bermuda, they shared with us that this is their go to spot. Truthfully, we never would have thought to pick Italian when in Bermuda, but we walked over (about 8 minutes from hotel off Front Street) and stumbled into this adorable mom + pop type Italian eatery with some of the largest meatballs and yummiest sauce I've ever had. Total win!
MARCUS (in hotel) – Marcus is the Princess Bermuda's signature restaurant that's located right in the resort. This spot is busy every single night and you need to make reservations – so I'd recommend doing so the first night you check in! We ended up ordering a bunch of different dishes, but the Duo of Crudo (a local fish tartare) was by far our favorite. Could've eaten that as my main!
DEVIL'S ISLE (Hamilton) – Our last night, we met up with Haley (how do this girl and I always find eachother halfway across the world!) and ate at Devil's Isle. It's the sister restaurant of Village Pantry, so we knew we'd love it – and it's within walking distance of the Princess Bermuda. Devil's Isle is open all day for breakfast, lunch or dinner – the dinner menu features a vast tapas menu and other dishes. Every single dish we got was absolutely delicious! I had the Korean harvest bowl.
SaveSave